Harrumph!   January escaped, and I still haven't shared pictures!  In my defense, Deborah's birthday was this past month, and our activities were her birthday present, so I couldn't blog about it until AFTER the date!  Since it is now February (SHEEESH!), I am safe….
We met at Hannah's house on a snowy January day, shared a bit, then headed down to Hannah's walk-out basement studio, with many lovely built-in goodies thanks to her hubby, and made some art cloth for Deborah, which we then mailed all together.  In a small miracle, we actually got it done, in the mail, and to her in Texas BEFORE her birthday (with a note on the envelope not to open until the birthday).
Here's some of the cloth…the red with grid is (believe it or not) the before!  It got even better, the purple in the lower left is from Hannah and her daughter.  Alas, I didn't get pics with everyone busily at work, as I was too busy at work too… then when I snapped these the others were upstairs starting lunch….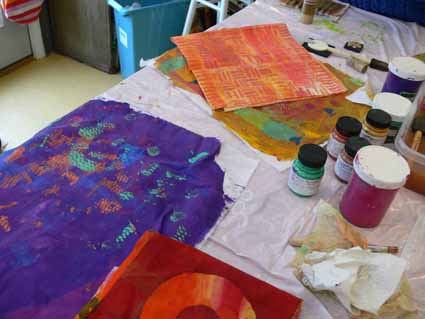 We had fabric hanging all over the place drying: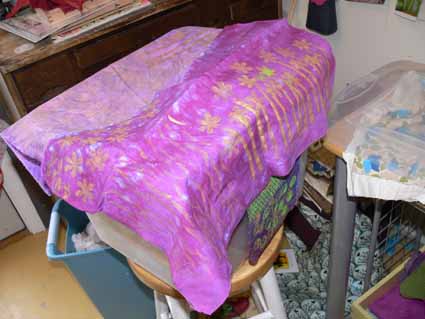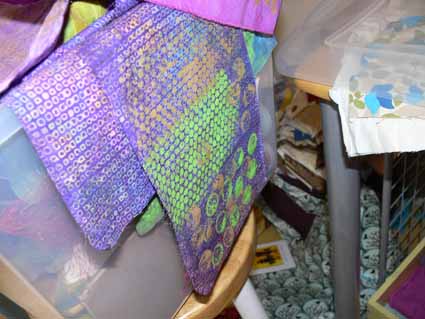 I took it home, ironed it after the paint dried completely to help set the paint, then pinned it up on my design wall for a photo–see how good we are?  We actually let these delectables GO and didn't keep them!
The pieces here are by me (the green one), Kathy (orange, on the right), and it was either Kathy or Kate for the blue (bottom right):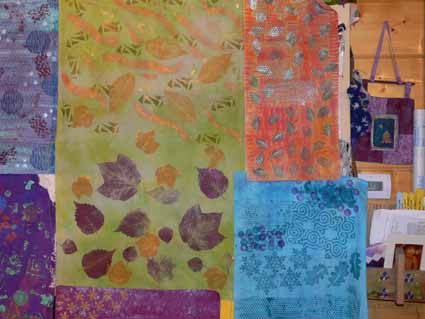 Everyone LOVED this stamp Kate had carved ages ago.  See what good friends we are…we used it, but actually let her take it home with her LOL! (Laugh out Loud for those of for whom English isn't your first language and who may not know some of our internet abbreviations.)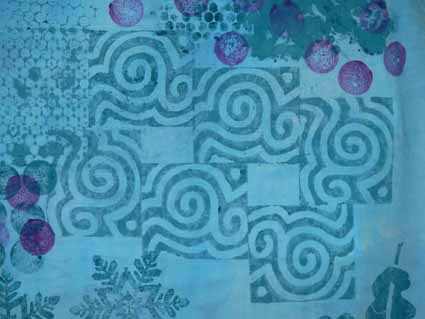 Those round dots, by the way, are the end of a wine cork.  I like that way of acquiring art materials….
Here's the orange piece on a pile of fabric to go home with me (better picture below); Kathy dyed the base cloth this  past summer at my house, then added to it at Hannah's: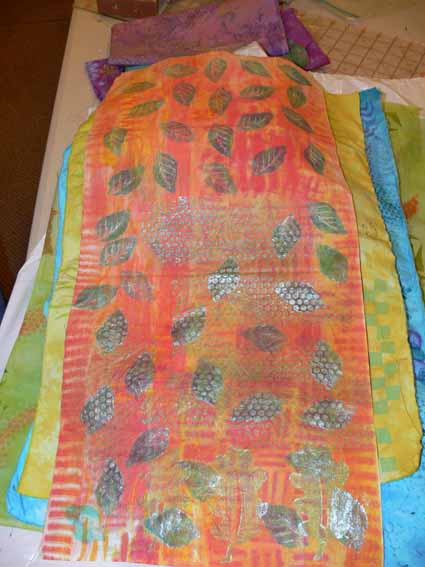 And here are green (by me, the bottom part of it), the bottom part of the Kate-or-Kathy blue, the purple by Kathy (boy do I hope I am getting the right names on the cloth… if not, someone correct me Kate and Kath!), a lime green by Kate, and that salmon-y one by me.  We liberally used each others' hand-made stamps!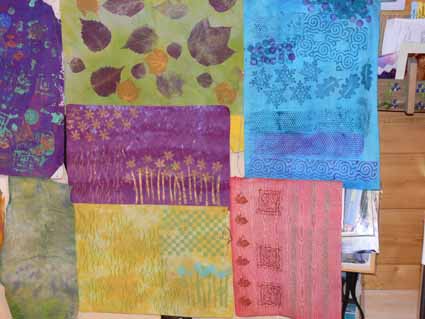 And then:
top row: upper left purple (small) by Kathy, red by Hannah, blue-purple-plum by Sarah (on a commercial batik),
next row:  lighter purple by Kathy, darker purple by Hannah and daughter Nina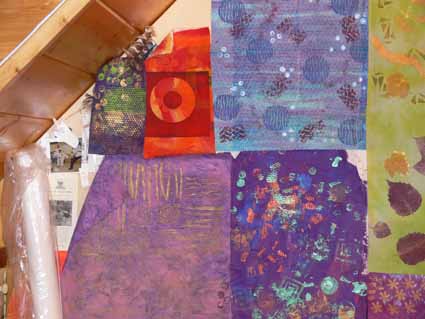 And finally–the top row is a repeat (duh) of the ones just above; the second row is a piece by Hannah and Nina on the left, and a lovely sheer piece by Kathy–she dyed this one at my house this past summer, too, then added to it–it its first life it was a sheer white curtain: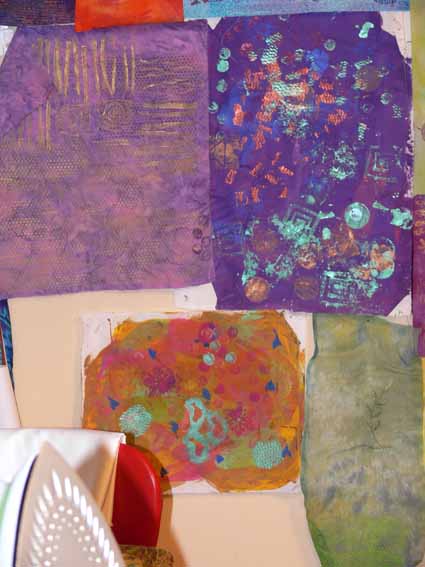 Here are some close ups….Kathy's finished orange-ish piece…. heavenly–Kath used a stamp of mine and sequin waste as a stencil (to get those perfect circles):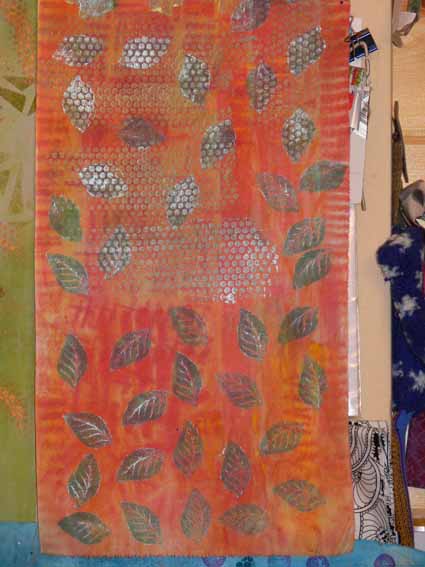 I'm pretty sure Kate made this one using her hand-dyed and various stamps…the grassy bit is Kathy's stamp made from adhesive-backed foam cut into wisps and mounted on cardboard (cheap, easy, useful, beautiful!):
Here's a detail of that stamp we all wanted to swipe/copy: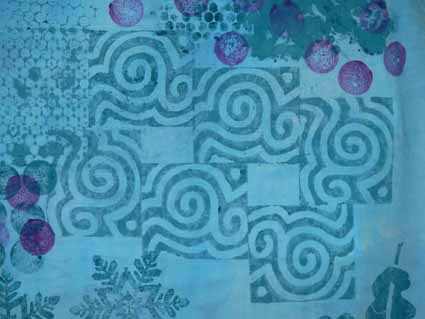 And finally, part of my green one.  It began with hand-dyed by me fabric.  A bit over a year ago I did a demonstration at the Make It University section of the big IQA quilt show in Houston, showing leaf printing.  At Hannah's I added the green squares (another foam-on-cardboard stamp, this one by me), and made swoopies of gold through sequins waste and printed with plastic needlepoint canvas.  I really like how this one turned out.
It'll be fun over the next few  years to see bits of these cloths show up in Deborah's work!  Clearly, we had fun (and missed having Deborah WITH us in body, tho she was certainly there in our hearts).