When the curtain went up on this major prize winning quilt, I knew we had a game-changer.  With apologies for the analogy, this quilt is about the size of my placemat!  Finally, art quilters don't have to force themselves to work somewhere between large and vast to have a chance at a top prize.  
That puppy made a second appearance in the quilt show in this larger quilt which Masanobu made with his wife:
And the signage:
Here's a detail of the small quilt…breathtaking!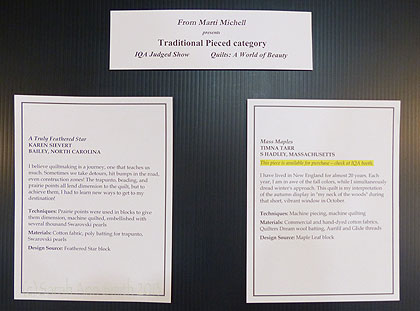 The quilt on the left so impressed Karey Bresenhan and Nancy O'Bryant Puentes, co founders (along with their moms–they are cousins) that it won an Honorable Mention.  Here's a detail:
And the signage:
Hope you enjoy!