Welcome!
The whirlwind of 2019 has begun! I'm moving back into a busier teaching schedule and would LOVE to book a workshop and lecture with your guild. Please check my Lecture and Class page (click the link at top) for information; there are pdf supply lists availabe in each class description.
Here's from now to late 2020:
April 5, 2019: Taping for The Quilt Show in Colorado!
April 13, 2019: Cobblestone Quilters, Yarmouth, Maine
April 17-18, 2019: Rhododendron Quilt Guild, Massachusetts
June 18-19, 2019: Loose Threads Quilters Guild, Spring City, PA
August 2019: The Art of Sarah Ann Smith...so far Solo exhibit at the Mancuso's World Quilt Show New England, Massachusetts
September 17-18, 2019: Maple Leaf Quilters, Rutland,Vermont
October and November 2019: International Quilt Festival: Five full days!
Early May, 2020: Reserved for High School Reunion and Eli's college graduation!
August 5-7, 2020: ProChemical and Dye, Fall River, Massachusetts 3-day workshop
Late August-late September, 2020: reserved for family travel
If you'd like, follow me on Pinterest, Instagram and Facebook...pop over and see me!
New for 2019--I'm going to try a newsletter! If you'd like to be added to my MailChimp newsletter, please type your email address in the box and click subscribe. If you don't want to enter your full address just put asdf or something for everything other than state and/or country. Thanks!
If you are interested in booking a workshop, please use the Contact page. I usually answer within a couple of days, so if you don't hear from me in under a week, please try again! It is so heartwarming to receive feedback such as this from your students:
"Sarah, Your class was really great and I learned a lot. You are an engaging teacher with down to earth instructions and entertaining anecdotes. Thank you so much for traveling all the way to Greenville! - Joanna"
and from Emily who organized the class, "I want to share that have heard wonderful reviews of the technique along with praise for your teaching style from lots of the women. "Very informative", "Encouraging", "Addictive," "Practical," and "Approachable" are just a few of the accolades! I personally want to thank you for making the journey north and sharing with all of us."
Comments like these are the greatest reward of teaching!
One of the highlights of my art quilting career, I was one of two debut artists in the Rising Stars exhibit at International Quilt Festival Houston 2017. After being invited to apply for a solo exhibit, the founders of Festival liked my proposal so much they created an ongoing exhibit, Rising Stars, to spotlight artists whose work has shown growth over time. My book, The Art of Sarah Ann Smith ... so far, of the 24 quilts in this exhibit, plus 20 more, plus a bit about my life and tips and tricks, is available here.
There is a new freebie on my Resources page: how to make the perfect Hanging Sleeve! Visit my Resources page for all sorts of goodies: tutorials, videos (including the preview for my DVD workshop), my free bibliography and more, and Class Supply lists for my class offerings. I also revised my About page to include a less-stuffy statement and, at the bottom, a long list of my publication credits. I hope you will browse the site and enjoy!
PS: My two quilts are still lost, probably forever. But just in case, here is the information:
ALERT: two of my quilts were lost on or near October 11, 2012, in Lomita, California after having been in two shows. They are Fields of Gold (left) and Dogwood::Dawn (right). For more information, please see my blogpost here. Here are the two missing quilts: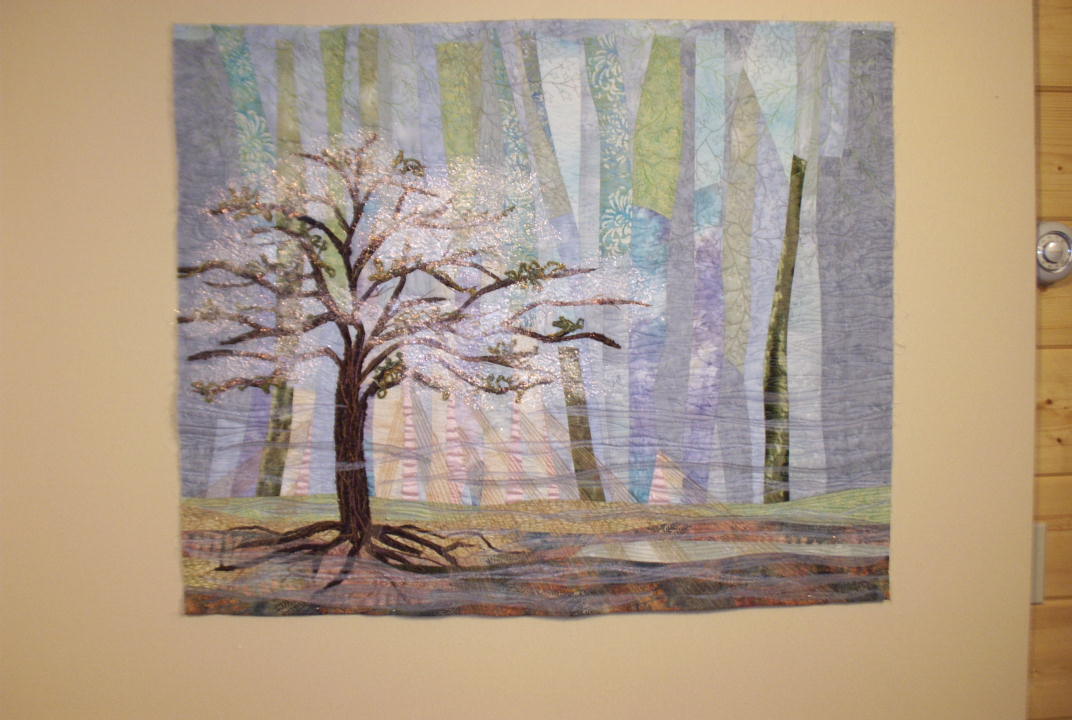 If you know anything about there whereabouts, please use the contact me page and let me know! Thanks!