Welcome!
Hi everyone! Welcome to 2016! It is so heartwarming to receive feedback such as this from your students:
"Sarah, Your class was really great and I learned a lot. You are an engaging teacher with down to earth instructions and entertaining anecdotes. Thank you so much for traveling all the way to Greenville! - Joanna"
and from Emily who organized the class, "I want to share that I've heard wonderful reviews of the technique along with praise for your teaching style from lots of the women. "Very informative", "Encouraging", "Addictive," "Practical," and "Approachable" are just a few of the accolades! I personally want to thank you for making the journey north and sharing with all of us."
Comments like these are the greatest reward of teaching!
Check my Classes page for this year's schedule.
In mid October I'll travel to Arkansas to teach, and will be teaching a full schedule (seven classes or events!) at Quilt Festival in late October and early November.
Monday, October 31: Decorative Stitch Appliqué (all day class)
Tuesday, off--hope to *take* something or go to museums!
Wednesday, November 2: Fine Finishes--learn PERFECT bias bindings, piping, and fun other techniques...a favorite of both students and me!
Thursday morning: Machine Quilting Forum (one of 6 or 7 presenters)
Thursday Afternoon: The Nest, Surface Design Exploration for Beginners
Friday, Nov. 4, all day: Tame Fussy Fiddly Threads for Machine Quilting (image below)
Saturday, Nov. 5, morning: Saturday Sampler: Screen Paint the Perfect Fabric
Saturday, Nov. 5: Easy-Peasy, Inside-Out Bag---totally fun project class. More addicting than nacho tortilla chips! Can be a bag, card case, iPad case, sketchbook cover, a zillion variations.
In the middle of all of that we will have Senior-Insanity: our younger son is a high school senior so I will be beyond busy with college applications, financial aid applications, taxes, end-of-year merriment and mayhem, and getting him off (SOB) to college!
There's a new freebie on my Resources page: how to make the perfect Hanging Sleeve! Visit my Resources page for all sorts of goodies: tutorials, videos (including the preview for my DVD workshop), my free bibliography and more, and Class Supply lists for my class offerings. I've also revised my About page to include a less-stuffy statement and, at the bottom, a long list of my publication credits. I hope you will browse the site and enjoy!
Also, I'm now on both Pinterest and Facebook...pop over and see me!
PS: My two quilts are still lost, probably forever. But just in case, here is the information:
ALERT: two of my quilts were lost on or near October 11, 2012, in Lomita, California after having been in two shows. They are Fields of Gold (left) and Dogwood::Dawn (right). For more information, please see my blogpost here. Here are the two missing quilts: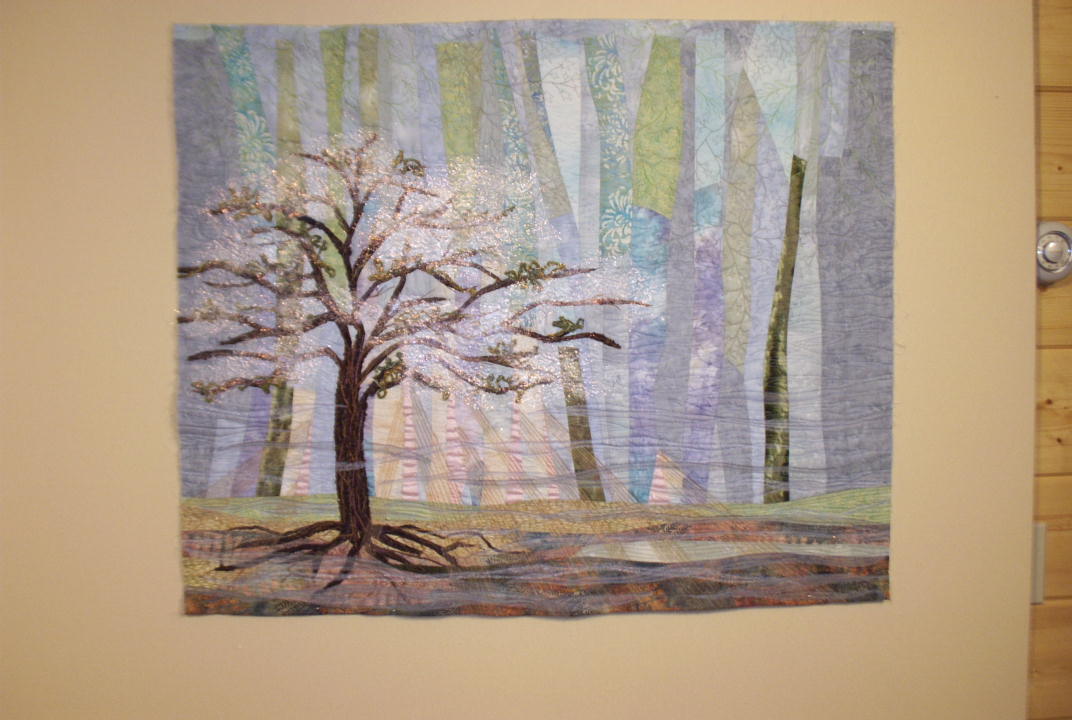 If you know anything about there whereabouts, please use the contact me page and let me know! Thanks!