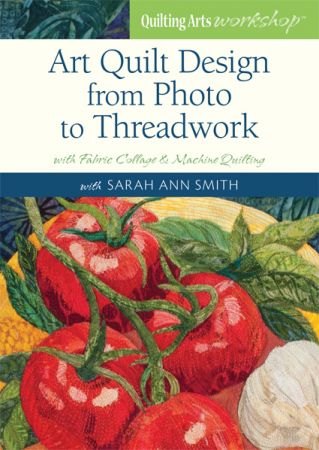 Art Quilt Design From Photo to Threadwork
My first DVD from Quilting Arts Workshops / Interweave teaches you my collage process, from selecting the best photo for your first effort at this technique, to fabric selection, patterning, fused collage, to threadwork at either the top or quilting stage. For the demonstration, I am working on one of my Tomatoes, Basil and Garlic quilts, but the DVD also shows other works to illustrate various techniques and variations. A full supply list is included on the DVD and copied below.
Here's how Quilting Arts describes the DVD:
Join award-winning art quilter Sarah Ann Smith to learn her process for creating a fused and free-motion stitched fabric collage. Starting with a photo that has good contrast and lighting, Sarah teaches viewers how to determine values, create a pattern, select and enhance fabrics to suit the subject, collage with fused fabrics, and finally select threads and free-motion quilt to thread-color the piece.

In this Workshop, you will learn how to:
Select a photo for your composition.
Choose fabrics, prepare them with fusible web, and alter them with textile paint.
Create the working pattern.
Fuse the quilt top.
Use free-motion machine quilting to bring the fused design to life.
Discover Sarah's strategies for creating an artful machine-stitched fabric collage!
This Workshop is available as a Digital Download (standard OR high-definition!) exclusively at the InterweaveStore.com here and as a DVD either at the Interweave Store or here on my site!
PRICE includes shipping within the United States. For shipping outside the US, please use the contact me page to write and ask cost with postage to non-US addresses.
Thanks to Pat Dicker for this comment on my blog:
WOW, WOW, WOW! I was the lucky winner of Sarah's new DVD on Going To Pieces blog by Diane Hock. I just finished watching the fantastic DVD! Sarah's teaching style is superb with lots of clear detail and plenty of sincere enthusiasm. She offers great advise on supplies and applying techniques she has found to be helpful. I loved every moment of it. Even my husband who walked in while I was watching commented that, "She is a really good teacher!" Congrats Sarah.
Thanks to Debby Harwell for the following early review on FaceBook:
I just downloaded this video and have only watched the introduction and first part on cutting the pieces. IT IS ONE OF THE BEST I'VE EVER SEEN! I know I may be partial since I'm your friend, but it really is very very good. I love the detailed information about the supplies. You tell us specifically what to get and why that name brand. You just have no idea how valuable that information is! That would have been worth the price of the download all by itself! Thanks for putting in the work to produce such a wonderful informational piece. I'll watch it over and over and have to use it as a reward for getting my other household chores done. Really really good!
Supply list for this Digital Download or DVD Workshop:
Required Materials:

Photo with good lighting, strong shadows, and strong highlights
Clear page protector
Wet-erase marker
Access to a photocopier, scanner, and printer
Fabrics for fusible appliqué (I prefer batiks and hand-dyed fabrics because the colors go all the way through.)
Mistyfuse®
Iron (I use a Panasonic NI-S300TR 1200-Watt Steam Iron with Curved Titanium-Coated Soleplate.)
Ironing surface
Nonstick appliqué pressing sheet (I recommend 1-2 Fat Goddess Sheets® or Reynolds® Parchment Paper.)
Scissors (I use Karen Kay Buckley's 7 1/2" Perfect Scissors and her Perfect Curved Scissors, as well as Kai 5 1/2" Embroidery Scissors and Havel's 5 1/2" Curved Tip Embroidery and Applique Scissors.)
Transfer paper (I recommend Transdoodle® or Saral® Transfer Paper.)
Marking pens and pencils
Sewing machine with free-motion capabilities
Batting
Backing fabric
Sleeve and facings fabric
Basting spray
Thread in a variety of colors
Hand needle and easy-threading needle (for finishing)

My workshop is available for sale on the Interweave site at

DVD: http://www.interweave.com/store/quilting/quilting-dvds-videos/quilting-dvds-video-quilting-arts-workshop/dvd-fused-clg-free-motion-thread

Download: https://www.interweave.com/store/quilting-arts-workshop-art-quilt-design-from-photo-to-threadwork