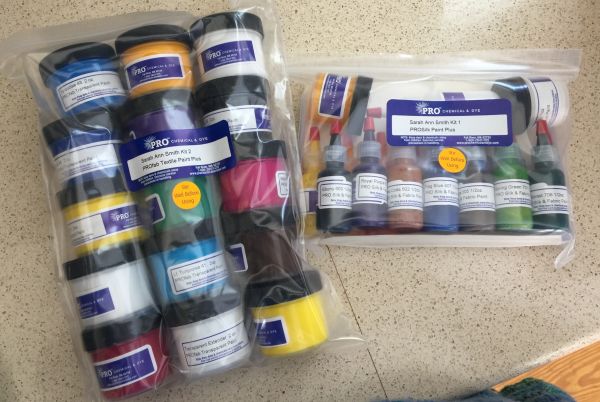 Sarah's PaintPlus DUO
Save substantially on shipping by ordering BOTH of Sarah's PaintPlus kits here!
Oct 16th: NOTE: This item is temporarily out of stock as I am waiting for a new supply order. It should be here in about a week. If you don't mind the wait, please order and I will have everything ready to ship out the very day the stock arrives. Thanks!
Sarah's DUO includes both the PRO Silk PLUS Kit #1 and the Profab Transparent PLUS Kit #2.
Sarah's custom PRO Silk Plus Kit #1 includes
ProSilk in 1/2 oz. squeeze bottles--fifteen colors
Sunshine 101
Buttercup 102
Orange Jubilee 201
Cherry 302
Raspberry Sorbet 304
Ocean Blue 402
Turquoise 405
Flag Blue 407
Sand Castle 501
Terra Cotta 502
Fudgsicle 505
Ebony 603
Spring Green 701
Rainforest 706
Purple 804
PRO Silk Fabric Extender, 1 oz. squeeze bottle
PROfab OPAQUE textile paint in 1 oz. jars
Opaque white 01 and
Gold yellow 12
Sarah's ProTransparent Plus Kit #2 includes 15 jars total.
PROfab Transparent paint in 2 oz. jars--11 colors:
Lemon Yellow 10
Golden Yellow 12
Red 35
Magenta 37
Lt. Turquoise 41
Turquoise 43
Blue 46
Brown 55
Black 60
Emerald 72
Violet 83
PROfab Opaque textile paint in 2 oz. jars
PROfab Pearlescent Paint in WHITE 6, 2 oz. jar
PROfab Transparent Extender, 2 oz. jar
Larger jars of paint are available to reorder directly at the ProChemical and Dye website.
Available April 20th! $74.35 I will turn on the Add to Cart button about April 6th so you can pre-order. Please note that I will be travel teaching and cannot fill orders until on or after April 20. Thanks for understanding.
74.35