So what does a 14 year old boy/young man do on a rainy Sunday? Why troll the basement for the record player and the decommissioned "stereo" (purchased in about 1988).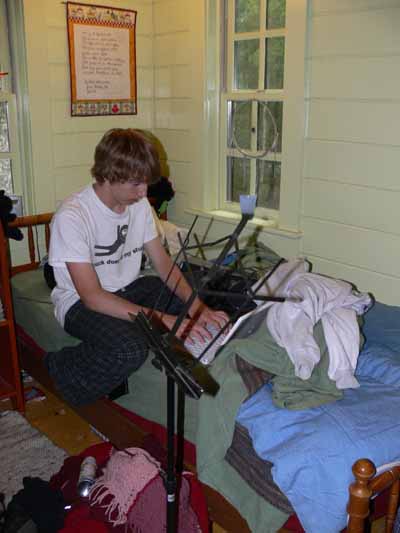 The usual place is at the laptop, but with music (stand, guitar, etc) nearby. We also have this cool store in town, Wild Rufus, that cells CDs (new and used) and (!!!!) old records! So number one son has taken to buying albums, yes…black, vinyl 33 1/3 rpms records… which were displayed on the wall. I'm glad I snapped this picture because two hours later the were down…..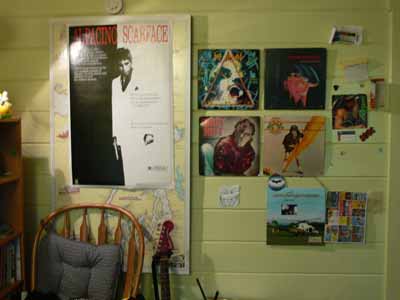 Joshua had also recently scored a nearly virgin Led Zeppelin IV (or is it II) album…the one with stairway to heaven! The cover is a bit rubbed with age, but otherwise in perfect condition except for a name written on the back in ballpoint…no scratches, no tears, nada… and the album inside looks nearly unplayed!
So, with a little help in hooking up components from the resident dinosaur (aka Mom)…. we have (drum roll……)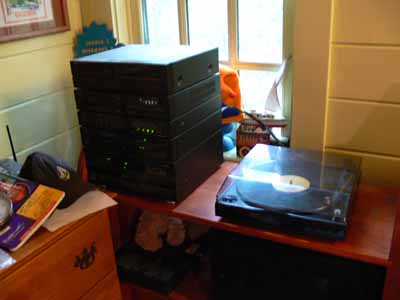 The speakers are a bit worse for the wear…dented, fabric cat-scratched, etc., but they worked…. and so did (!!!!) the turntable. So we listened to AC/DC, Black Sabbath, and Led Zeppelin (not that we had much choice… ahem! he is a teen…. he might live to adulthood….) on vinyl!
Whoodathunk it…. in the iPod age, we're back to 33 1/3!
Speaking of which…. does anyone know what technology I might need to get some old records and tapes transferred to digital… I don't care if they are copied to CD first or go straight to the computer…. I have some ancient folkie stuff that is no longer available anywhere and would love to have it on the 'puter and iPod….