Say what you ask? PLA batting? It is being sold as an EcoCraft Eco-Friendly batting (made by the folks who created Mountain Mist…here) . More on that in a sec…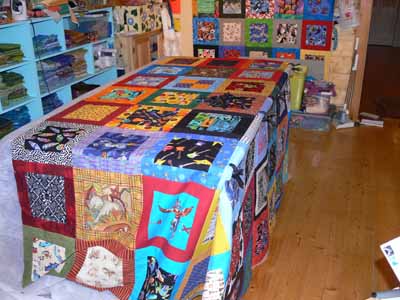 Last summer when Joshua was hurt, Sue Franck (whom I have met only over the internet) organized a thing for folks to send Joshua blocks, which I would make into a quilt. Well, at long, long, LOOOONNNGGGGG last, I have assembled the tops. Yes, two. We had over 70, since some folks sent extras, or an extra for Eli, who also had to pay a price (and was awesome about it). I asked Joshua if he wanted borders, or sashing, to whatever, and he said (bless his sweet soul) that he just wanted as many of the blocks as possible. That meant a quilt 6×8 blocks, which is 72 by 96 inches! Eli's quilt is a generous 5 x 5 blocks or 60 inches square (he still hasn't decided what he wants for a backing! it's on the design wall in the background). We used every single block!
My heartfelt thanks and hugs to Sue and every sweet soul who sent a block…we have them from all over the US, Australia, Singapore, England, Scotland, Canada… totally amazing. I will confess to feeling a whole lot of love and just a little choked up from time to time as I have quilted…..
One very generous soul from the QuiltArt list sent a Queen sized batt instead of a block! WOW! It was this batting that was new on the market as of last summer, and we were both curious. I am so grateful for her generosity, and I don't want anyone to think that my comments about the batt in any way reflect on the fact that I SO appreciate her kindness.
Anyway, the packaging says it is made from corn fibers and—this should have been my first clue—is a batting similar to your favorite polyester batt. Hmmmm……
Here is what it looked like unrolled for basting. Yuck.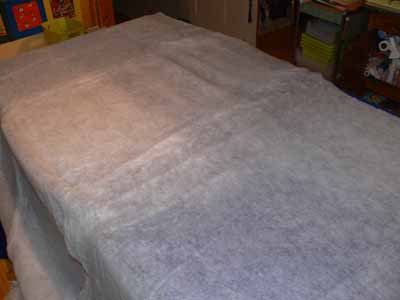 It was thinner and had a bit softer drape than those awful 1970s poly batts we hated and don't miss, but it is… I must sadly say… just as awful. Where it was folded to fit into the bag and then unrolled, it stretched and creased, and they never came out…see that distortion across the middle of the table?  It still feels kinda lumpy under the quilt. It puffs and looks awful. The edges are wavy, not straight. My hands snag on it. It has thin spots. Yuck. Did I say yuck?
We selected a Polartec 200 for the backing. I have made other quilts with a thin cotton batting (Dream Cotton) and they have been wonderful, quilted up nicely, etc. Well…… using the poly batt on top of the polartec was not a good decision. I kept hoping that as I quilted it would get better. The back does look good however…. the quilting isn't done so I'll show it when I'm done. My machine had finally had it and decided it needed a tune-up, tho, so I am at a temporary standstill.
Here's a picture of how I baste in sections on my worktable: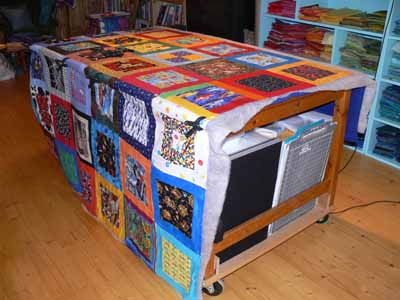 I did want to share this info tho and say DO NOT BUY THIS BATTING unless you liked the look, feel, and handling of the 1970s polyester batts. I have two Mariner's compasses blocks someone sent which I will make into pillows (one for each son), and I was going to use the leftovers. I can't do it…. I just can't. Sigh. The compass blocks are gorgeous, and deserve an nice cotton batt, and they shall get it!
Only a bit more to quilt on Joshua's…. Unless I decide it is so hideously puffy that it needs a lot more quilting, which is entirely likely……at least I made a smart decision to do really simple walking-foot quilting, not my usual freemotion. That is helping a lot with the bulk…not only is the quilt large, but with the thick polartec and the PLA batt……..anyway, I may not get it done in time for graduation from 8th grade on Friday, but Joshua understands the machine is away for a tune-up….it just about ground to a slow halt, so I immediately stopped sewing. I think it is just well overdue for a lube job. I hope that's it….
Late update:  nope… machine in the intensive care ward all week….  hopefully soon it will come home…