Lowell, Massachusetts, seems to be a very art-friendly town and, given it's history as a mill-town (lots of textile mills in upper New England in the late 1800s), quite open to the idea of art quilts.  The Brush is an artists' co-operative and gallery.  Each year when the Lowell Quilt Festival happens, various venues around town have art quilt exhibits or related shows.  The Brush, along with the Whistler Museum of Art (as in James McNeil Whistler, most famous for his painting of his mother….), are two of the venues art quilters want to be in!  (Note:  photos in this post are clickable … you can right click to view larger in a window/tab.)  This quilt is Sod Wall I, by Elfa Jonsdottir of Worcester, Mass.  I'm not usually partial to this abstracted style of quilting, but I thought the use of the hand-dyed fabrics and color was particularly effective.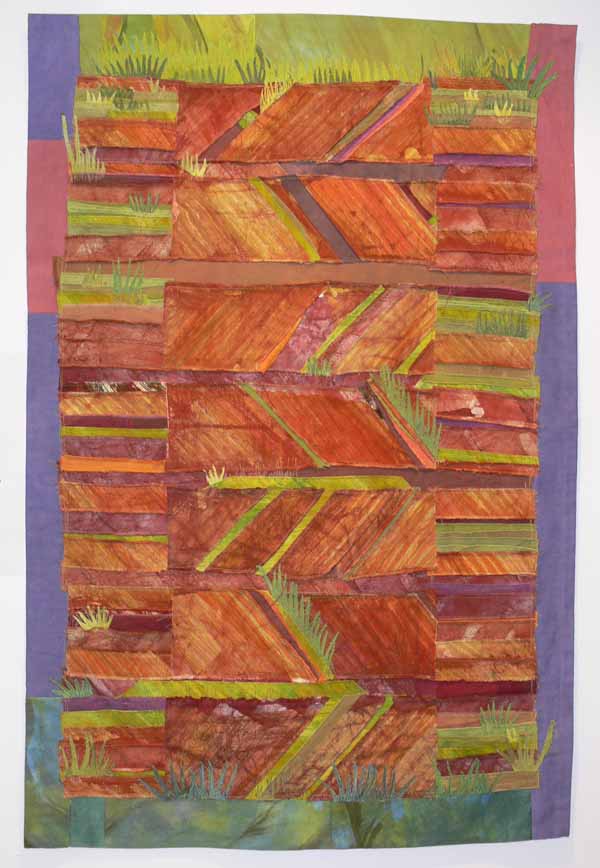 I got to meet Debbie Bein, Elaine and Mary from Toronto, all from the QuiltArt list, and to my great surprise and pleasure, my near-neighbor Carrie Hedstrom.  Carrie is a young mom of FIVE (ages 7 to two months…youngest was in a baby sling for the opening reception!)…how she finds time for art is beyond me, let alone time to get the entries done and sent in on time!  Somehow, I managed to miss taking a photo of them (I had just gotten out of class and RACED from Chelmsford, where the classes were held, to Lowell, where the show and galleries are, to be there before the reception ended!) or of Carrie.  But I did get this shot of the wall where Carrie's quilt was hung, on the far left, and one that I think is Frieda Anderson's on the far right:
Update:  Rosemary's piece is titled "Sheer Floral."  And, it is indeed Frieda's work on the right, titled "SunSet Pines."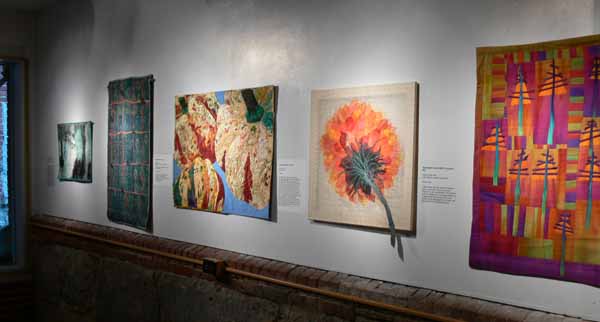 I've only met Rosemary Claus-Gray online, but I love her work.  Sometimes it is abstract, but this representational piece in sheer fabrics is just glorious: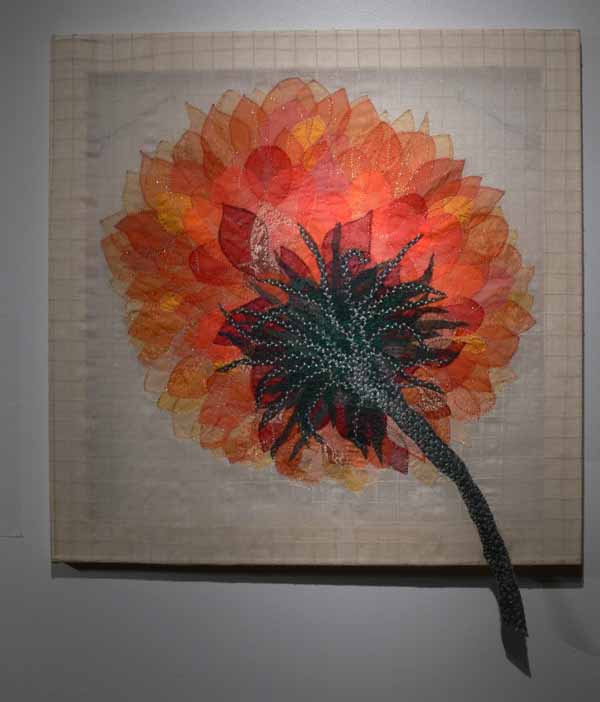 If you look closely at the photo, you can see the stretcher bars shadowing through the sheer fabrics!
I neglected to take a photo of the label on these two pieces… if anyone knows who made them, please let me know!   I love the use of thread in the satin stitching: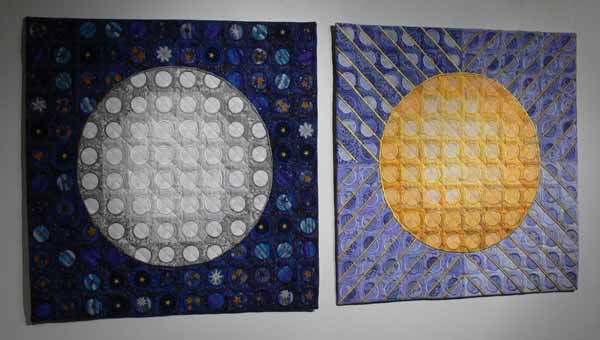 (Update:  the piece above, thanks to Cyndee who spotted an article in the Lowell newspaper, is Sun Moon Stars by Therese Bliss….thanks Cyndee!)
I'm giving a lecture on beading and embellishments on quilts, so I'm on the hunt for examples to use in my lectures.  I've photo's the labels on all these pieces so I can contact the makers and ask permission to include the photos in my slide show…..  alas, this overall photo of Rachel B. Cochran's Imperial Palace didn't turn out sharp: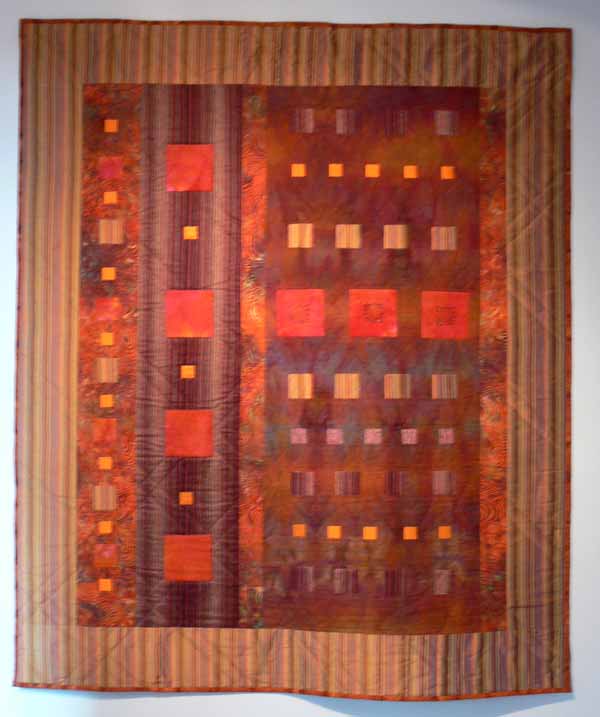 but the detail photo did–I'm in love with her hand-dyes: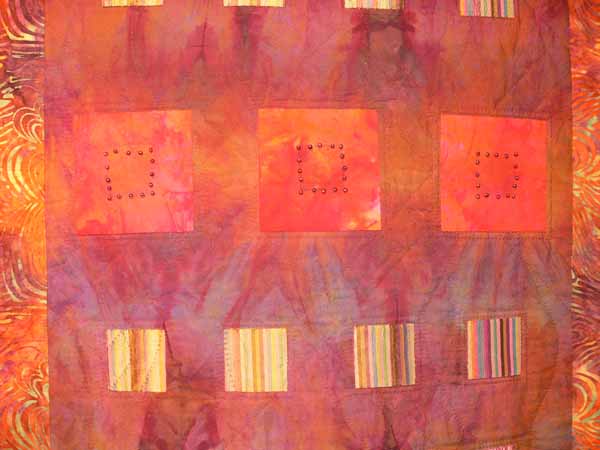 Margarete Steinhauer of Scituate, MA, created The Cork Oaks; she is a plant and environmental scientist, and was inspired by a piece of commercial dye-painted fabric.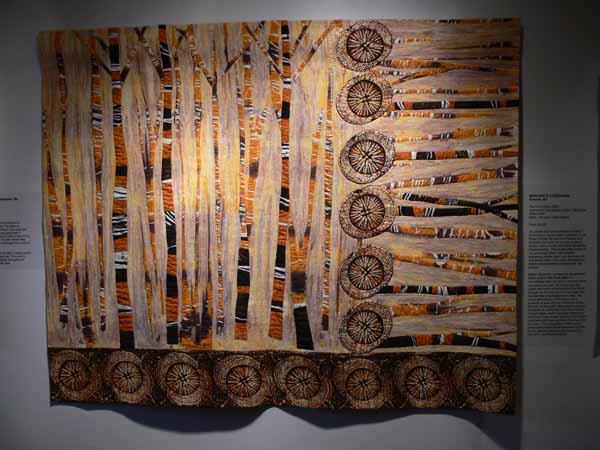 In several days, I'll share the quilts at the Whistler!  Cheers, Sarah