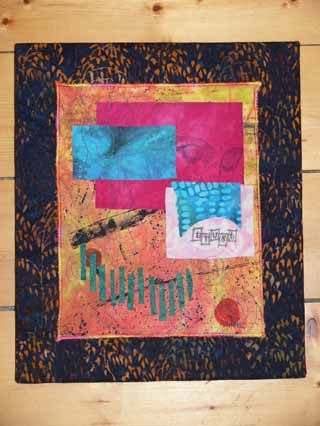 In early May, Virginia Spiegel brough her multi-year campaign to raise funds for cancer research through her FiberArt for a Cause to a close with a final Collage Mania sale.  I was lucky to nab two of my favorite collages by North Carolina artist Grace Howes!   I selected them as gifts for my husband for his birthday.  One reads Faith, the other Trust…because I trust him implicity and completely, and because I have faith in him.   Happy Birthday Dear!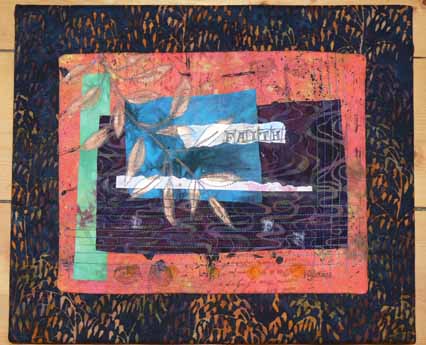 The collages themselves are 8 by 10 inches, and are mounted on stretcher bars covered with batting and batik (11 by 13 inches if I remember correctly).  Interestingly, despite the clear similarities in the two pieces, it was difficult to find a single fabric to use that played nicely with both collages.  In the end, I chose a black with wheat/rust/ochre from my stash. I sure hope Grace likes what I've done!  You can visit her web site at Red Barn Studios...
Thanks Grace for donating these wonderful collages! We're so happy to have them in our home.