Quilt Market is THE trade show for the quilt industry.  It takes place every fall in Houston, and in spring at a sequence of cities around the U.S.  I had only been once before–in 2003 I think it was–in Portland, Oregon, with my dearest friend Marie.  What an overwheleming experience and eye-opener!  I knew within 30 minutes that I did NOT want to do the "designer and have a booth at Market" thing for my career, but that I DID want to be a part of the industry.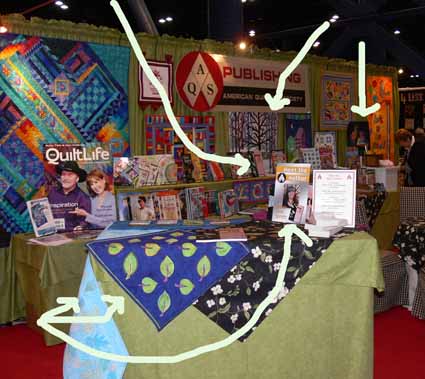 This year, AQS really  put on the extra push to get my book into print in time for Market, and arranged book signings both in their booth and in Peterson-Arne, one of the major distributors to quilt shops.  The photo above is the AQS booth, and you can see that they included two of my quilts on their wall, including The Wall right under the AQS banner (with my book smack dab under it!), and Tea over on the right.  The two projects on the table are in the book!
Marge Boyle, the AQS marketing person, put together some very nice name cards and easel-display thingies which I was able to use later when doing book signings at Festival, in my booth, and later here in Maine at book-signings.  Thanks Marge!  Here is the close-up of the center of the booth's wall: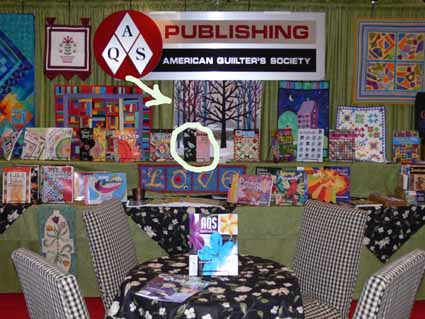 The booth was at the back of the hall….right near the ladies room!  As Libby Lehman walked by while I was signing, one of the editors immediately went over to say hello, brought to introduce her to me, and we gave her one of my books.  Needless to say, I felt quite sheepish–I mean, I'm just me, and she is the Queen, Master…Empress??? of Thread (except she is so nice and friendly those all sound too uppity–she's just the master!).
To my utter delight, on Thursday one of my students from MOnday came dashing in…she was in Libby's class that day, and of the three books Libby recommended for machine quilting, MINE was one of them!   MY OH MY!!!!   It is SO AFFIRMING to have someone with Libby's expertise and stature say good things–after all, she doesn't know me from a hole in the wall, and for her to think I've done well… WOW!   I know I did my best, but it sure makes you feel wonderful to know that someone who is THE expert agrees that I've done a good job.  PHEW!
And a view of another table in the booth: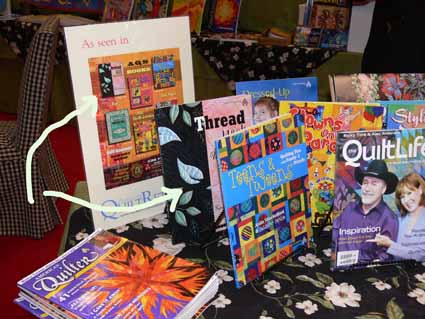 Life is good!