Hi all! Well, it has been another week of some activity, more healing, and more waiting. Early in the week, Joshua was able to get up and about, walking 30 feet to the nurse's desk (from his room) and back. Of course, that wiped him out for hours, but he did it! Then he graduated to a few steps with crutches, too!!!!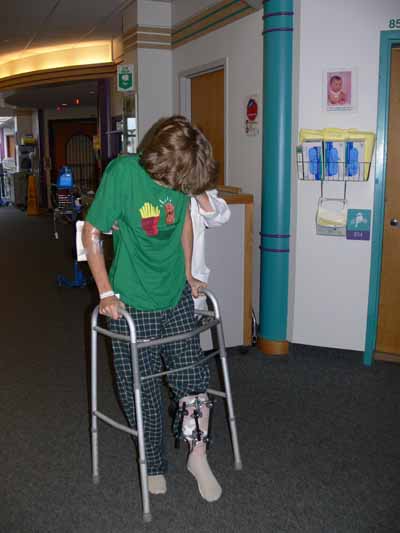 He also asked me to bring his guitar; I told him once he got out of bed for the first time, I would, so I did. Here he is enjoying making music again. He was THRILLED when the guys form Northern Kingdom Music in Rockport (next town, where Joshua bought his guitar and takes lessons) actually came to visit him and brought him an awesome big hardback book about electric guitars! We are truly blessed to be in this giving, friendly community!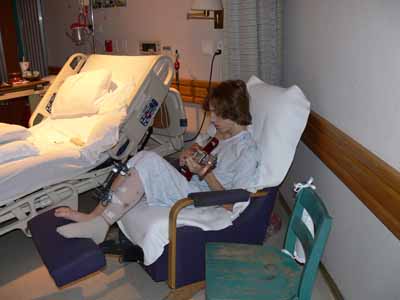 Then Joshua has skin graft surgery on Weds. to close the fasciotomies. I will NOT share pictures of that… if any of you went to the fasciotomy link on Wikipedia, well, his skin graft bandages look WAY worse. BUT, it means he is one step closer to leaving. BUT, he must stay in bed, with leg elevated for five full days (otherwise the graft can "float" off and not take, and we have to do it all over again. Once those five days are over, then he starts up with rehab all over again. FINALLY, when he can get to the bathroom on his own and get around, will he at long last be able to come home. We are all really looking forward to that! But, during the Weds. surgery, they removed the staples from his thigh (which just had a "regular", not compound, fracture) which is healing quite well and seems to give him little trouble, and the also took the one staple for the scrape on his head (isn't he lucky they didn't have to shave a patch of his head with all that hair!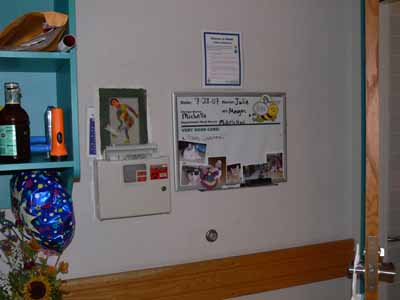 Will let you all know when he's home. THANK YOU SO MUCH TO ALL who have sent blocks! Here is a picture of the art piece Rosemary Claus-Gray sent (a kid with a broken leg, in traction, complete with real screw and pin in shin!), photos of the pets,which have now been joined by many of the blocks. I'm taking up some Pigma pens today to write each maker's name on their block, then will take pics!