The last three pieces hanging at Zoot are two "trees" pieces and the White Flower. This first piece was made for the "Changing Perspectives" challenge; the idea was to present something from a different perspective, or something that made you change your perspective. "Looking Inward" appears to be a night scene, perhaps with the aurora borealis. In fact, the two images are scans of my retinas; my eye doctor shared and gave permission for me to use the scans, which I manipulated in Photoshop Elements to change the colors (the red – green default for the examination equipment was a bit scary!) before printing onto fabric.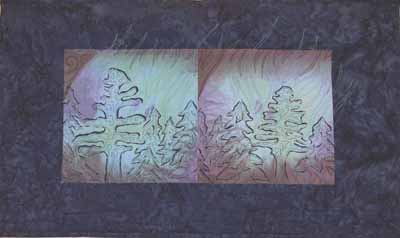 The quilt has hanging sleeves on both long edges (it is 14×24) so it can be hung as we would expect to see trees, or as the trees actually imprint on the retina: upside down. Here's a detail: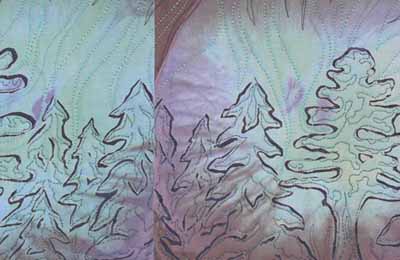 Camden Sunset is another of several small quiltlets featuring a photo transfer of a beautiful winter sunset; I snapped this shot less than a quarter mile from our home.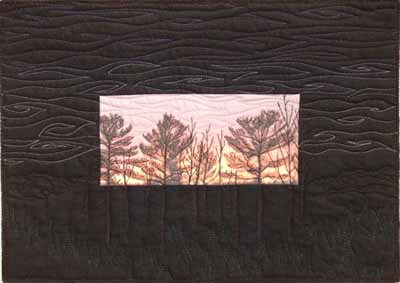 Finally, White Flower is a piece I began for the Frayed Edges Grid challenge (see here for more). I liked this piece, but it just didn't seem finished with just the white portion–it needed more. So I made another piece for the Grid challenge and mounted this white satin, painted, and heavily beaded piece. The green stamens are satin-stitched chenille stems which stand out from the surface. Overall size is 13×17, the white panel is 7×10 inches.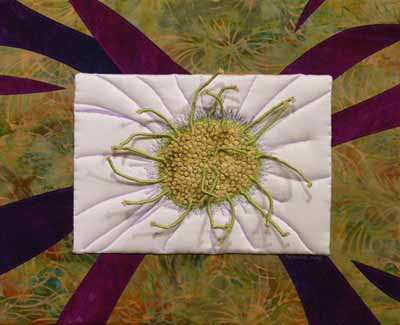 And here's a detail of the center: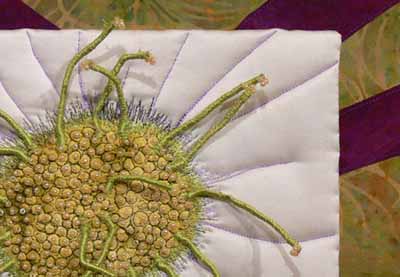 As with the other pieces at Zoot, these three are for sale. Looking Inward is $195, Camden Sunset is $165, and White Flower is $225.