The newest issue of Machine Quilting Unlimited is out, complete with my article on Negative Space or what I like to think of as "the spaces in between."  I promised a download of the leaf and vine motif from the feature quilt, Little Brown Bird, which I'll share in another post.  For a full discussion of negative space, you can buy a copy of the magazine here, but here is a quick recap.  Think of a chair with slats on the back:
The spaces between the spindles on the back are "negative space."  The chair itself is the "positive" image.  Likewise, the spaces between the legs and rungs are negative (or "in between") space.
For the article, I created some examples based on the principles of Notan.  The definitive book is Notan:  The dark-light principle of design by Bothwell and Mayfield.  The Yin/Yang symbol is the class example of positive and negative space.  Each teardrop shape is identical to the other, but one is dark and one is light.  The two are perfectly balanced, and the proportions of the small circle within the teardrop, the shape of the large end of the teardrop, and the entire circle are all geometrically related: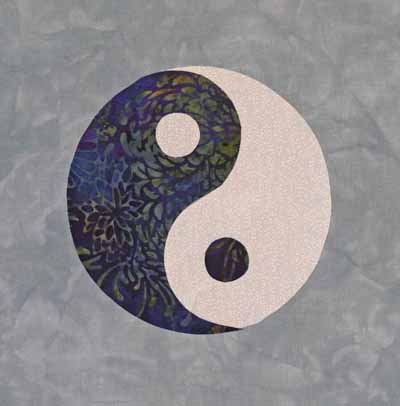 Here is the vine motif I developed: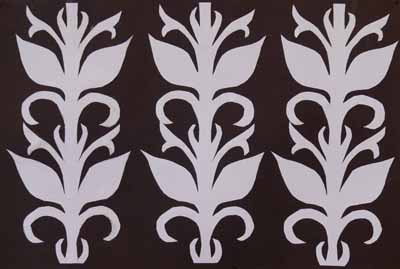 If you like this motif, I've prepared a PDF which you may download for your personal use.  Since it is under copyright, please don't sell it or use it in classes you might teach (without receiving my written OK first), or other nefarious stuff… please DO use it in your quilts, modify it, and have fun.   Also, this is my first time trying to create a down-loadable PDF, so I'm hoping it works!  To download the PDF version (with the black removed so it doesn't eat up your ink), click here: leafandvinemotifpdf
Enjoy!