Well that was a whirlwind! How did we get to the 27th so quickly? I know… kids, end of year and all that good stuff. Well, I'm here, just swamped. I've finally been working on some REALLY tedious stuff for my book (figuring out what I want the photos to look like, setting them up, taking a snapshot for guidance to AQS when they do their photo-shoot, re-naming and re-sizing all the blasted photos, etc…. who knew you had to do all that stuff too when writing a book? I sure didn't…. erg. ….). So that means my "free" time has been spent on the book. Plus it was the end of the year, so herewith some family photos! Next post I'll share my new placemats (yes, it involves cloth and paint), and then Joshua's graduation pix!
On the Thursday before school let out (a week ago I think it was), Eli's fourth grade class had a "Poet's Corner" for lunch and parents were invited. Each child had made an album with mod-podged/ gel-mediumed torn art papers on a base paper, and their spring term's poems were printed (kids got to choose the font etc. as well as write the poems).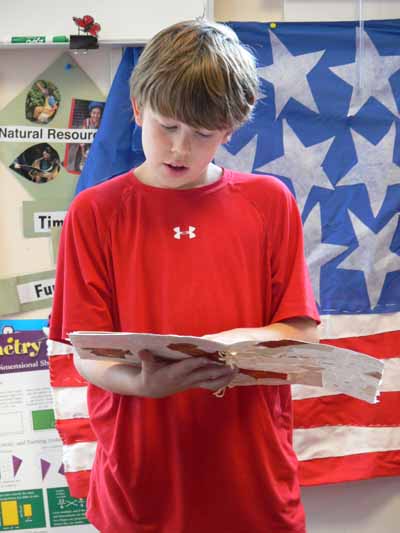 Eli's writing was amazing…he and a couple of the other kids really excelled. One poem was so good I promptly asked his permission to use it on one of my Journal quilts for this year! WOOT! My very first journal quilt was based on Joshua's artwork, so this is now Eli's turn… I'll share the poem when I make it and IF the journal gets in to Houston, will share pics in November….. first gotta make it though! Anyway, the picture above is Eli reading. And here is the other of the two poems he read aloud… I totally LOVE it!
Mouse 2 (because it's the second Mouse poem–please ignore the dots, couldn't figure out formatting or the accent over the "e" on flambe)
Mouse in crumbs
Happy as thee
Being flourished by food day and night
Mouse you better run for the cat has come
not to play but to have mouse flambe
You escape with your life Mouse in crumbs
Happy as thee can be.
Then that evening was the 8th grade formal dance. Joshua went with friends Vinnie and Kyle, who came by to collect him (Vinnie's mom drove them, and I picked him up at 10….). First, Joshua before the other guys arrived: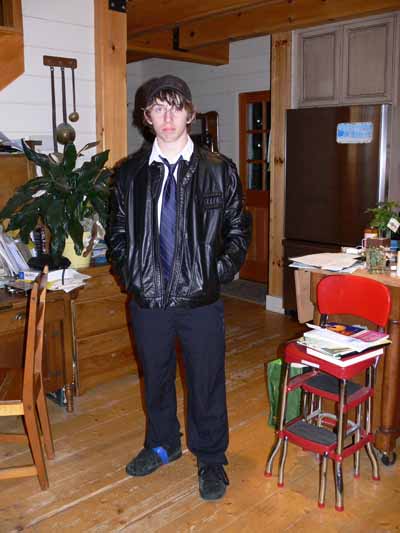 Then, I LOVE this one with the little brother in the background!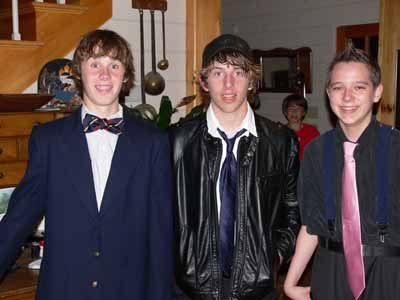 How can I have a kid old enough to shave?