Friday, May 14th, 2021
In 2014, I decided to travel to England again. Back in 1978 I spent a semester in college in London, and while there saw and always remembered the phenomenal artistry in the Sutton Hoo artifacts at the British Museum. Jump to 2014: Eli, our second son, asked if he could come. Well, YES (except, food bills! Teenage boy! kaChing!) ! How many 16 year old boys want to travel with their mom? One that REALLY wants to travel LOL! We had the trip of a lifetime! First stop on Day 1 was the British Museum. You can visit online and see great pics. The helmet at left is a re-creation based on the original artifacts (the silver had rotted over the millennia). The buckle shows the unbelievable metalwork from circa 685 A.D.!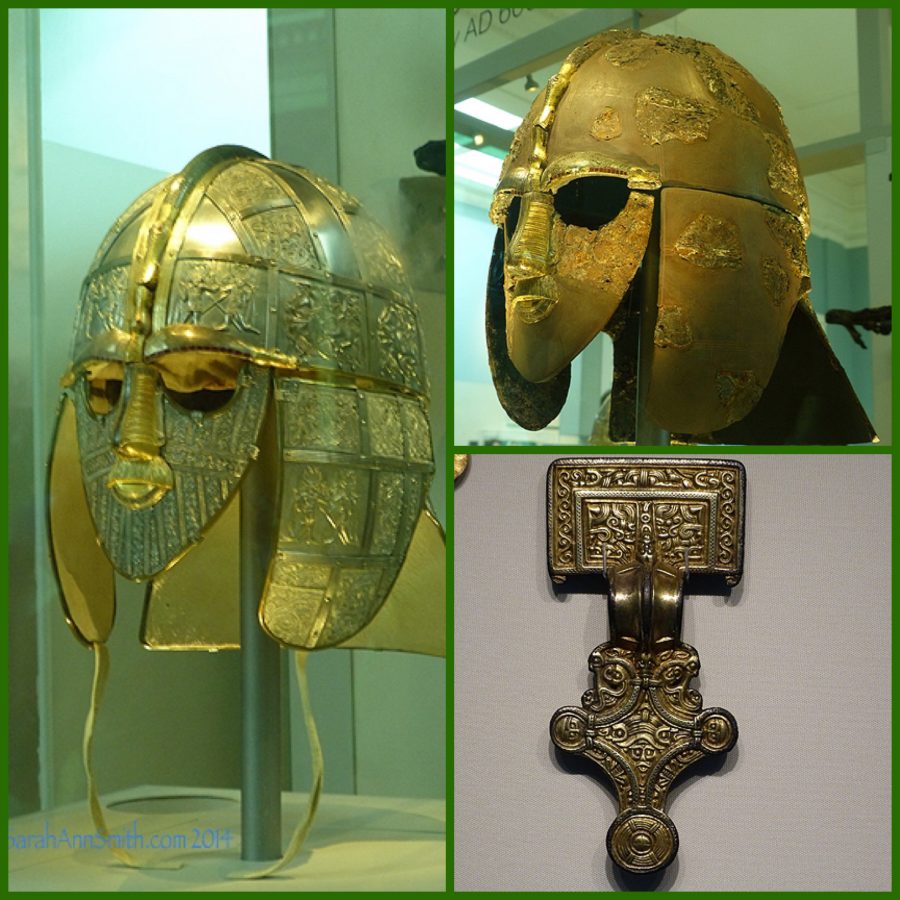 Now jump to 2021: So out of the blue this week I get an email from a guy at Kellycodetectors.com, which I discovered sells metal detectors. He asked if I'd link to his article–well, I nearly NEVER do stuff like that, but what a fun rabbit hole I fell into! If I lived somewhere with the potential for finding archeological things (one of my career wishes as an adolescent) I could do that.

So, not only was it not spam, but it led me down a delightful path: They have four interesting articles if you are in to amazing art and lesser known history:

The Sutton Hoo Treasure, one of the richest treasures ever found on British Soil
The Hoxne Hoard: The Largest Unearthed Roman Treasure Ever
The Staffordshire Horde
and
The Cuerdale Hoard: the Largest Viking Hoard of Silver (in the UK/outside of Russia)

The links to my two blogposts after the trip are here and here, with my photos at the Museum and at the Sutton Hoo site. Some 14 years after first seeing the Sutton Hoo treasures, while living in central Africa actually, I learned that one could now visit the site! So I resolved to visit someday. That turned out to be 2014. The discoveries are now a fun movie called The Dig, available on Netflix. Hope you enjoy the diversion!