During lunch break from class on that Friday, Jan and I went down to the show floor to see the quilts, and what ribbons I might have won …… teeeheee!   I got lucky this year, and received two first place blue ribbons and, drum roll please, my first ever Judges' Choice from (usually traditional-loving) Lisa Erlandson (you'll have to read to the bottom for more!)!  The first of my quilts that I ran across was Nourish; when I walked up all sorts of folks were looking at it closely (way cool!).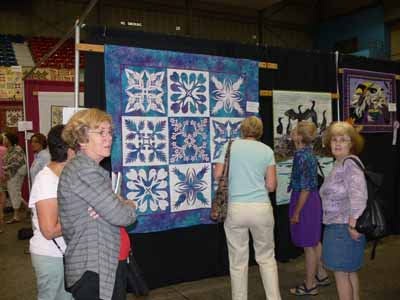 Here's me doing the "Vanna White pose" and explaining to some viewers how I did it….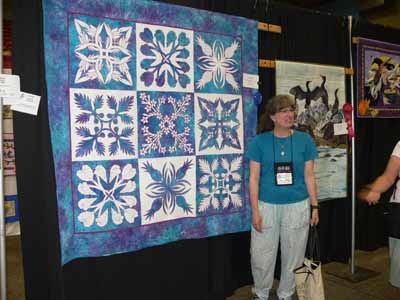 The next aisle had a wonderful exhibit called A Sense of Place, the annual Art Quilts Maine challenge for the year.  This year there were many entries (some years there are not so many!), and they were all wonderful, and some outstanding.  Of course I loved Kathy and Kate's!   Kathy's features her signature bright colors and many beads….as always not one too many, not one too few:
This detail shows more of her fine work: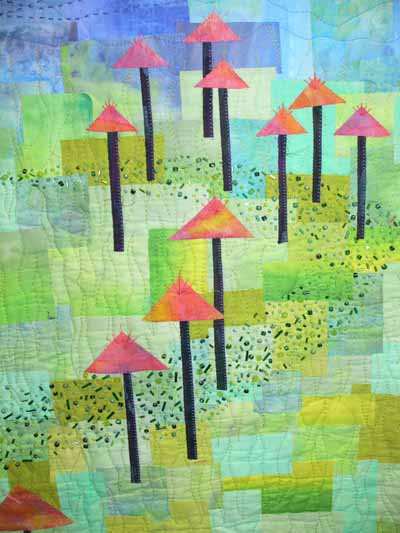 Kate outdid herself this year.  She went to Italy earlier this year, and was so inspired by Cinque Terra.  She took her time with this quilt (as an overextended mom, we all tend to rush!) and it shows in the quality of design and workmanship.  This may be the best machine quilting she's done… I totally love the piece: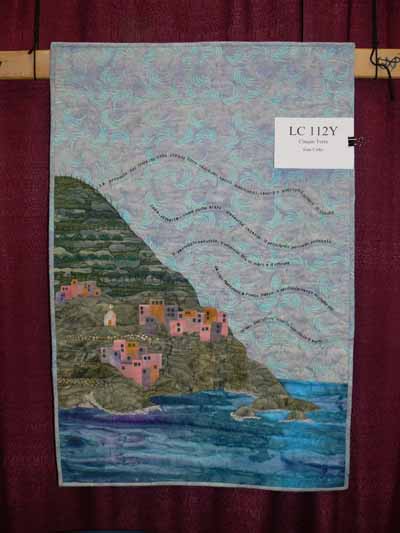 Anne Walker, the President (aka Queen) of AQM, made this stunning aerial view…. her work is always tops—I wouldn't mind owning a piece like this one!  The blue binding on the bottom is inspired!: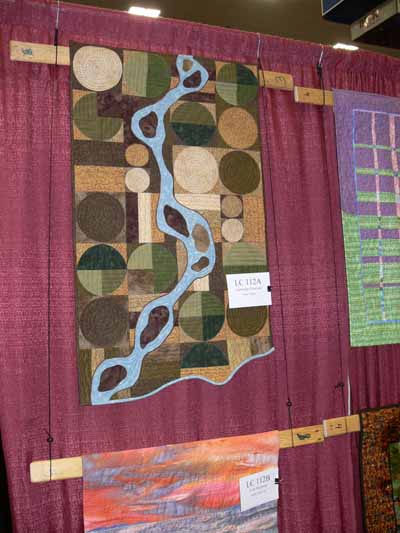 Across the aisle, the Coastal Quilters challenge hung on the ugly burgundy drapes.  Inspired by the Frayed Edges 5×5 grid (seen here in an older blogpost, and here and here), the chapter chose a photo by Jan's husband and photographer Dwight P. called Ropes and Buoys.  The challenge was to make a 10x 10 inch quilt using any technique.   Many went for realistic colors….weathered wood and rope and a bright buoy, but some of us went hog wild!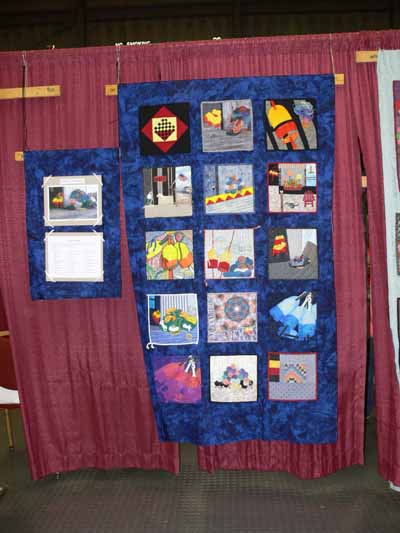 Mine are the two close-ups….last one on the 4th row, first one on the 5th row.
I LOVED that some went traditional in their interpretation, and that others went totally wild.  What is astonishing is that some of the most traditional quilters who had never EVER made an art quilt did some of the most AMAZING piece….major kudos to Karen Martin and Leigh Smith for not only attempting the challenge, but excelling!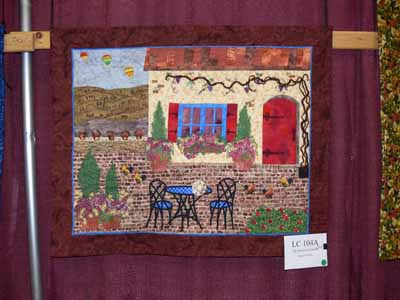 This quilt was a round robin made by Roxanne Wells, Rebeccah Hokkanen, Susan Barry and Gail Galloway-Nicholson.   Despite serious medical challenges to them and / or their spouses for at least three of them, they did a wonderful job.  Alas, I somehow only got the picture of this one (not all four) of their challenge quilts.  Of course they are, all 4 of them, part of my awesome local Coastal Quilters chapter.  I'm so glad I'm here! What luck to find so many kindred souls.
As promised, here is Rana O'Connor's tiger….he is totally, completely amazing.  The tiger himself is ALL THREAD….and then appliqued onto the surface, which is a single batik. Everything else you see is thread–the snake, the tree, everything.  Can you tell she loves thread as much as I do?  Not surprisingly, he took a well-earned blue ribbon!  The quilt is fairly small, maybe 14 inches tall?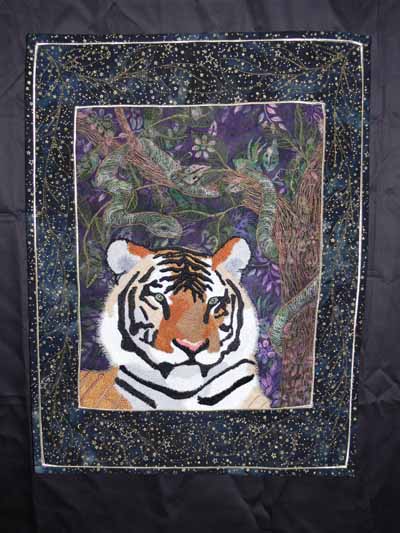 Here are several quilts (and sorry, I'm too lazy and rushed to run upstairs and find the show brochure to add who made them… if you know tell me and I'll update the post, which I'll try to do later anyway) that I really liked…. first this awesome green NY Beauty: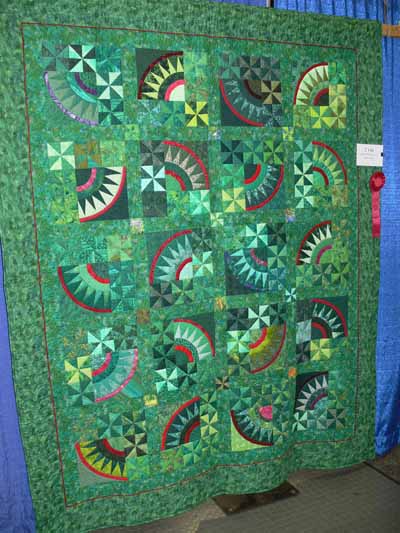 And this very Maine-ish quilt, complete with loose-flapping flags: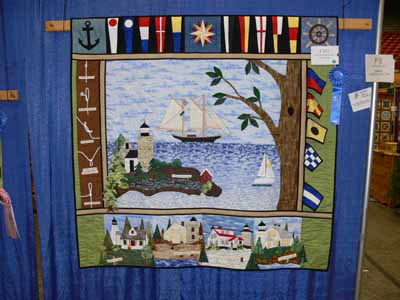 No blog about the show would be complete without one of Jeanne-Marie Robinson's quilts (she's also in Coastal Quilters…grin!).  Almost always her quilts feature animals, and most often are brightly colored.  This one is softer, yet is one of my favorites….the handwork (all hand applique and quilting, and lots of embroidery) is stunning: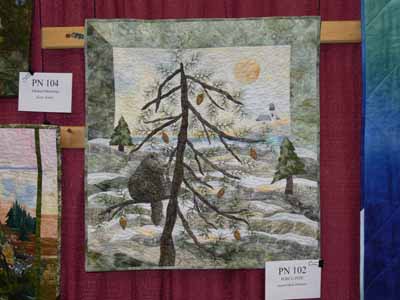 This charming little quilt was made of one of those fabrics you'd think would turn out, well, a bit tacky, but it SO works, and the beading is just perfect.  I want to track down the maker (I have the info in my notes somewhere) and ask her if I may use it in my lecture on beading on quilts:
Last but not least, here I am doing another "Vanna" showing off my Judges' choice ribbon for Naiads: