Tuesday, September 3rd, 2019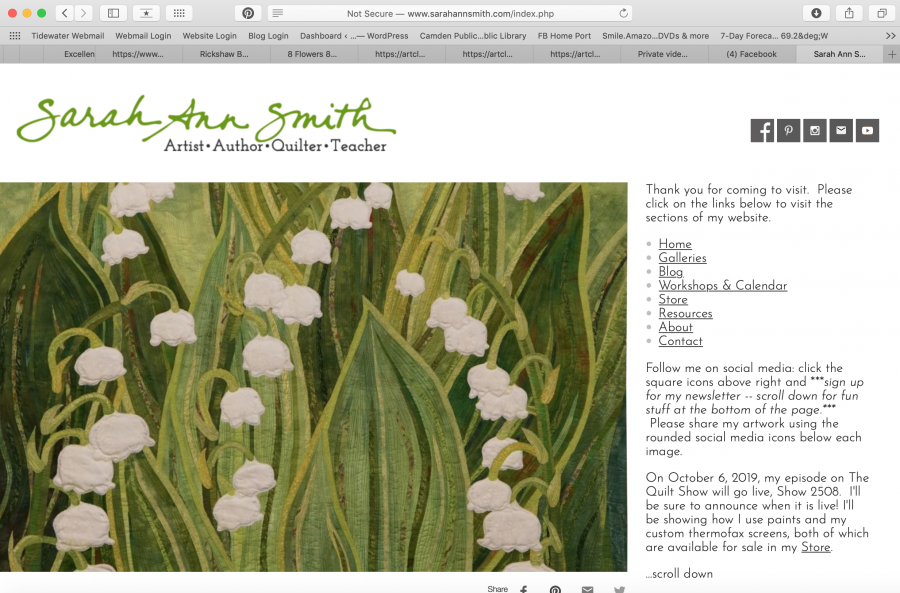 Those of you who have surfed into my blog over the past two weeks or so will have noticed a completely new look to my site. Thanks to Derry Thompson of GloDerWorks and inspiration from several top art quilters with great sites, I think Derry and I have come up with a gorgeous new site–my first complete makeover since creating the site in 2004. I am responsible for (guilty!) the visuals, and Derry has done all the brilliant work behind the scenes to bring my vision for my site to life.
I still have a LOT of work on my end: thanks to the vast changes in the internet since 2004, I pretty much need to re-do ALL of my photos for larger size and crisper photos. Thankfully, I have a better camera, a tripod, lighting, and better skills at both photos and Photoshop so the image looks most like the real quilt. But I didn't want to wait for months before sharing the "New Look" with all of you. Stay tuned as I update one gallery at a time.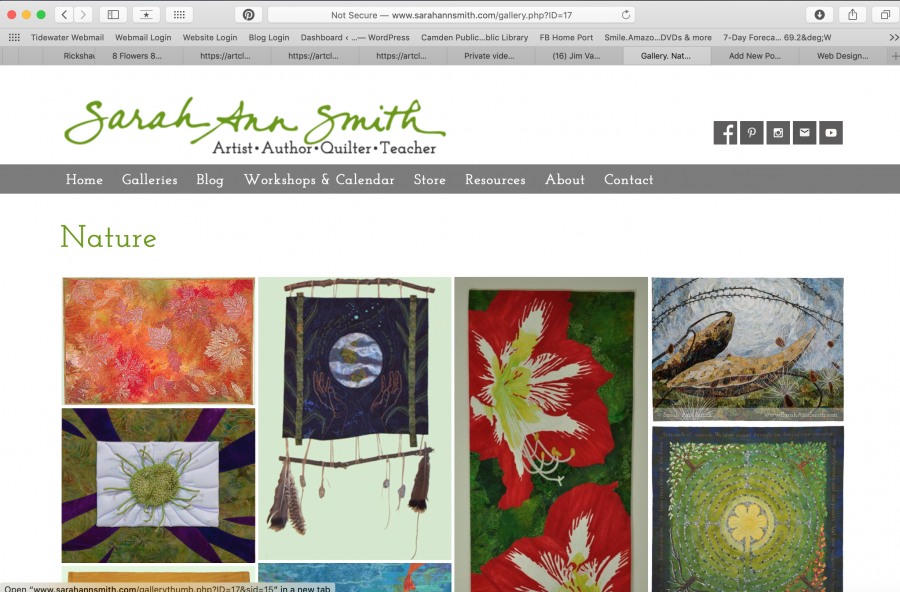 Some of my favorite new things:
The clean look
The colors (I gave Derry a specific palette of colors)
The font (Josefin Slab and Josefin Sans)–now updating all handouts etc, too!
The multiple ways to navigate the images: gallery, filmstrip, arrows on the sides
The FOLLOW social media buttons (square) at top right
The SHARE social media buttons (rounded)
The BIG IMAGES!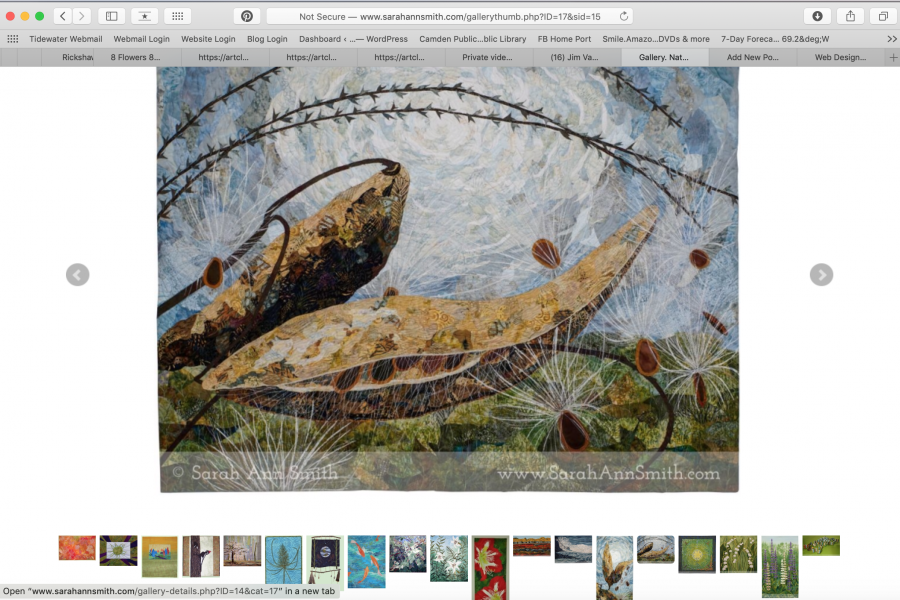 My inspiration came from many sites: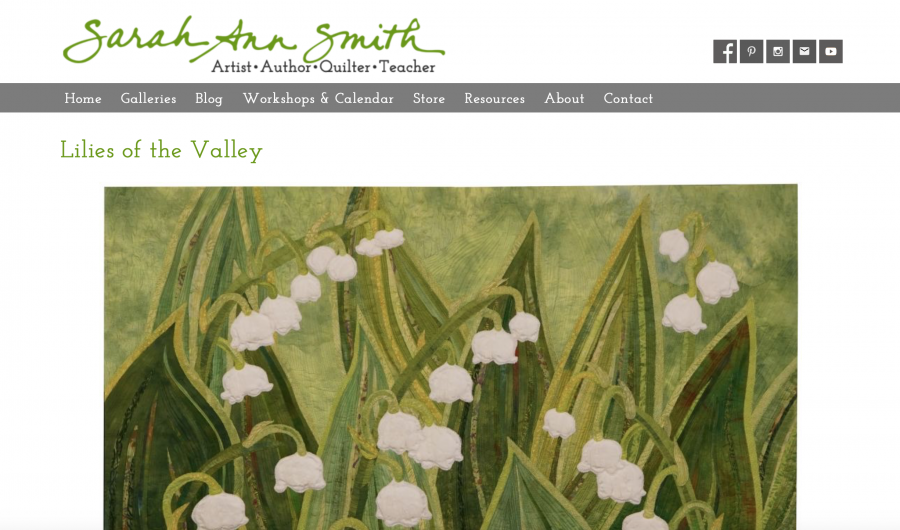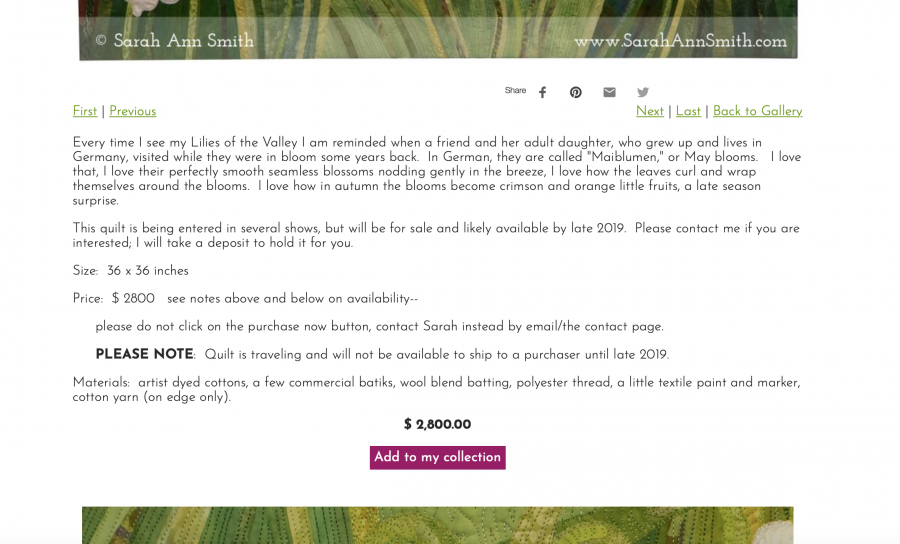 Endless thanks to the long hard work Derry put in creating this site so that it is JUST PERFECT, beautiful, and works well. I am pretty much an "I do it all myself" business….except I made a smart decision in 2003: to go with Gloria Hansen and Derry Thompson to design and host my site. I have learned so much since 2003, a lot from these two. I never have to worry if a glitch happens, Derry fixes it. I actually scold him for answering late at night and on weekends: dude, you need to take some time off! Hoisting a pint to you!
Thanks for looking and reading this far….I hope you enjoy the new site!