For a while now I've wanted to blog about irons, and why I love the ones I have. Yes, plural…..I have SIX! Three are "small" size, two are regular, and one is Sirius the Black Dragon. Yes, my Janome M7 sewing machine is named Albus (the second, he had a predecessor named Albus). There's even a video at the end of this post about all these irons!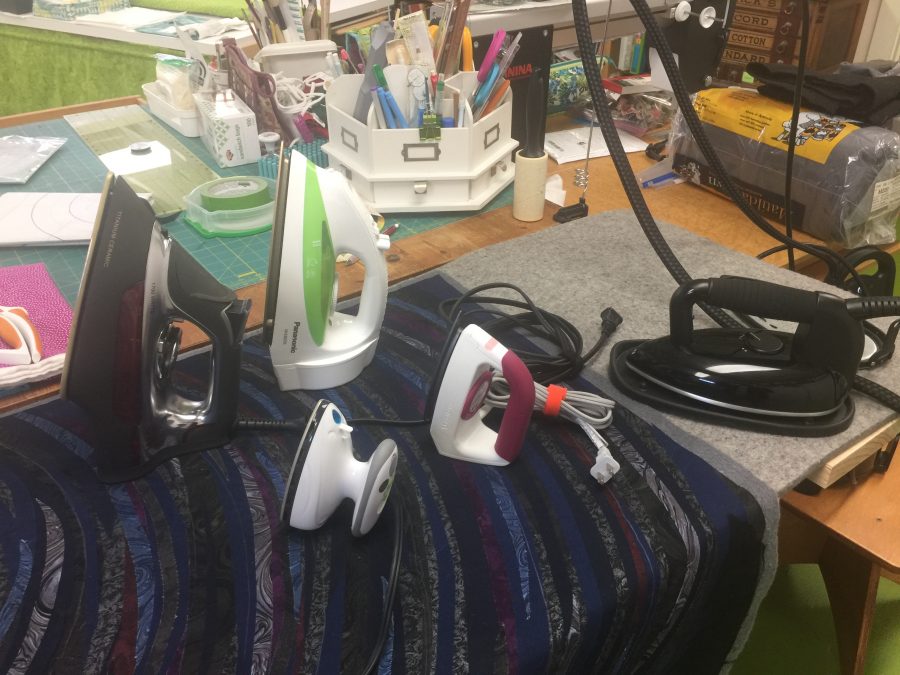 The Panasonic is my go-to iron for fusing. At 1200 watts, it gets hot and has acceptable steam, although I almost always use it as a dry iron. I love this iron so much I wore the finish off my last one! I always have one that is my working iron, and a brand new spare in the closet in case the cats or I knock it off the ironing board one time too many (studio is in the basement, cement floor…not good for falling objects). I can LITERALLY place this on Mistyfuse or other fusible web, melt it all over the bottom of the iron and WIPE IT CLEAN. No more hot iron cleaner fumes (which cannot be good to inhale–they set off smoke detectors)! For the price of four tubes of iron cleaner, you're golden. This link takes you to the one I am currently using–I like that it has auto off because I am easily distracted. As of April 2020, it is a whopping US $27. Even if you only use it for fusing, it's worth it!
I fuse on top of my ironing surface, but also on the design wall. Holding the iron (which is relatively light) had gotten uncomfortable because I have arthritis in my thumbs and wrists. So I tried the little mushroom iron, the ones you see in classrooms and at retreats–many folks can plug them in and not blow the fuses. It is quite comfortable to hold when used on a flat surface, but on the design wall it requires you to bend your wrist, and that hurts for me.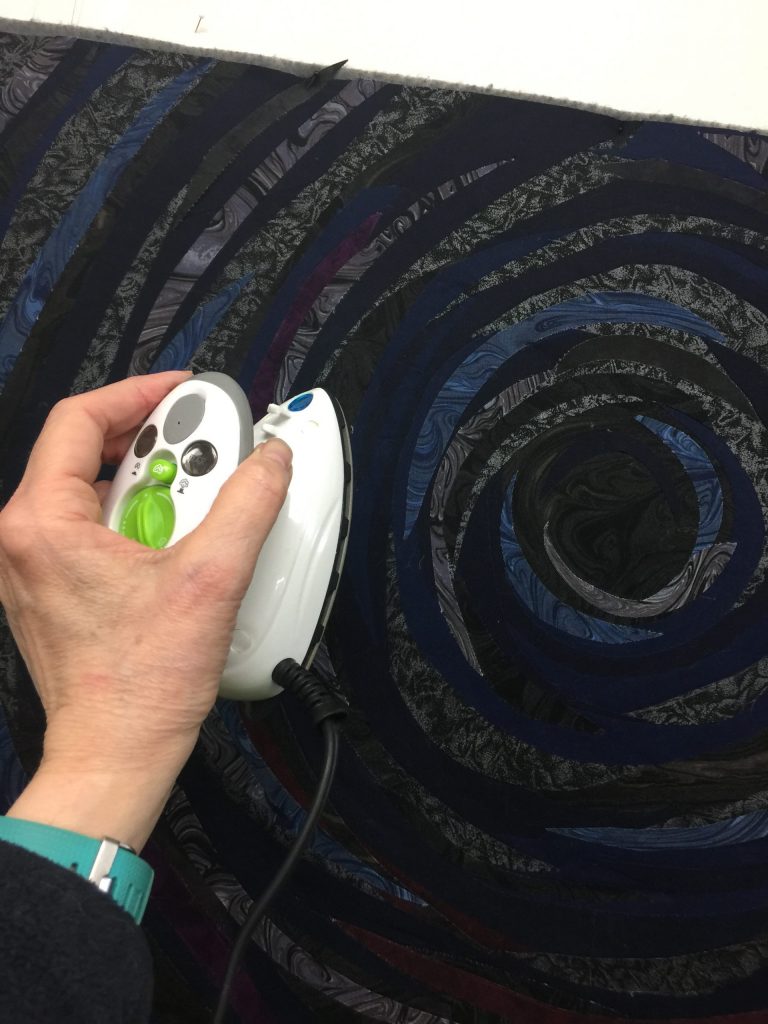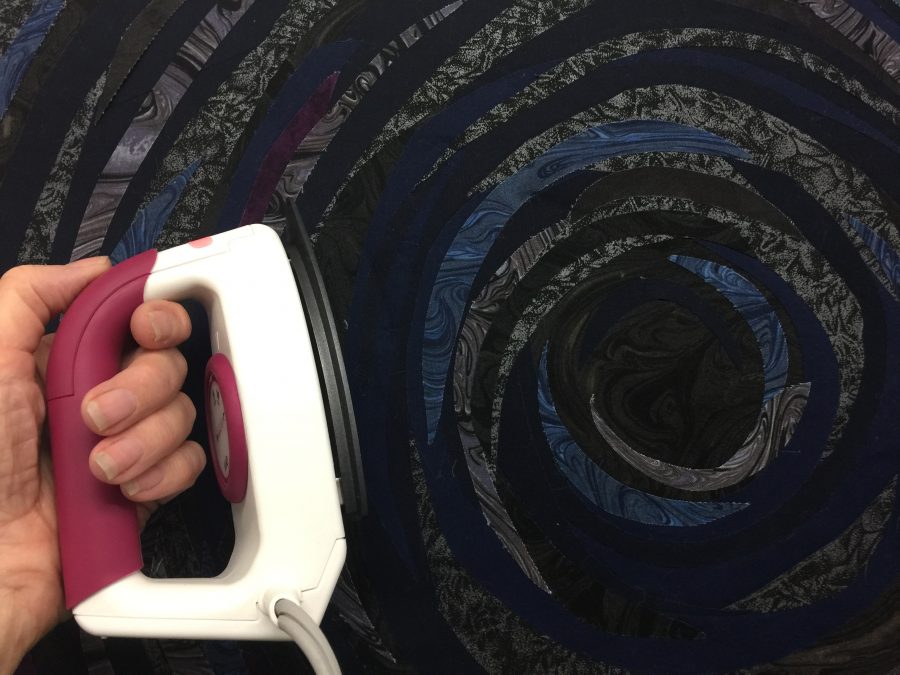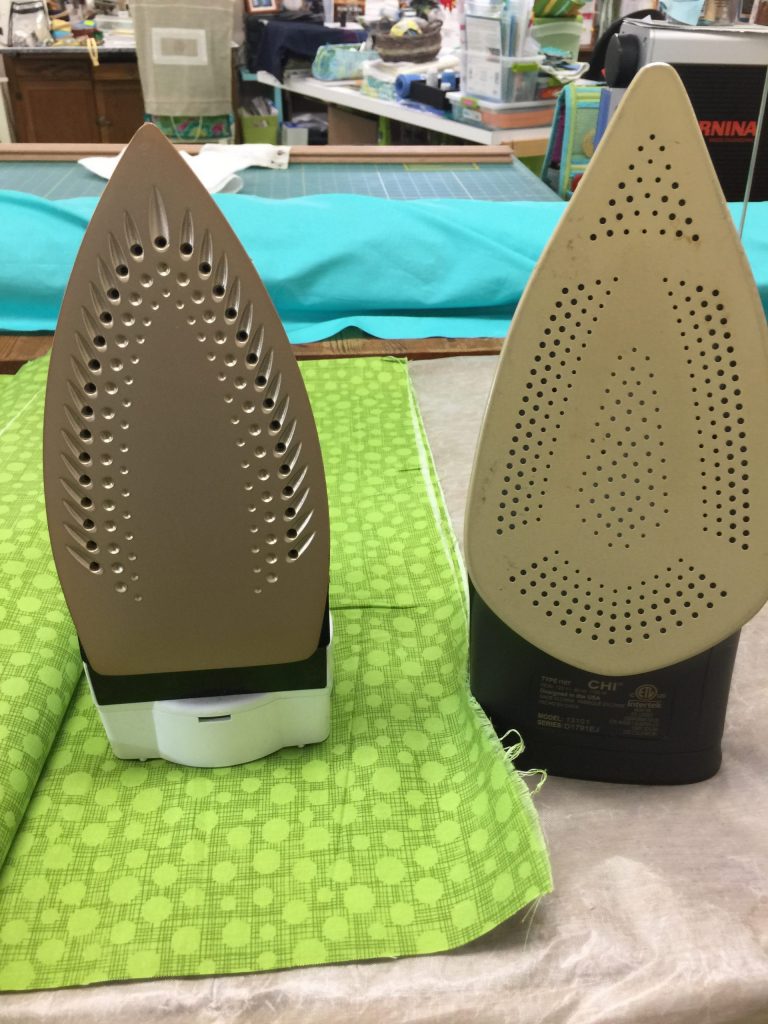 For years I have recommended the Panasonic Titanium nonstick iron to students–Panasonic should give me free irons for life I've sold so many for them LOL! But I had (note the past tense) suggested that the gold-ish colored titanium appears to be the key. Not so much. First, my "in the closet" iron-in-waiting is a Panasonic Titanium ordered earlier this year, but is now a silvery color instead of gold-ish, but still works the same. Second, not all Titanium non stick is the same. I decided to give the CHI Titanium Ceramic, below, a try. It costs more, about $59, and has 1700 watts so lots of heat and power and good steam. It's great for steam ironing, but not so great at the non-stick–it really doesn't wipe clean the way the Panasonic does. Here's what happened: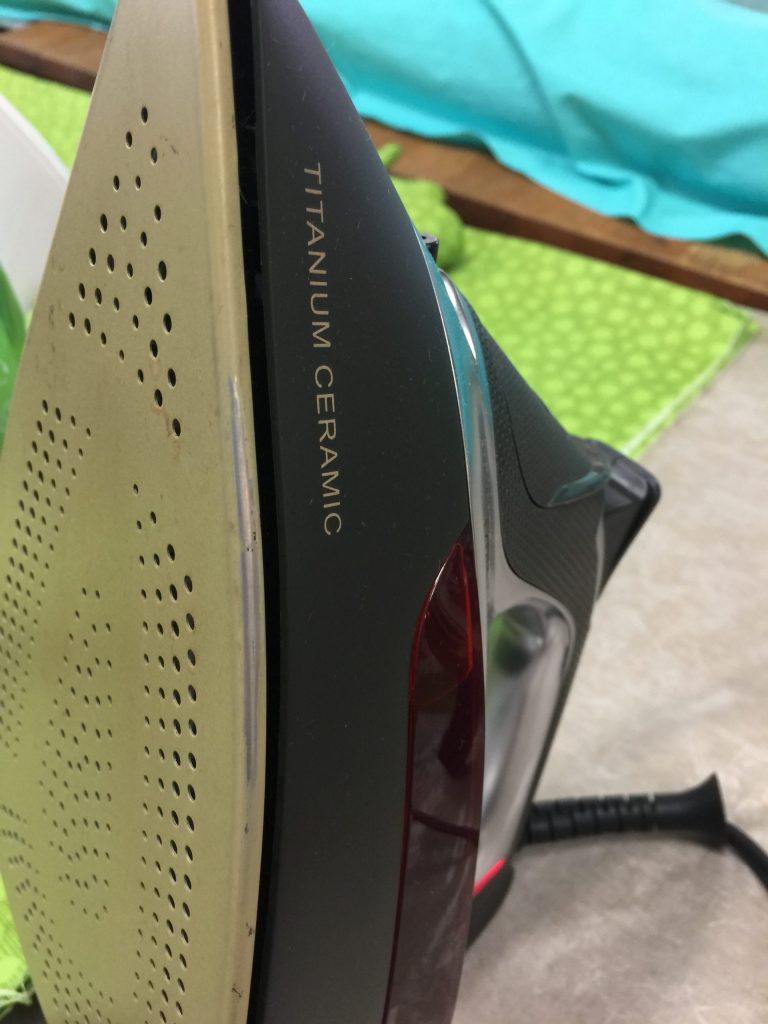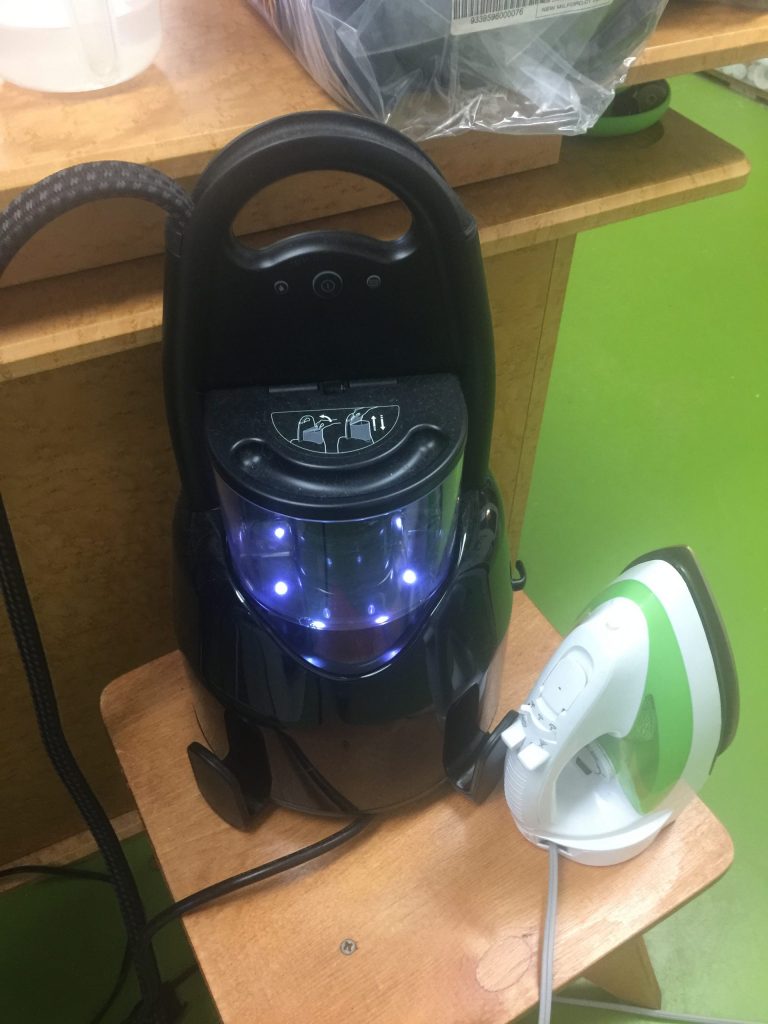 The model I purchased is the same as this one (minus the soleplate cleaner, which I wish I had). The steam is IMPRESSIVE…literally, it sends out a jet about six feet….watch the video below! It comes with a cord stand (which I don't point out in the video. There is the power cord and, wrapped in cloth, the line that powers the iron and brings the steam to it. Unlike a regular steam iron that produces steam constantly (if you set it to do so), you need to push the button, but that is easy to do given the location on the handle.

The steam cord is a bit stiff, which is why having the clamp-on cord guide is so helpful. You also get a silicone mat so you don't have to tip the iron on end, just set it on top of the mat. That is comfortable for my arthritis. So is the light weight of the actual iron. AND you can steam things that hang, like curtains and garments!

When I have a lot of ironing (like yards of dyed fabric, or just washed fabric), the steam generator is a DREAM. Also excellent when doing a final fusing of the finished art quilt top and when blocking a quilt. Many steam generators if the tank runs dry, you have to turn it off, wait for it to cool, then add water. Not so this one–just open the lid to the easily accessed tank and add water (shown in video). BINGO! WINNER! Just be sure not to send a blast of steam in the direction of your other hand. Guess you don't need to ask why I advise you of that. Ahem. Only did it once! If you are also a garment maker, you'll love this. I will grant you, it is *expensive.* But in my case, worth it.
Bottom line: I use the Panasonic for all fusing. For smaller ironing jobs, I use the CHI. For working on the design wall, I use the Clover. And when I need STEAM or have a lot of ironing to do, the LauraStar. So there you have it…why I ned at least FOUR irons! What are your favorites, and why?