My second article for Machine Quilting Unlimited magazine is now out, and I'm really thrilled that I've been able to help folks.  Rayna Gillman (blog and website) was so kind in sharing on the QuiltArt list that I'd helped solve a tension problem she'd been having, and Gloria (my /designer and art quilter extraordinaire) actually said she made a copy to tuck into her sewing machine manual…Wowie Zowie!  Here's the cover of this issue: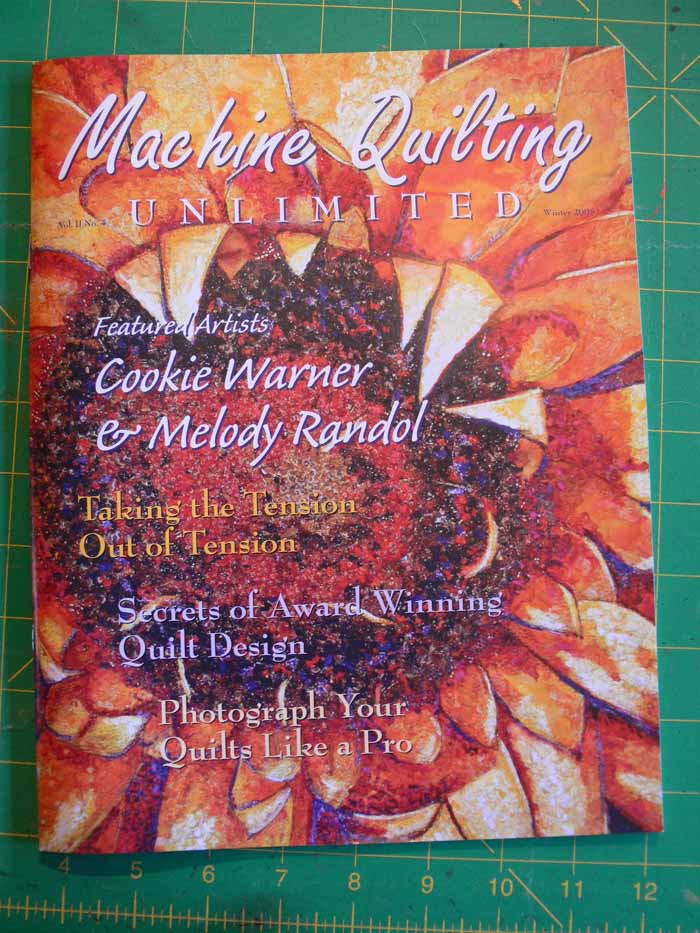 My article made the cover:  Taking the Tension out of Tension (I can't take credit for the title, but I love it! thanks Kit and Vicki)
Here's the opening pages (clickable for a larger view):
There were a number of good articles, including two on Colorado art quilters, both of whom were awesome… Here is the opening to one of those two articles:
*****oooops…I can't share the pictures of these articles…sorry….. due to copyright laws
Oh how those quilts make me want to get into the studio and play and create!   There are lots more pics in the magazine (hint hint).
And Diane Doran from the QuiltArt list (among other places) did a great article on design, specifically how she develops a design.  I really liked the sequence of photos in her article showing how she begins with a digital image, then builds on it one step at a time: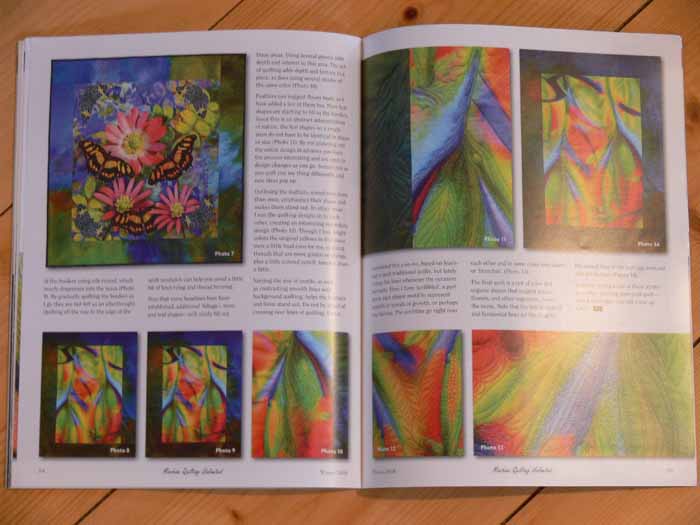 *****Photo included with Diane Doran's permission
For subscription information go to www.mqumag.com.
I just finished the draft of my next article for them, on the use of contrast in line.  I'm going to do a series of articles on how various elements and principles of design apply to machine quilting.   I'm on a mission I think to convince folks that art isn't impossible to learn, and that it's really actually easy and fun to learn and apply.   So the article for the next issue talks summarizes the elements and principles, then talks about line (since of course machine quilting is about creating lines) and how contrast helps lines stand out (or not).  What fun… getting to write about quilting!  Now…kids on vacation, time for quilting evaporated…ditto for time for blogging!  Talk to ya later!