A few days (week?) ago, I shared with you some of my first attempts at lino-cuts, here.  I then did the first exercises for the class. To become familiar with the techniques, Dijanne Cevaal (our teacher, blog here and is in the links on the left) has us do a nine-patch sampler of marks.  Of course I didn't make mine quite like the sample, but you get the idea: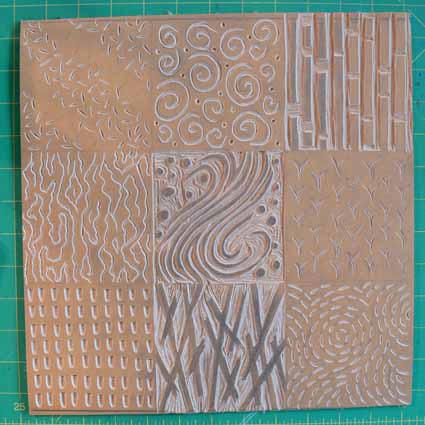 And an angled view that gives you an idea of the depth of the cuts.  For this one, I used the Golden-Cut linoleum from Dick Blick (link below).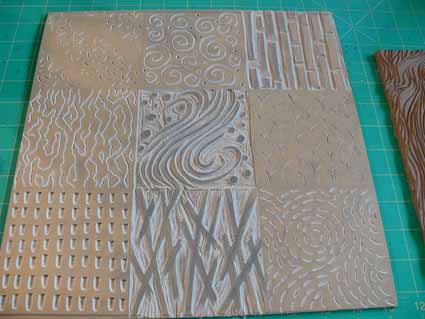 One of the best suggestions / new to me, was to use a pale color of paint/ink for printing to create good background texture, then print over it with another lino-cut.  The pale background print adds subtle but effective movement to the print.  Here is my pale print (which I will over print, at least part of it, later on):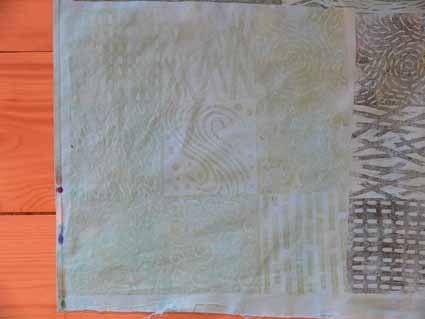 The trick with this 12 x 12 inch block is to get it all inked up without having the paint dry.  I have been using the textile paints I had on hand:  Jacquard Textile paint,  Setacolor transparents and Lumiere (a metallic).  For my second print, I used a pewter metallic Lumiere.  You can see pale spots where I didn't get it inked up quite as well as I should have.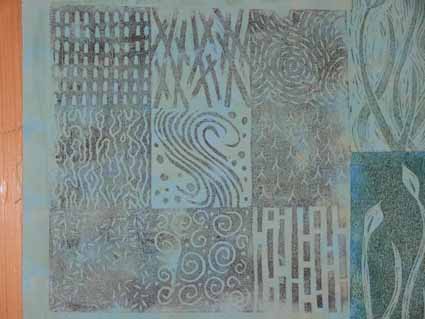 The third attempt was with some Jacquard Textile Paint.  Usually, I'm not as wild about this paint as it is thick and opaque,  so when painting or doing some stamping with it, it obscures the print of the cloth underneath (I like to shade the fabric usually, but not hide it).  However, this paint worked the best for this technique.  I REALLY like the way this one turned out.  I've ordered more of the Jacquard and some of the water-soluble Speedball inks that are for use on textiles to see how they handle, too.   Stay tuned for tests with those (the box should be here in a few days–ordered from Dick Blick, an online art supply store in the US).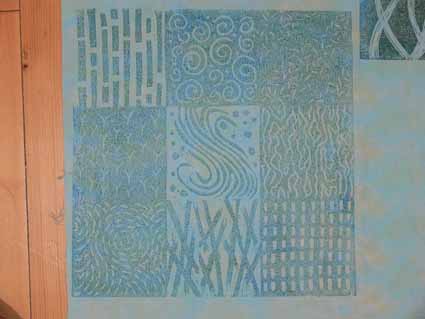 Next, I'll share some leaf / bud carvings and prints.