Well, I actually took the photo in late March, but I loved the look through the car window and rain….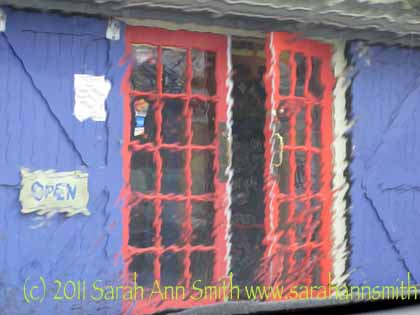 Have been really busy with painting the studio floor (which required soaking and scraping up lousy old paint left by the previous owners so the new paint stands a chance of sticking), Eli's wrestling, Joshua stuff, more moving in stuff, paying bills and all the general nonsense….have many many many things to blog about…just need time…. anyone have any to spare?
PS—the photo is of The Market Basket entryway.  The Market Basket is a somewhat gourmet-ish deli / store / place at the intersection of Route 1 (the Old Atlantic Coast Highway) and Route 90 (which heads due West to Augusta, the state capitol, a town of under 20,000 souls one hour or so to the west).  They have WONDERFUL tuna salad, good  local and imported foodstuffs, and good breads and desserts.