PLEASE send our quilts home!   This past summer, Anne Copeland of the Fiberarts Connection curated the exhibit  "Then and Now"  that was on display at the Mancuso shows in New Hampshire (World Quilt Competition) and California (Pacific International Quilt Festival, PIQF, Santa Clara).   The Mancuso show folks returned all the quilts to Annie, who in turn packed them up to return to their owners.   All but four have made it home; alas, it appears that two of my quilts and two of Wendy L. Starn's quilts are currently lost and unaccounted for since about October 11th, over a month.  If you see these quilts for sale anywhere (or anywhere or any way else!) PLEASE let me know!!!!!!!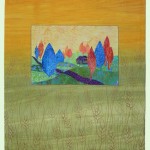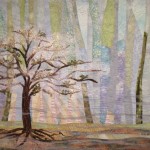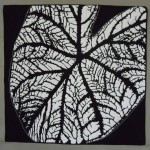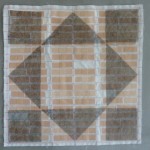 As far as we can figure, Annie shipped out most of the boxes on October 11th at an Office Depot near her home in Lomita, California; they are a postal acceptance facility.  Those quilts were packed in Flat-Rate Medium USPS (US Postal Service) boxes; all of those for which she has a receipt and tracking numbers were delivered.  Several days later Annie made two trips to the US Post Office in Lomita.  One trip was for the international shipments (to Canada and the Netherlands) and another was for domestic mail.  Annie had tracking numbers for six of seven boxes known to ship that day, and all are marked as delivered according to the USPS Tracking and the seventh box the recipient has said she received her quilts.  Of those who answered my e-mail, everyone had opened their boxes and received only their own quilts (and with the size of the box it would be pretty hard to fit in extras).
That leaves the four quilts–shown above in small images and below full size–missing:  "Fields of Gold" and "Dogwood::Dawn" made by me, and "Shady Lady" and "Economy" by Wendy L. Starn.
I have posted my information to the Lost Quilts website, and gone through everything Annie and I can think of to try to figure out what happened to the boxes.  Annie remembers  packing and labeling boxes with Wendy's and my names and addresses, but due to a lot of pain from knee surgery, her memory isn't clear about what happened with those two boxes.  She thinks they might have been taken to the Office Depot, but there are no records.  Without tracking numbers, the postal service can't do a thing.  I even suggested Annie check her bank records for  purchases so we could do the math and it appears no postage was paid for the missing two boxes.  I am still hoping they will turn up eventually.
In the meantime, going public via the internet seems to offer our best hope for recovering these quilts.  If by chance you see them (HORRORS) on Etsy or Ebay, or anywhere else, PLEASE let us know.  As Annie is also having to move (while still in pain from the surgery) to a new home, please contact me.  In turn I'll share any info with Annie and Wendy.  Annie is, I am certain, more stressed about this than I am!  She has always been SO careful in the past, and I know that her pain was a major factor in this issue.  Please send her healing light for her pain, and "good move" thoughts–and "come home quilt" thoughts for Wendy and me.  I am still hoping that maybe they may be walkabout in the US postal service…perhaps with no postage and have yet to be returned to sender…..
Thanks for your help!