Wednesday, March 4th, 2020
This morning I was checking my spam folder, because the spam filter (I get at least a hundred spam messages most days) frequently leaves spam in the inbox and puts a few "good" messages in the spam folder. Today's discovery is WHY I do check diligently….sometimes I've found inquiries from guilds asking me to teach, but this is even better.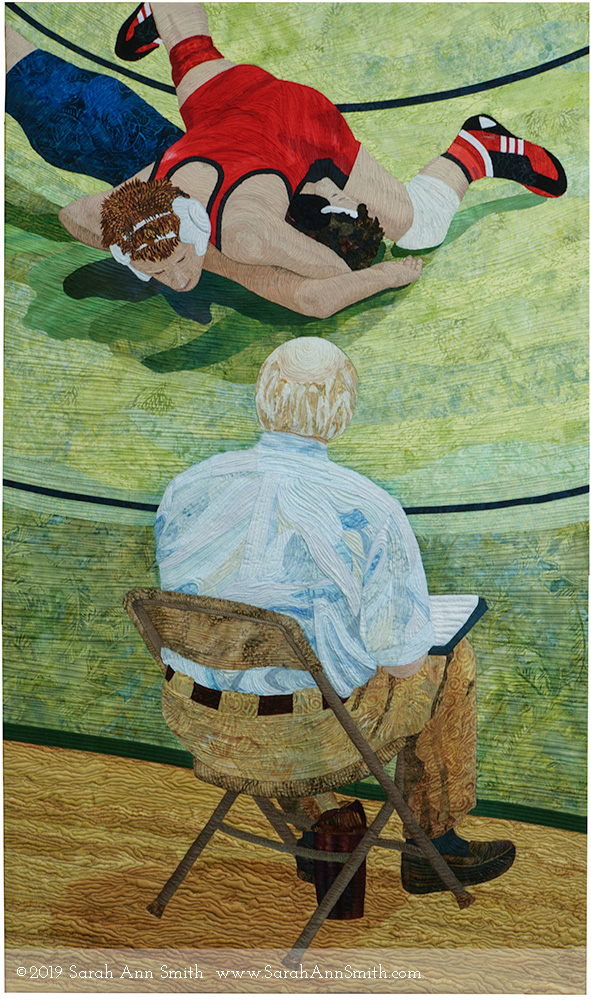 I've X'd out some of the details to protect the privacy of the person who wrote, but it brought tears to my eyes.
 "I just saw your quilt "Coach's Clipboard: Win by Fall" at the Mid Atlantic Quilt Show in Hampton, VA. I can not tell how much joy I felt when I rounded a corner and saw it. It was worth the xxx hour drive to Hampton and back just to see it!! I looked for wrestling themed fabric or patterns for ages and had given up. Wrestling was the best thing that ever happened to my socially awkward ADHD 5th grade son (now age 2x) and his first coach in particular was an inspiration and mentor to both kids and parents. Since graduation my son now referees for youth league and JV matches. I now especially enjoy watching all the girls who now wrestle, learning to be strong and fearless. Olympic wrestler xxxxx xxxxx, who originally attended my son's high school, has inspired a lot of kids in the area. Thank you so much for sharing your wonderful work and thank your husband on behalf of all the moms out there whose children have benefitted from having another adult in their lives who care about them and help them be better people."
THANK YOU, L.P. in the mid-Atlantic….you have no idea how much your comment means to me. Our older son was ADHD and is also in his 20s, and wrestling benefitted him. Our younger son, pictured in this quilt, has just finished is senior year in college, including four years on a D1 wrestling team. To his dismay, between lack of top training before college and three major injuries/surgeries/recoveries, his college career wasn't what he had hoped. But he has learned and grown, and I know that every minute of his athletic career has helped make him the amazing young man that he is.
So THANK YOU AGAIN L.P.! You have given me something that I will remember for a very, very long time.