Talk about COZY and warm! I fell in love with the relaxed and comfy look of the Sunday Cardigan (on Ravelry) mohair edition and regular edition immediately and knew I wanted a slouchy, oversized hug-of-a-sweater. So I made one! And then I made another. Here's the second one, which is what I was craving: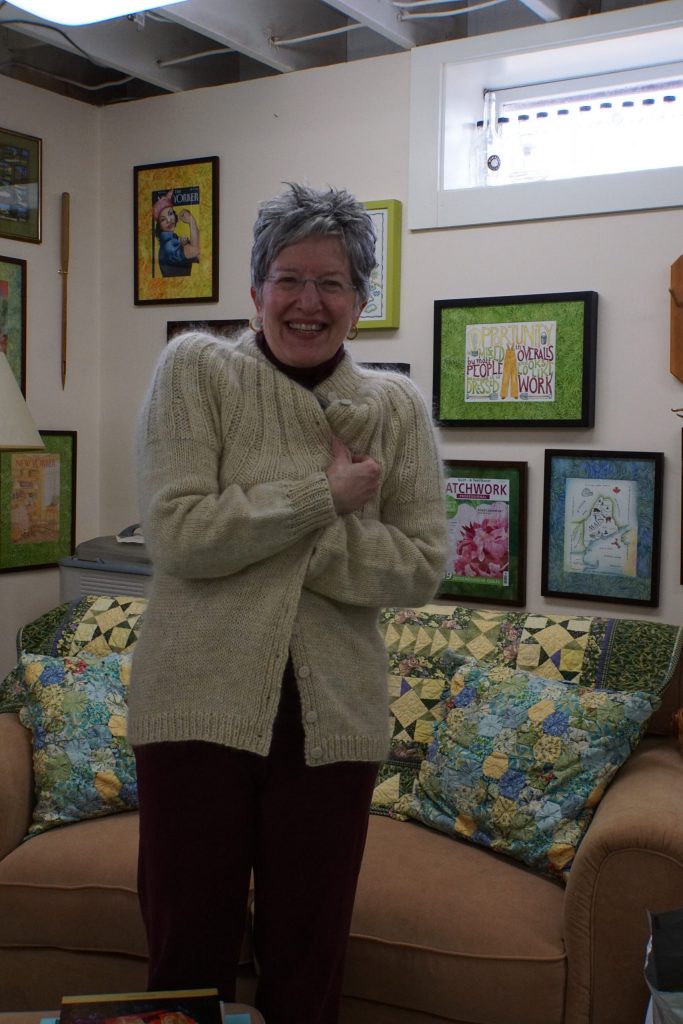 Now I KNOW many of you are thinking "mohair…ITCHY!" I agree. But this one is made with Rowan's Kidsilk Mohair, a blend of mohair and silk and it is heavenly soft and doesn't itch me!
BUT, before I got to this one, I used up some stash. Yes, I used yarn stash! I had this alpaca boucle (according to the receipt in the bag) about a decade. Ahem. I wasn't sure if I would have enough, so I made a size medium just to be sure. I couldn't believe how quickly it knit up. My previous sweater was 24+ stitches to 4 inches. This was 12 (!!!!) stitches to four inches. And it knit up in a matter of a few weeks! It is quite fitted, and I'm fine with that. I like the sweater, it is comfortable, and looks good. But I wanted that huggy-oversized look.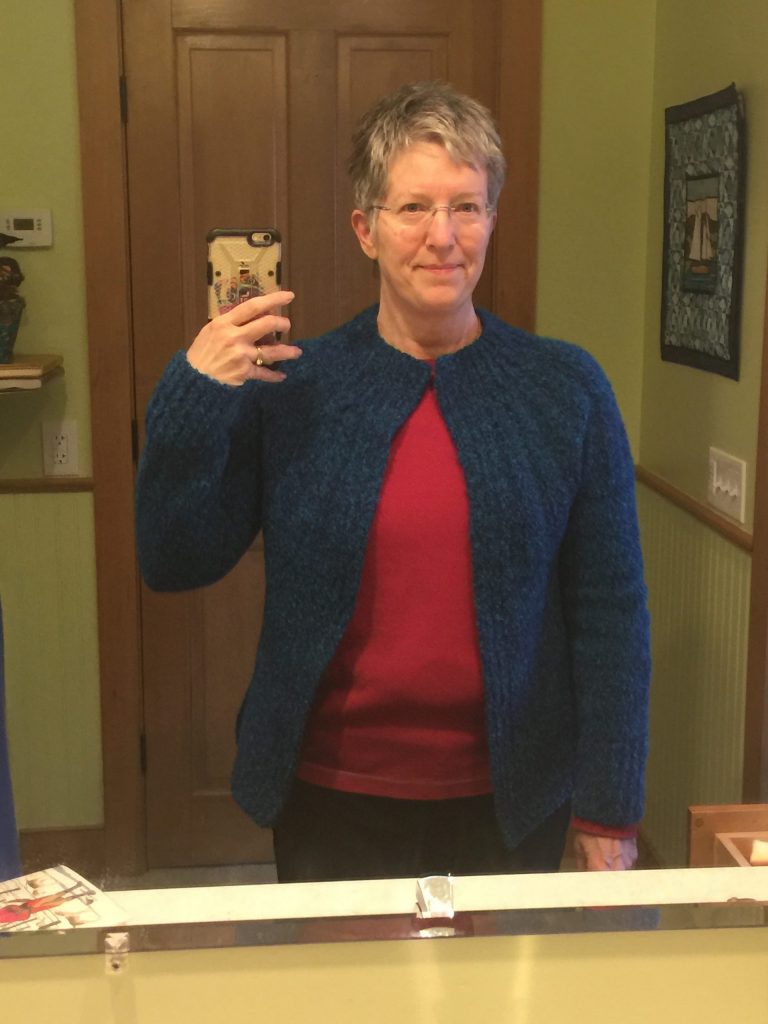 So I bought new yarn at Heavenly Yarns in Belfast, Maine. Thankfully, they got in a new order of the Kidsilk before the current shelter-in-place-followed-by-quarantine-then-extended thing. I wanted mine quite long, so I used just over 4 skeins of Cascade 220 in an oatmeal color (reasonably priced) and four skeins (down to the last 30 inches) of Kidsilk (honestly, a bit expensive) in a soft white. If you want to geek out and are a Ravelry member (free to join), you can see project notes here. The blue version is here. I could have done the math and made a different size of the regular version, but I sprang for the whopping $6 for the mohair edition pattern which did the math for me. My version is a bit of a hybrid: I made the mohair version using one strand of Cascade 220 held together with just one (not two as recommended) strand of Kidsilk and got the gauge of 14 stitches to the inch. Given how warm it is, I'm glad I don't have another strand of mohair in there!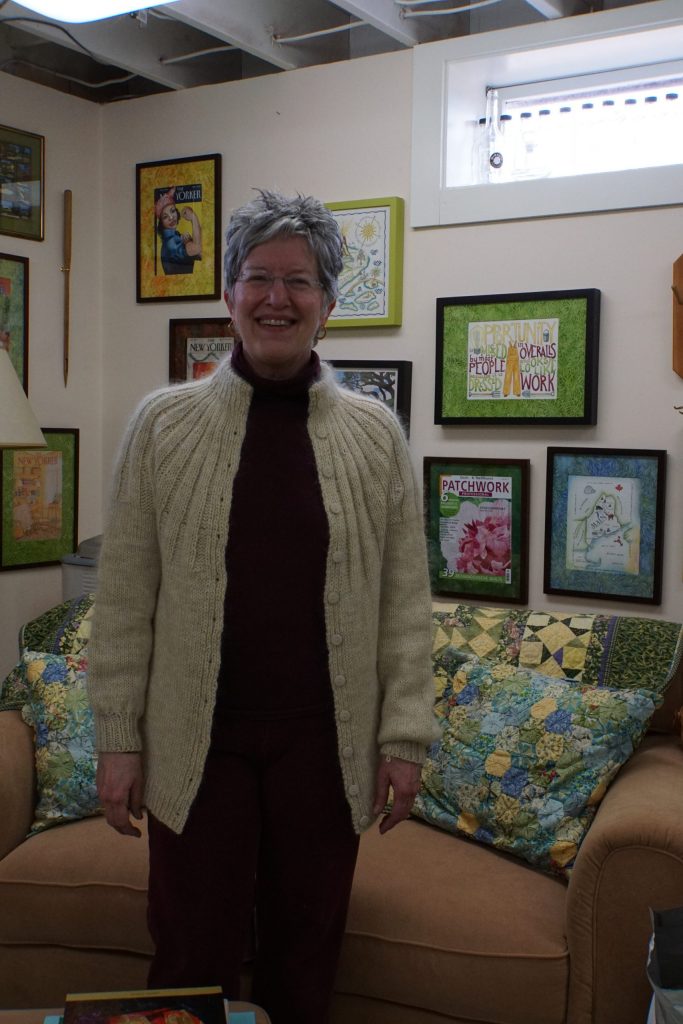 I opted to make the fold-over collar from the standard version and sew it down as in that pattern (even though I didn't sew down the collar in the blue one!) and add buttons. I followed the directions in the standard pattern for opening up the stitch rather than making a proper buttonhole. Since I had no idea how long I was going to make mine, that was easier. However I think next time I will do a proper buttonhole that looks better. I also made my sweater longer, with sleeves that are neither snug nor full.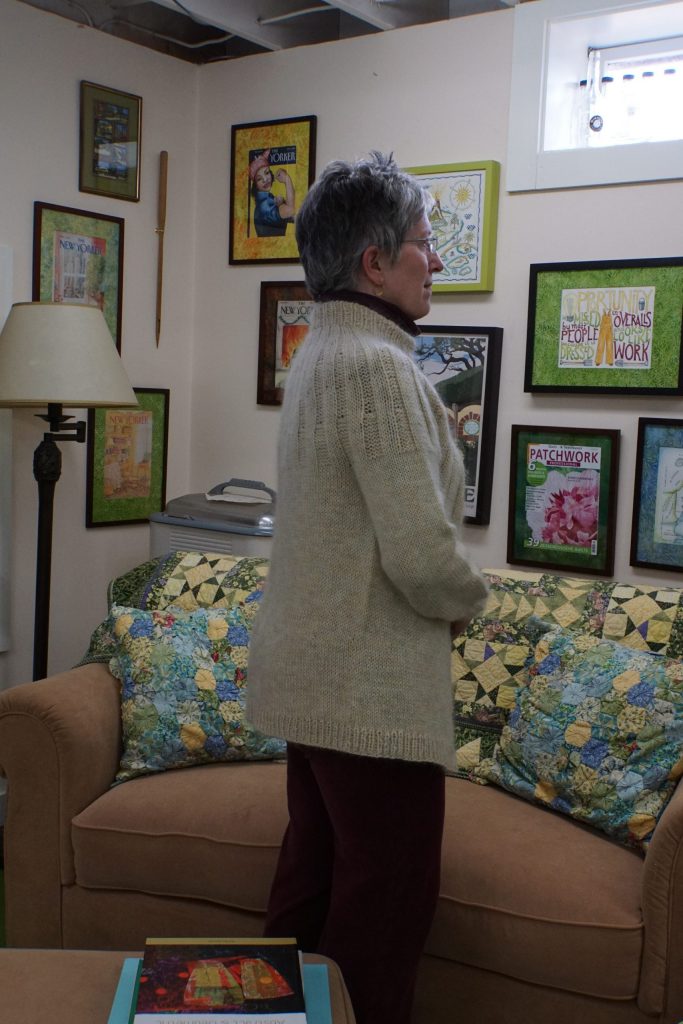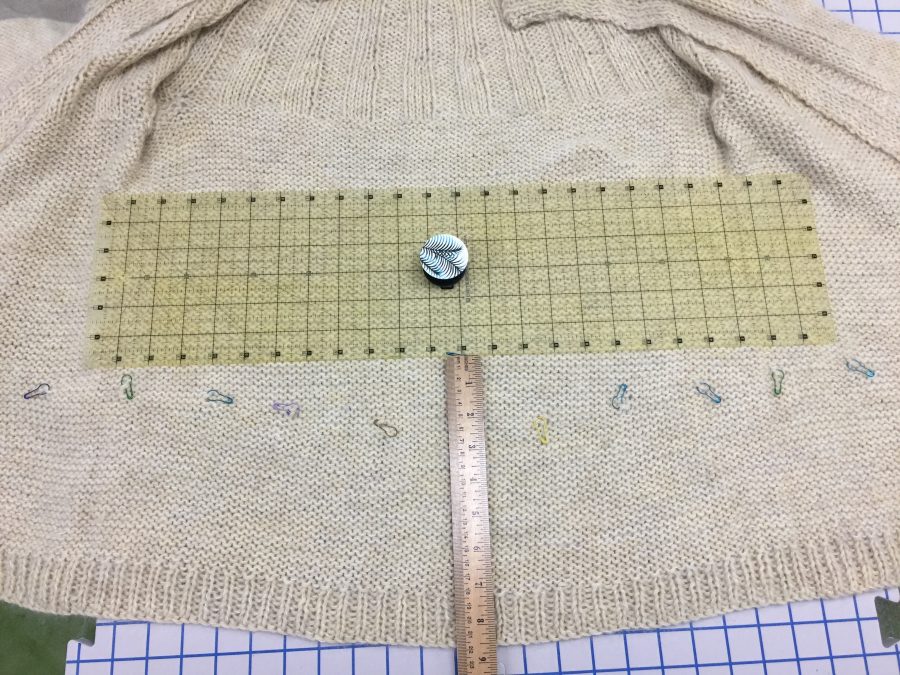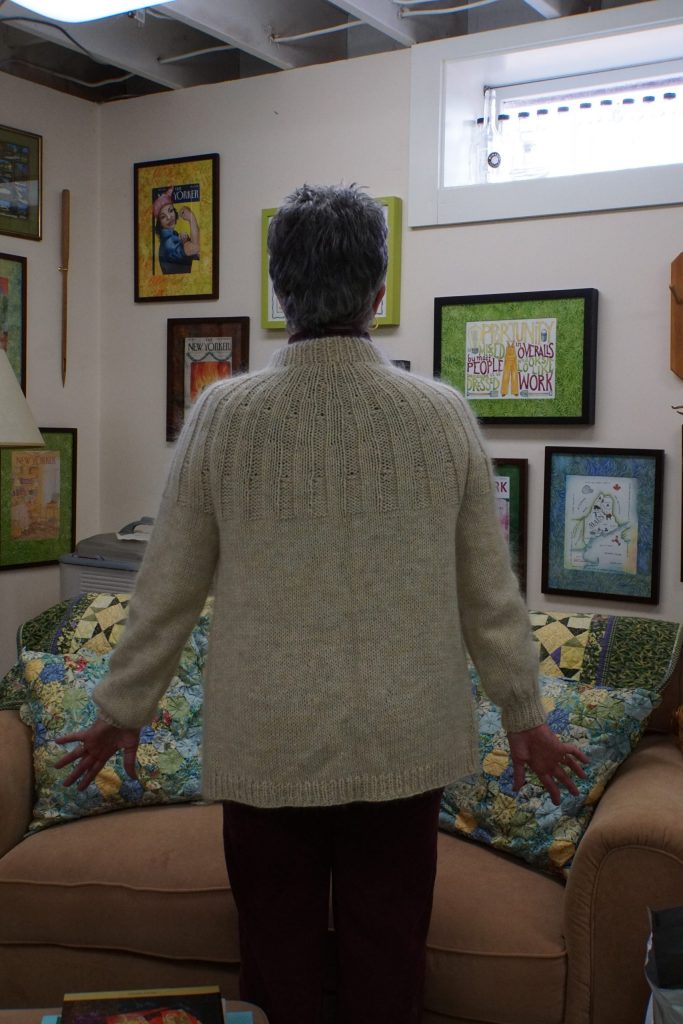 So that's what I've been doing in the evenings while watching Midsomer Murders on Amazon Prime on my iPad. Next up: a pattern hack of Jeri Riggs's stunning Lily of the Valley vest. I'm attempting to do my own thing and make a linen t-shirt with two columns of the Lily of the Valley motif up the center front, mimicking one of my favorite cloth shirt patterns that has a square neck and short sleeves. The Quince and Co. linen yarn isn't fun to work with my arthritis, but everyone tells me I will LOVE the yarn once it is all done and washed. About 24 stitches to the inch, so it is slow going, but I'm about 6 inches up from the bottom. Hopefully it will be done by the time it is warm enough to WEAR it! And hopefully we'll be able to go out!