This year marks the 20th anniversary of SAQA, the Studio Art Quilt Associates.  They put out a call for entries from members a while back for small pieces for a traveling show.  They will all be matted with an 8×8 opening, so finished size had to be 9×9 or a bit larger (with the excess hidden under the mat, and used for mounting).  Since I make TONS of thread changes in a piece, even one that small, I decided to make two almost the same, send one to SAQA and prepare the other for sale.  I did take a photo of the SAQA one, but managed to delete it accidentally, but here is a photo of the 9×9 piece I kept (which is nearly identical).
It is made from my hand-dyes, commercial batiks, thread, yarn (edge-finish), and prismacolor pencil (there wasn't enough contrast between the "spear" of the flower and the background, so light green pencil to the rescue…I hope).
I wanted to try something for this that I had done on smaller pieces…mount it on a painted/mixed media canvas.  I had some teal cloth out on the work table, tossed the piece on it, and it looked great.  So I  used mat medium to adhere acid-free tissue paper to the canvas, then painted the canvas the same teal color.  Bleah. It definitely didn't work the same way. I added some green.
Still needed more, so more paint to the rescue.  After checking with Frayed Edge Kathy D., we agreed it needed way more green.   In the end, it needed green and raw umber.  I painted the colors on, then swiped with a paper towel.
Here is the finished piece.  It will be for sale directly from  my website for a few weeks, then I'll take it over to the Ducktrap Gallery that has my work here in Camden, Maine:
And here are two detail photos that show the texture of the canvas, which I rather like: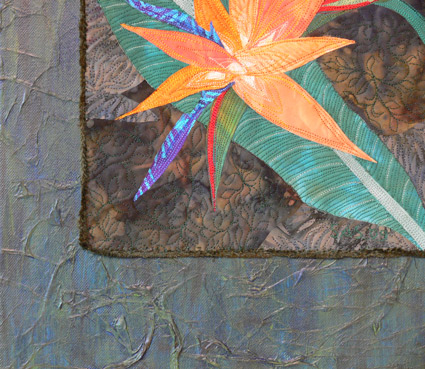 and:
Amazing…. after two years working on the book and assorted family crises, I get to make art!  I'm looking forward to MORE!