After years of hinting to me that her customers would love a landscape class, I finally agreed to teach one at Maine-ly Sewing (www.mainelysewing.com) in Nobleboro, Maine.  (Contact the store to sign up, etc.)   The class will be Saturday, Feb. 28th, from 10-4 !
As usual, I figured why make one quilt when you can make two…. So I made the fusible applique quilt two ways, autumn and summer.  I am so pleased with the results that I think I'll do the four seasons, write it up as a pattern and sell it…let me know what you think?   The pattern is actually quite easy, finishes about 22×25 inches (depending on your border and your final composition of the scene…there is definitely fudge-room here!).  PS–photos are clickable for a slightly larger view.
I did easy quilting so that beginning quilters and machine quilters won't feel intimidated…I PROMISE, it really is easy to do the quilting on these patterns even when you are new to it!  Here is a detail photo:
Initially I did the autumn version… I just love the glorious colors of Maine in Fall.  However, given that Fall is behind us, and it has been winter for quite a while, Marge and I decided to use the Summer version (hope is eternal!  It WILL come again!) to advertise the class.  But, I wanted students to see that they can make the quilt in many ways.  Frankly, I kinda think it would be fun to do it another time in totally wild colors, like plum and turquoise and mango and lime…. wouldn't that be a hoot?  Anyway, here is a more realistic, autumnal version: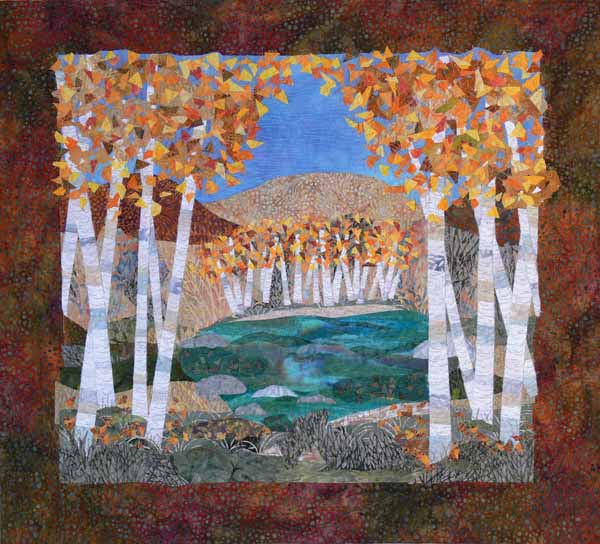 And a detail of the Autumn version; note that I did the leaf canopy two different ways… in summer I used the twist-and-chop way to cut chunks, for autumn I used the slice it into confetti method!
Hope you like the quilts, and hope to see some of you in class!