In my last post, I shared the carving of the 12 x 12 inch sunflower block, and a while ago the first attempt to print with the owl block (about 4×6 inches).  Well, the Speedball water-based printing ink arrived.  I only ordered one tube, copper metallic, to test it.  Shoulda ordered more!  It prints MUCH sharper, cleaner prints–I'll put side by side of the owl in textile paint and ink below.   But first…the sunflower…..Oooooh la la!
Here are the two prints I've made so far: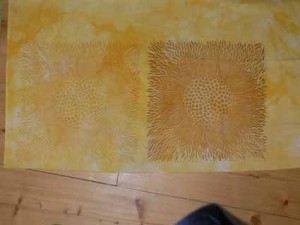 The one on the left is the first attempt.  Since the copper color of the ink is about the same color as the linoleum, it is almost impossible to tell visually by color if you have enough ink.  Clearly not.  The second print on the right is much better.  Oddly, thought the ink appears metallic in the tube, it doesn't look metallic on the cloth.  Still, I really like it.
I ADORE this block. I was thinking of cutting it apart into three sections:  the center, the petals and the outside.  But what if I mess it up?  So I think I'll keep this one as is, then carve another center and another ring of petals separately, so that I can print the block in different colors for each segment.  My mind is already racing on how I can use this to create new cloth, made a t-shirt, and basically have a ball. Here are closeups, first of the too-pale version.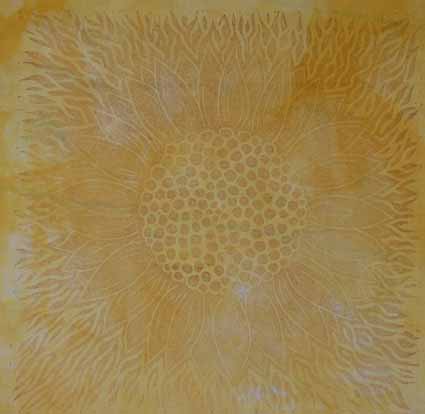 This one will make a good candidate for overprinting with a different stamp in darker ink.  The darker print is much better, but I have to work on getting an unwrinkled "underneath"…I protected my padded surface with a plastic garbage bag that has fold marks in it, and they showwed up in the print: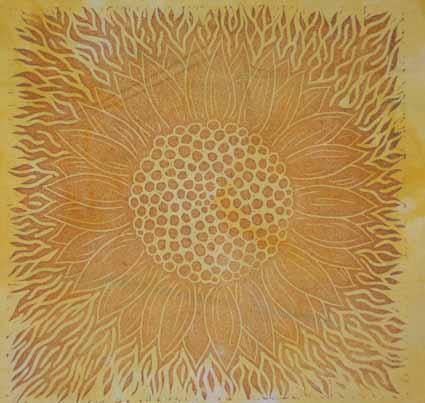 In my earlier post about the owl, I mentioned that I didn't care for the heaviness of the lines to the owl's left: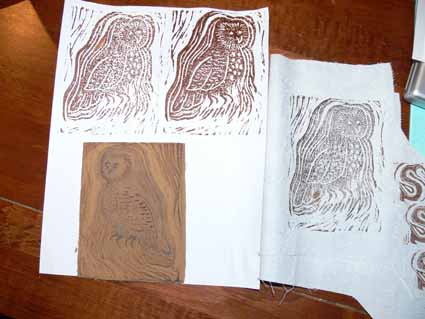 So I removed some of the lines and tried printing again.  On this one also I had the same issue with guessing how much was enough ink, the first one being too pale, the second and third better:

Here's a closer view of one of the better prints: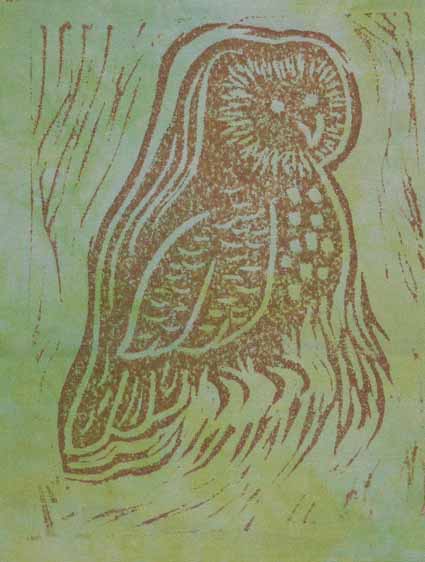 There is a learning curve, but I am moving along it, and this is GOOD.  And I can see having a lot of fun with this technique.