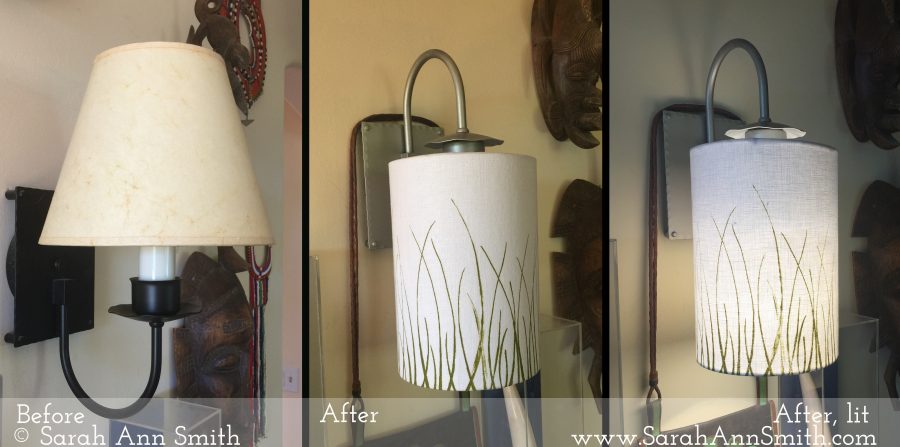 The sconces in our house have made me crazy for years. The shades were made to fit on the old rounded incandescent bulbs…the ones you can't find any more. The wires didn't fit well on any of the smaller bulbs that suited the size of the shades and the fixtures–they were always tilting and crooked. And the "old West" look was SO not me! It was Candy Glendenning of Candied Fabrics who got me on the right track. Last year, Candy posted some lamps and shades she made using her wonderful indigo shibori fabric and blogged about them here and here. So I plotted and thought about it. I knew I wanted white, green paint mixed to my favorite shade, my own thermofax screens, and NOT black.
Here are the final shades, then I'll share the process:

First thing I needed to do was see if I could spray paint the fixtures. Before we moved into the house, one had been damaged and removed (but kept in the basement). I bought some Rustoleum in Satin Nickel and it worked! I didn't even have to sand!
I had planned on using a cotton-linen blend for the shades, but when I went to Fiddlehead Artisan Supply (quilt and art shop to die for and only a half hour away!) they were temporarily out of the blend, so I bought some coarser weave pure linen to try. Then I started searching out stuff to make new shades, starting with Candy's source, I Like That Lamp website. I ordered the styrene–the rigid stuff to which you adhere the fabric–and glue from that site, but her rings only go down to 8″, and I wanted a 6″ for my sconces in the hallways. I found some 6″ size here, on Etsy.
Next, I needed to see how the linen would print. Using my existing printing board, the prints were blobby–the surface had too much squish in it for the somewhat more open weave of the linen (as compared to quilting cottons). So I made a new printing board with less padding, and learned that using paper towels under the linen did not affect the quality of the print and prevented less of the ink from soaking in to my new board.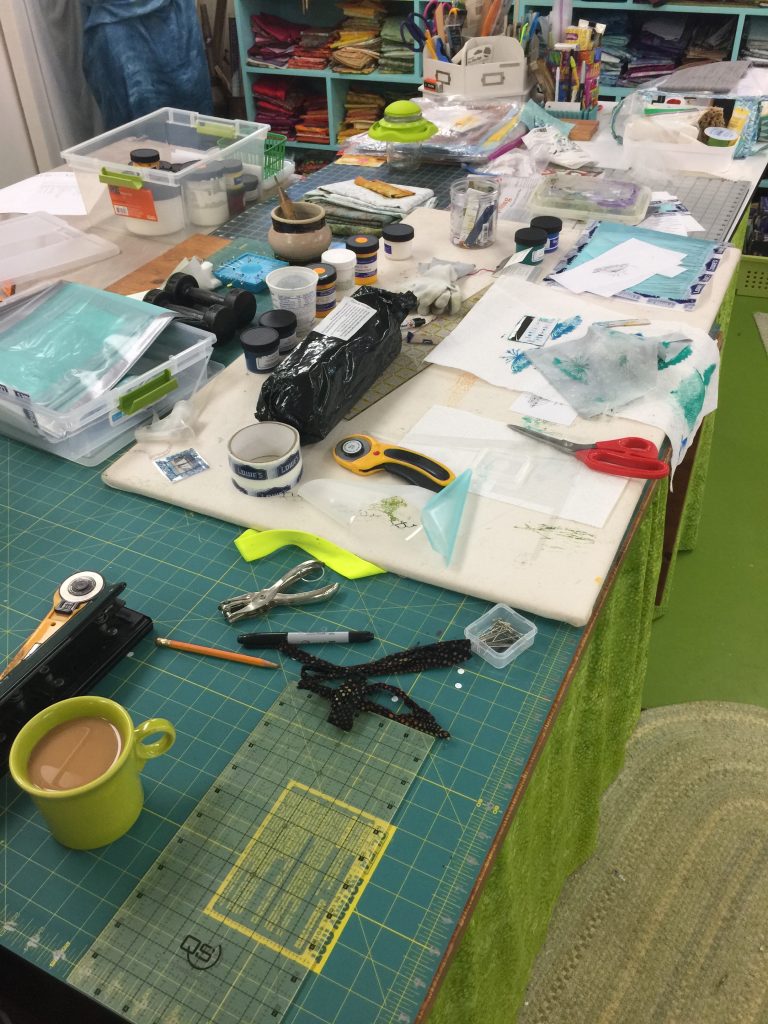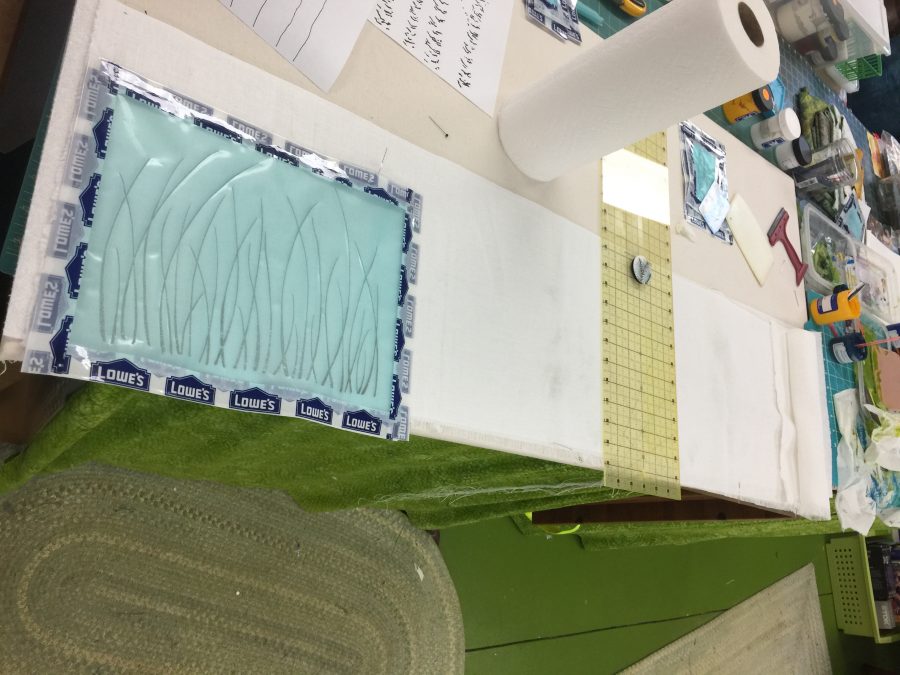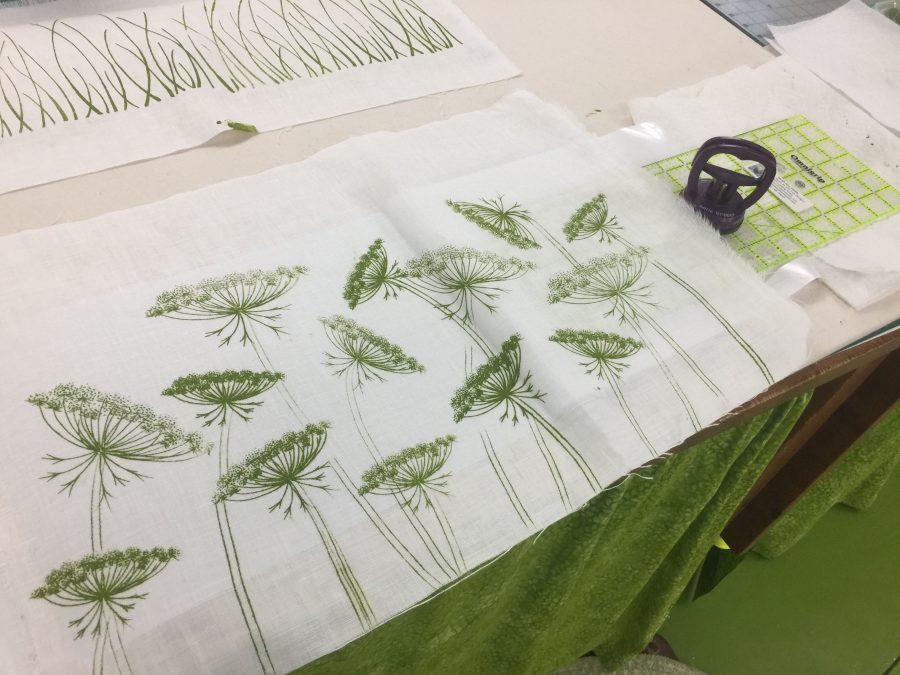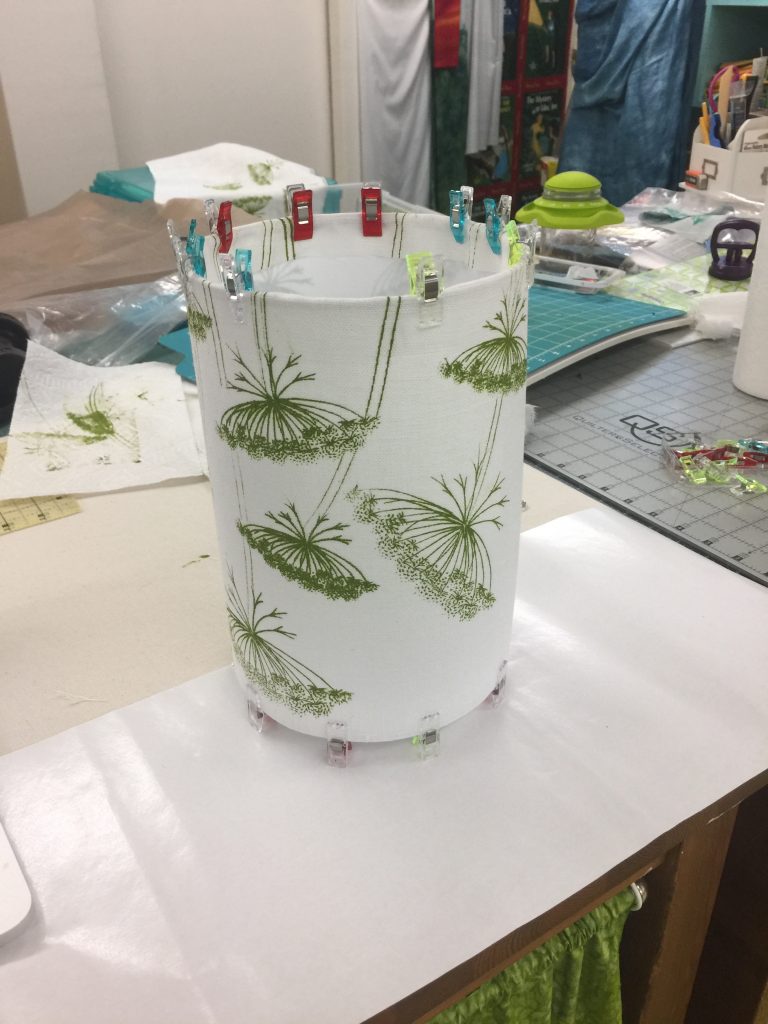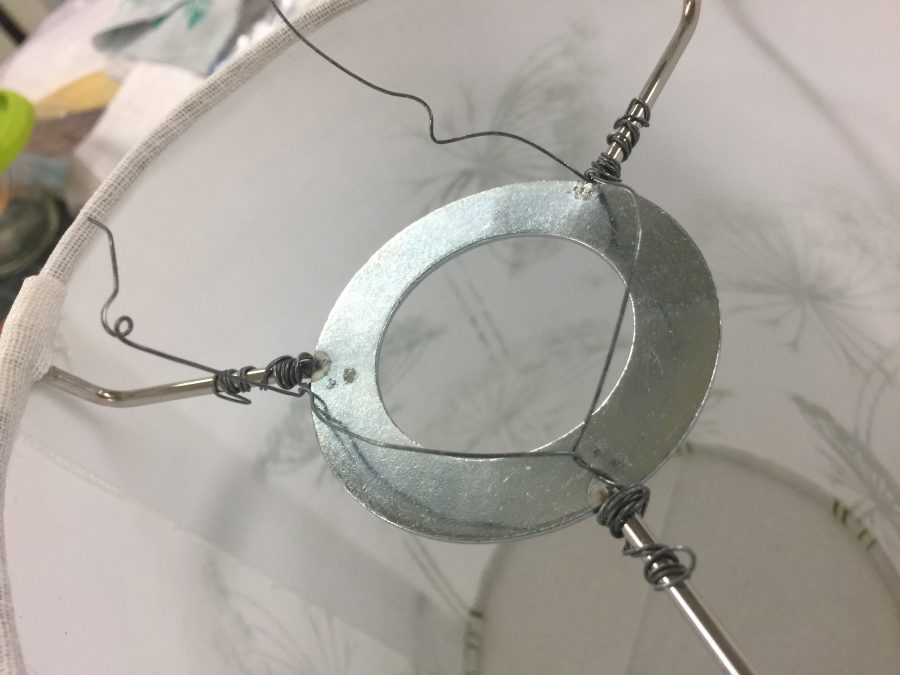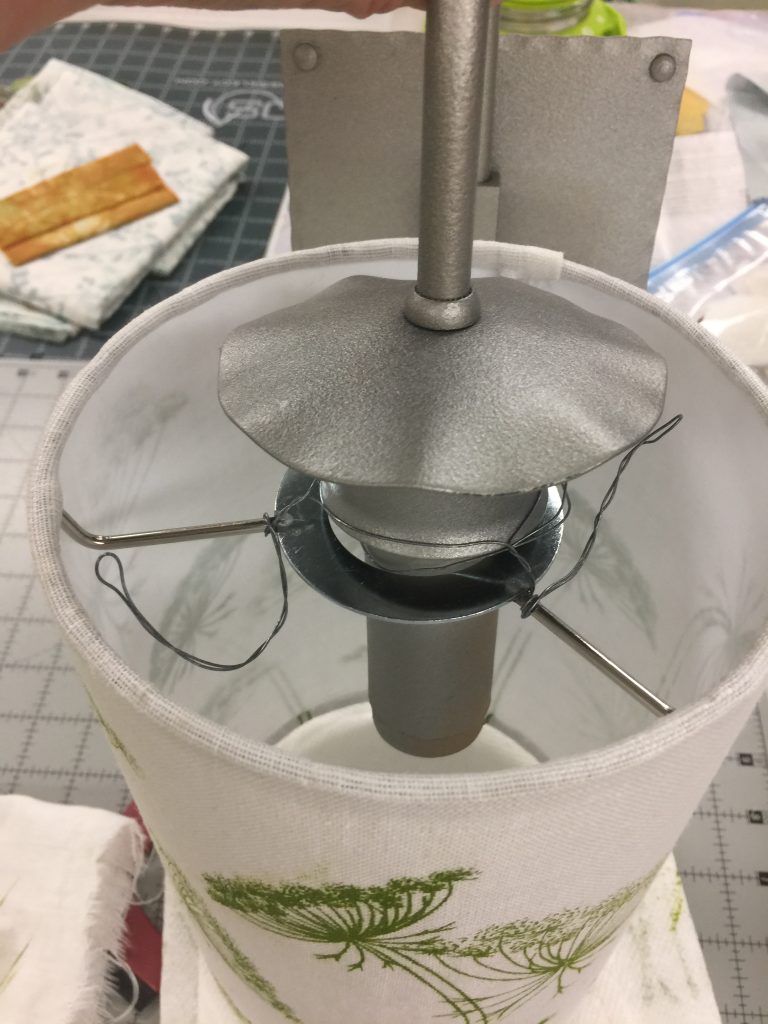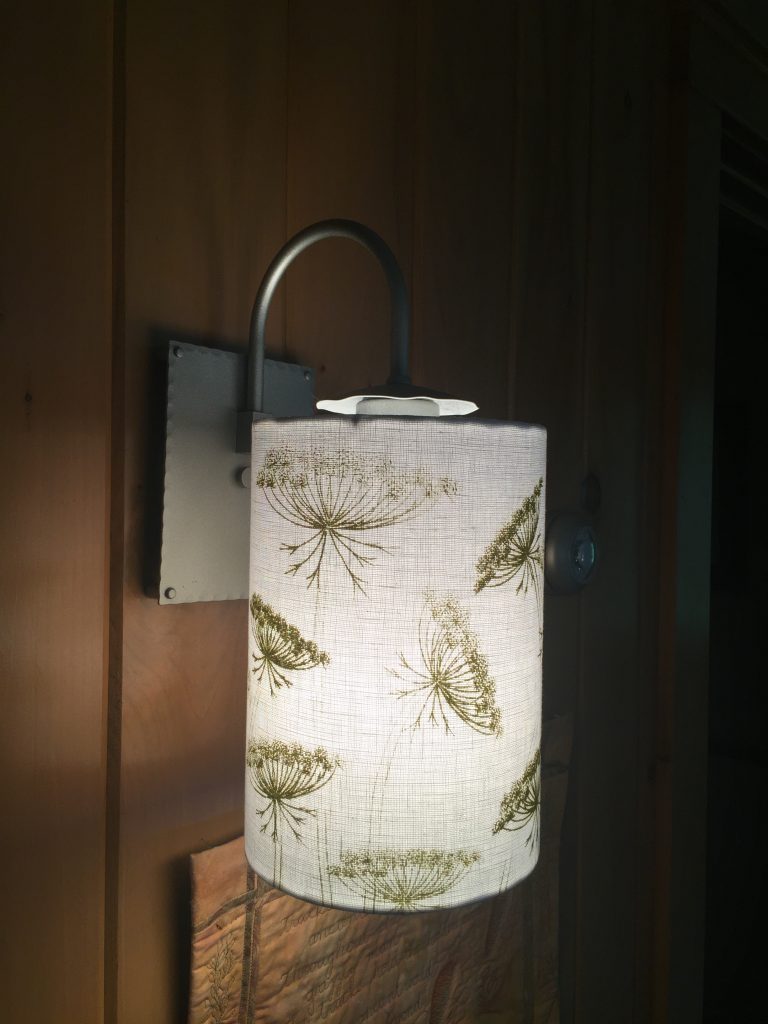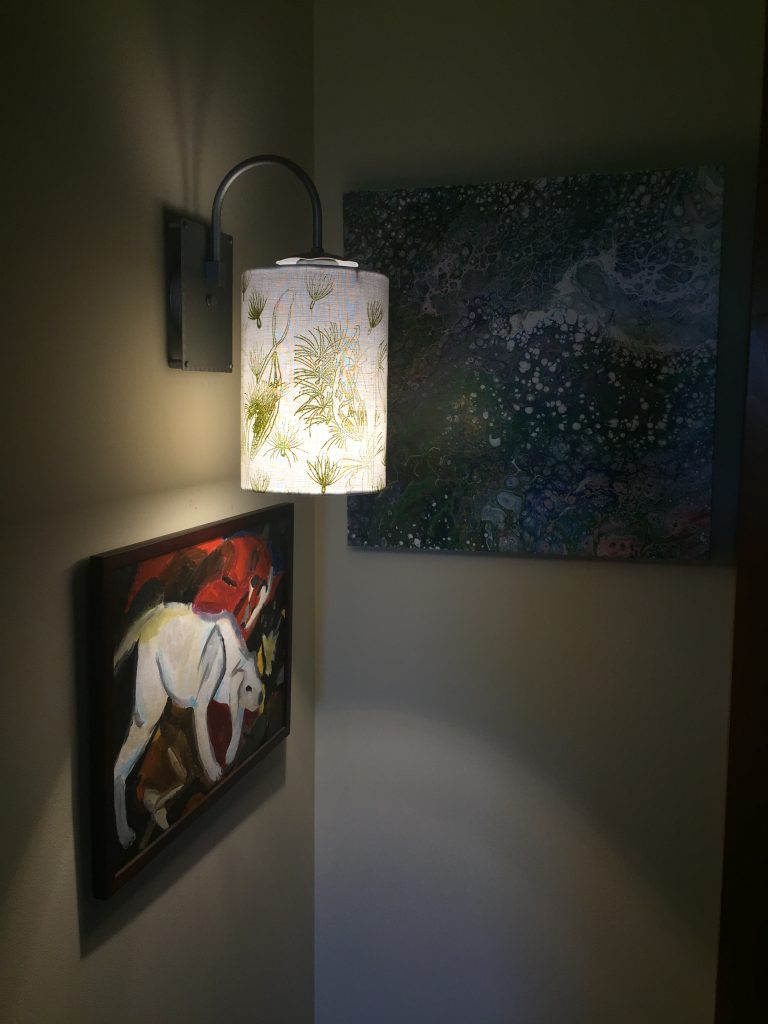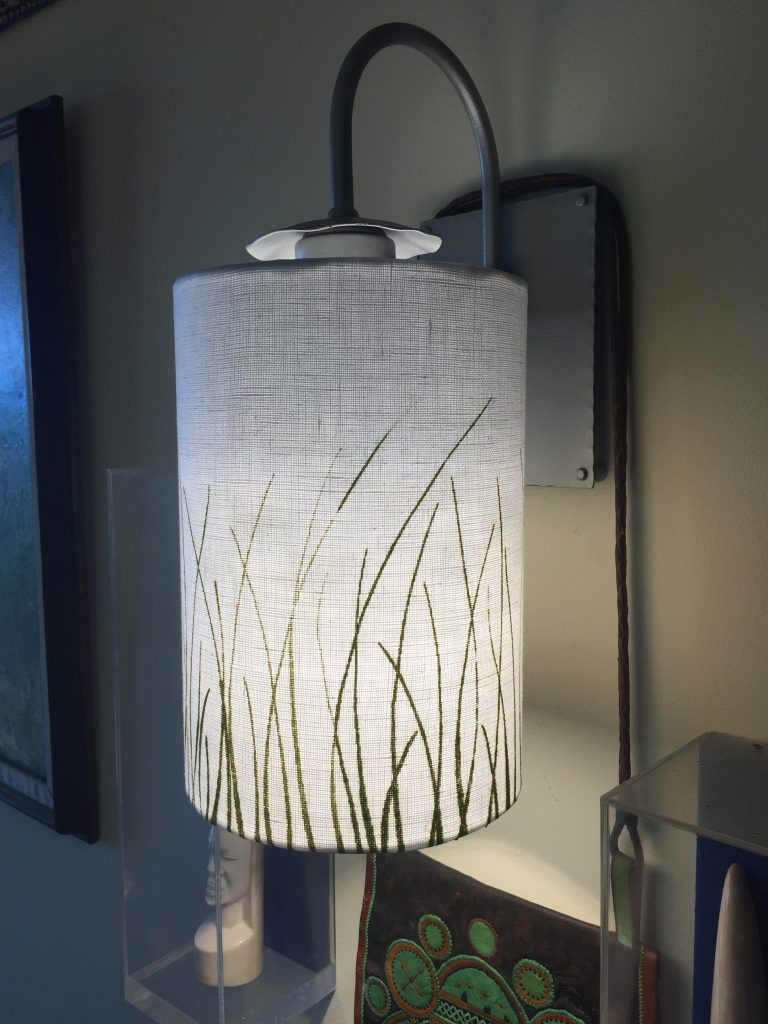 Some good news: in August 2020 I will be teaching a 3-day surface design workshop at ProChemical and Dye in Fall River, Mass. (about an hour or 90 minutes south of Boston, minutes from Rhode Island) and we will cover the thermofax and paint technique.
The whole thing worked SO WELL that I am thinking I would like to make a set of seasonal shades for the floor lamp in the living room…one for Christmas/Winter, another for Spring, Summer and Autumn. I need to do some patterning as this lamp looks best with an angled shade, not a drum shade, and they are harder to make. I need to learn if I can do it with standard 44″ wide fabric given the flare on the shade. Stay tuned for more house fix-ups! Hope you've enjoyed this detour from the usual art quilts and family life.