The Frayed Edges met at Hannah's house in Harpswell, Maine, this month.  We missed Deborah, but had a wonderful visit amid the autumny leaves and air.  As usual there is a flurry of e-mails the weekend before about who's gonna fix what…. Kathy asked if I'd share the recipe for the turkey kielbasa-potato soup, tho she was planning on making a pie already.  I quickly volunteered to make the soup, which I've mentioned on this blog in years passed….. Hannah had sumptuous, blueberry-laden muffins and coffee, Kate brought a salad with fresh baby organic spinach (from the acreage next to her house no less…fresh picked…handy having a farm next door!), bacon, blue cheese and a raspberry-vinagrette dressing….she and I cleaned the salad bowl.  Heck, I could have eaten the bowl myself!  I'll post the recipe (from Janet Wright on San Juan Island, who got it from the cook at the Cannery restaurant years ago, in Friday Harbor…the legacy of this recipe is long!) at the end of this post.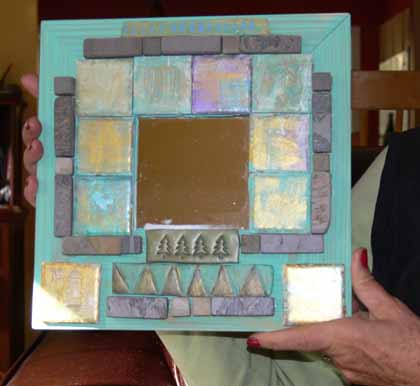 Last month, Hannah gave each of us these wonderful IKEA mirrors…they are about 12 inches square, with a 4×4 mirror in the center.  I'll share mine in the next post, on October 31…but for now you can revel in Kathyu's wonderful mixed media piece made of painted 2×2 ceramic tiles from Home Depot, some stone tile (same place), and some Fimo clay tiles that Kathy made!  I  LOVE IT!
I shared my leaves table runner and my Batiki bird, which shipped off to Lark books on the 23rd, for inclusion in a book that will come out late next spring…hmmm…. I see I haven't blogged about it…OK, will do that in a week or so!  Hmmm….only have in-progress pics of the table runner on the blog too…gee….you'd think I've been working instead of blogging LOL…OK, I'll share that one too!  Give me a chance to take pics and write the blogpost…..
As always, Kathy shared her latest project, still in progress…. to get an idea of the size of it I'm including this photo, tho it isn't the best: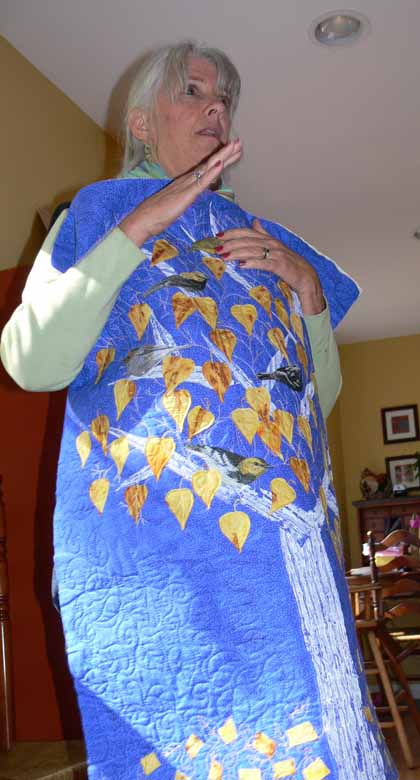 Here's a better picture of the quilt…..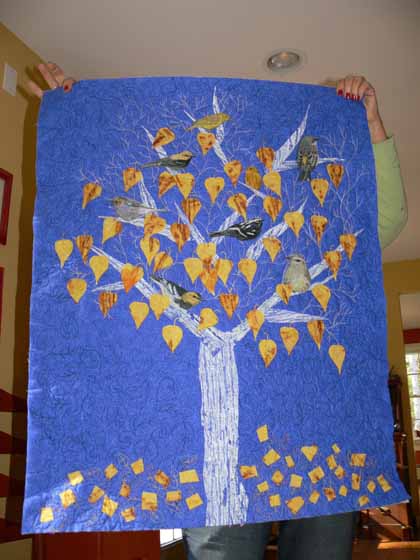 Kath is using this cool technique of printing the birds onto tissue paper, fusing them to the quilt, then stitching the daylights out of them….yields a very accurate, realistic and stunning bird.  You may have seen this picture already over on Kathy's Studio in the Woods blog: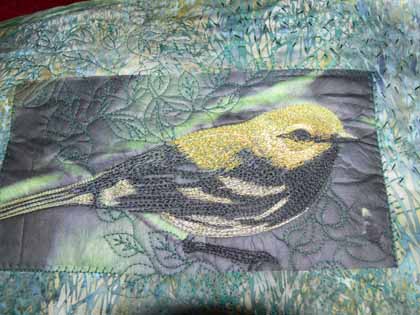 And here's the crockpot soup recipe:
 Most of a 5 pound bag of Yukon gold (or similar) potatoes
1 yellow onion, chopped
some butter and a dribble of oil
1/2 pound turkey kielbasa (buy it in a 1 pound package, freeze the other half)
8 cups chicken broth / stock (more or less)
2 bay leaves (if desired)
pepper
stoneground mustard
Scrub and cube the potatoes into pieces, a small potato can be cut into four, a larger one into pieces that are about 1 1/4″-ish square-ish …just cut them up!  Place into large crockpot (turned off at the moment). My crockpot will hold a 5 pound bag minus four or five potatoes–this brings the potatoes to about 1 inch below the rim.
Slice kielbasa in half lengthwise, and again so it is in four quarters.  Cut into 1/2″ chunks.
Add butter and the dribble of oil to skillet  and saute onion until clear.
Push onion to outer edges of skillet
Add some of the kielbasa and brown.
Push that kielbasa to the side and brown more…if pan is too full, dump onion and kielbasa into crockpot.   Brown remaining kielbasa.
Pour a cup or so of the chicken broth into the pan to deglaze.  Turn off heat under skillet and pour contents into crock pot.
Add enough broth / stock to cover the potatoes…pretty much up to the very top of the crockpot.   While adding the broth, stir to mix up the onion and kielbasa througout the potatoes.
Add 2 bay leaves, pepper and whatever else you'd like to season with.
Turn on low for 12 hours; OR turn on high for 1 hour, then to low for 6 hours (or low for 6 hours, then high until the potatoes are tender).  When I make this for the Frayed Edges, I make it after dinner the night before and let it cook all night.  It is obviously not on while in the car, then I plug it back in at our destination for the day.
Just before serving add a large dollop of stoneground mustard, to taste, and mix.  I love the tangy goodness (this is the secret ingredient that makes this soup glorious)… I know it is odd… you don't actually taste mustard, just flavor!
I'm SO GLAD they like this soup, as my family pretty much doesn't, and an entire crockpot full is too much even for me (it's about a week's worth of meals!).