Strong Women of the World, rise up, unite, and rejoice!
The Quilt Mavericks are this wonderful, supportive, loving caring group online;  I am fortunate to be a part of it.  Recently, one of our members shared something about her personal life for the first time ever (after living with a horror for 20 years) and asked us for strength and white light… you have to understand that Mav Power is a force to be reckoned with!   When all of us get together, we can conquer and save and love the world.
A number of the members in response shared similar tales of difficulties from their lives, and one of us (who was it?  OK.. it was Leslie!) said we should have  A Strong Women's Day.  Once it was spoken, it came to be!   Let's start a movement!
When I first heard Garrison Keillor's Lake Wobegon / A Prairie Home Broadcast 20-plus years ago, I chuckled at the humor in his closing:  "And that's the news from Lake Wobegon, where the men are good looking, the women are strong, and all the children are above average."  Of course, that was the point of his humor…. the play on conventional expectations that the man is strong, when in fact it is women who are the ones made of steel and love, who endure the trials of life and still love and care and cope and rejoice.
Fellow Mavs Leslie blogged about strong women, here, as did Deirdre, here and Margi, here, and Cindy here, and Julie here, and Margaret here.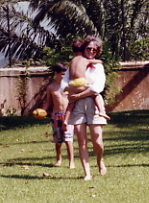 I'd like to choose my friend Linda Wauchope as my strong woman this year.  She died more than a decade ago, but in her final months, she showed me courage beyond anything I have ever seen or touched in my life.  Liver cancer took her when her children were a bit younger than mine are now (mine are 11 and 15); she and her husband were building a new home that she never got to live in.  He accelerated his retirement plans so he could be home with her for the final months of her life.  Watching her waste away with each passing visit was offset by watching her strength of spirit endure to the very end.  After her memorial service at the reception at their old home, I noticed the calendar in the kitchen:  Linda had left notes of when to get the furnace serviced, when to renew this or that policy, annual chores to be done, on every month.
To this day, I often think of her, her irreverent, sassy sense of humor, and think "gee, Linda would get SUCH a kick out of this."  So Linda, here's to you my friend!  (The photo above is from about 1990 when we both lived with our husbands in Libreville, Gabon.  We were both US Foreign Service officers, but on leave without pay so our hubbies could pursue their careers.  Her husband was the Ambassador, mine the Deputy Chief of Mission (deputy Ambassador)…  long ago and far away.)
I wrote about Linda two years ago when my quilt, The Tree, was donated to and auctioned for cancer research.  The quilt was dedicated to three people in my life who suffered..and two who died from… cancer:  Linda, my brother Charlie, and Daddy.  The photos got moved out of order when we migrated the blog from blogger to my website, but that post is here.