Wow…. it's hard to believe that the time is here… I can now take pre-orders (here) for my book–and yes, I'll ship outside the US!  AQS worked like whirling dervishes I think; I had the page layout version of the manuscript to edit over Labor Day weekend, and they still got it to the printers who will have it ready in the nick of time to have at Quilt Market in Houston starting October 10th!  I'll be at Market working to promote the book before I start teaching.  If you'd like to pre-order a copy, read on!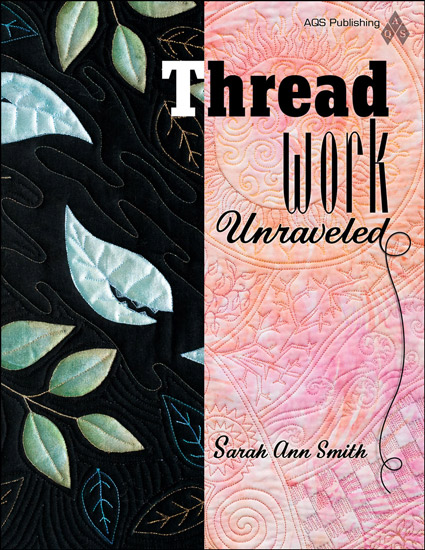 PRE-ORDER My book on understanding and using thread on the surface of a quilt which is now available!
You'll learn everything you need to know about thread, from how it is made to what will make your life easier, and your quilting better!  You'll learn how needles, tension, your workspace, sewing machine, stabilizers, and other tools all help you in using all those wonderful threads now available.  I'll help you understand how and why certain tools and notions work best and when another option is a better choice.  And there are fun projects, from a quick and easy needle-keeper to decorative-stitch leaf appliques, free-motion quilting with fancy-fiddly threads, and a leaf-printed table-runner.  I hope you enjoy it as much as I enjoyed writing it!
Please let me know if you would like me to autograph or add a dedication in the comments area of your order.
Please note that books will not ship until LATE OCTOBER.  The will be hot off the press in mid-October, when I am teaching at Quilt Festival in Texas.  I'll need to get home, receive the books and process the orders (hopefully finding a little time to sleep, eat, and say hi to the family, too! )  Books will be sent in a Flat Rate Priority Mail envelope.
Price:  Book 28.95 +  US Delivery  5.00 =  33.95; prices for first class mail delivery to Canada ($11 in postage) and the Rest of the World ($13 in postage) are slightly higher due to postage.  Please make sure when you order you:
select the correct shipping (US, Canada, Rest of World)
put down correct snail mail and e-mail addresses
let me know if you'd like me to dedicate the book (for example:  to Denyse, Happy Quilting, Sarah); if there is no  note, I'll just sign it on the title page.
Thanks…I can't wait to actually hold a copy!