Despite being a relatively unknown teacher, I was thrilled that my Wednesday class was FULL!  It is called Tame Fussy Fiddly Threads for Machine Quilting, which is really my "More Machine Quilting" class but with a better name.  It is for folks who are comfortable with free-motion quilting.  You don't have to think you are good at it, just willing to try it!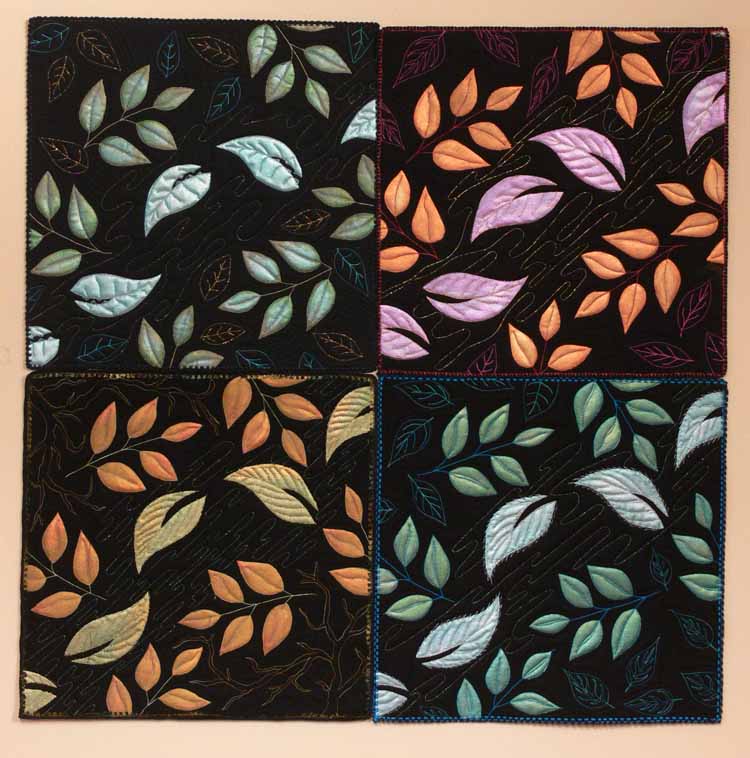 The photo above shows the four 15″ square samples I made for the class.  (Click on the photo for a larger view.) The one on the top left is on the cover of my book.  Since I kit up the threads, and the ones I used in that sample didn't match the kits, I decided I needed to make up three new samples to match what was in the kits because many students want to "make it just like that."  I always encourage students to make it their way, but many will follow the class sample for practice.
When I teach this class locally and for guilds where students have their own machines, we work on a thread tension sampler (the pattern/instructions are in my book) so folks can learn how to achieve a balanced tension no matter which combination of thread, needles, fabric and batting (well, there may be impossible combinations, but we talk about that, too).  However, I learned the hard way in Paducah in Spring 2008, that doing a tension sampler on a borrowed classroom machine isn't the best idea.  SO, I developed the leaf sampler so students can actually make a small item in class while testing different threads and tension settings.  I also hand out the instructions for the tension sampler so they can start on it when they get home to have their own personalized ready-reference quilting tension guide.
Anyway, the morning was spent making the freezer paper stencil template and painting: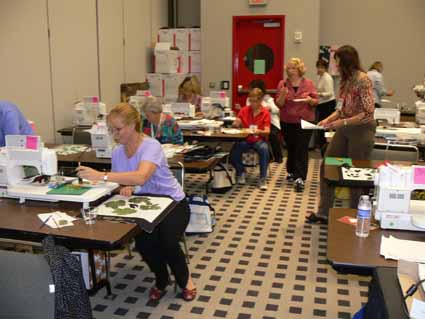 The colors the students combined were GREAT!  I loved the pink and green tinges to the copper and gold: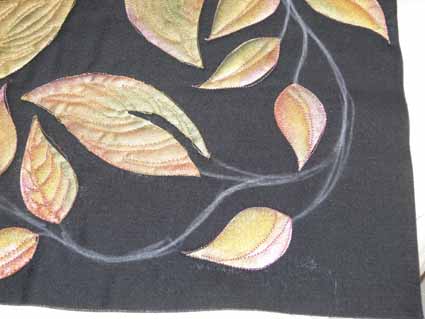 Here are three happy students….the lady (my classroom helper…thank you!) on the left used a gray/black print that looked great in the real… it didn't photograph as well, but is really cool: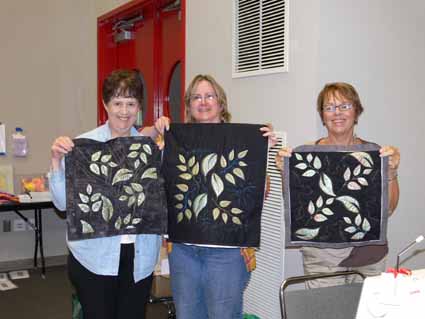 The one in the middle used the Brytes thread, a heavy poly from Superior Threads, for the stems very effectively: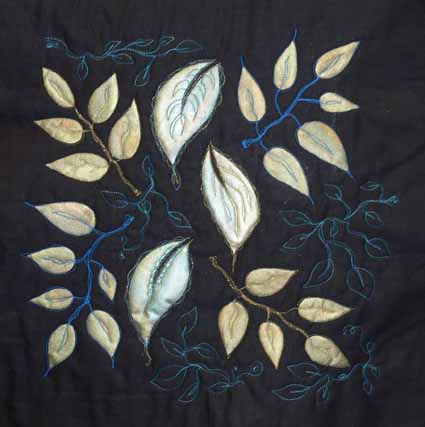 Lynn was one of the few who totally wanted to go her own way…yippee!  Instead of using my leaf, she drew and stencilled an oak leaf: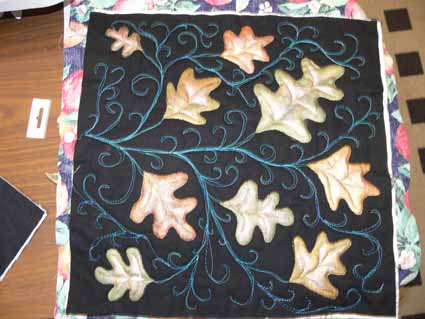 And here is Lynn  in the middle of quilting—thanks to Janome America for sponsoring several classrooms of machines!
And of course, a whole bunch more of fun quilting and stencilling and quilting.  Some students preferred to mark guidelines for their stems and vines: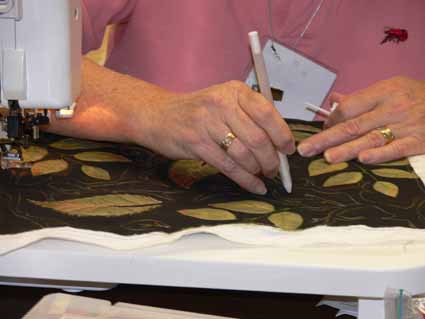 and even more pictures:
I really like Barbara's composition, colors and that swirly vine: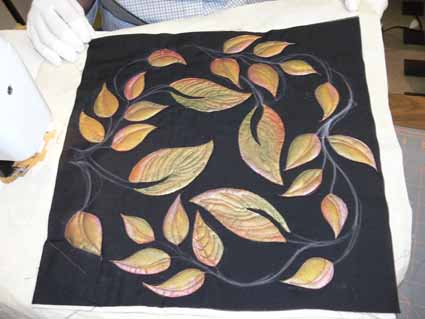 and here's a detail: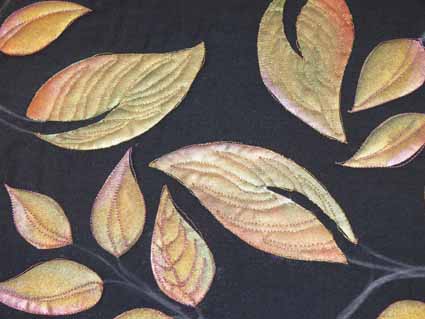 Next post about classes, I'll share the Fun Fabric Postcards class!