Sunday, December 6th, 2020
Now Registered participants ONLY can SEE it … CLEARLY!
If you were enrolled in the Virtual Quilt Festival's second Machine Quilting Forum on Saturday, you know there were serious transmission issues with my presentation that made the video just yucky. TOTAL BUMMERS, but now TOTAL JOY! Thanks to the hard working folks in the Education Department (who should have been taking today off) you can SEE the video through December 12th. After that, like Cinderella's pumpkin, it disappears. To access it, follow the following steps:
Registered participants ONLY can follow these instructions – 
—Go to My Schedule (be sure to select the Saturday, Dec 5 schedule)
—Click on the class – 320 Machine Quilting Forum II
—A new page will open with the description of the class, recording link, faculty links, and attachments
—Scroll down to the bottom of the page to find the PDF attachment and the link to "Sarah Ann's Video" to watch the YouTube video
Here are some screen shots. They drew attention to the video by adding a text message in RED font in the class description.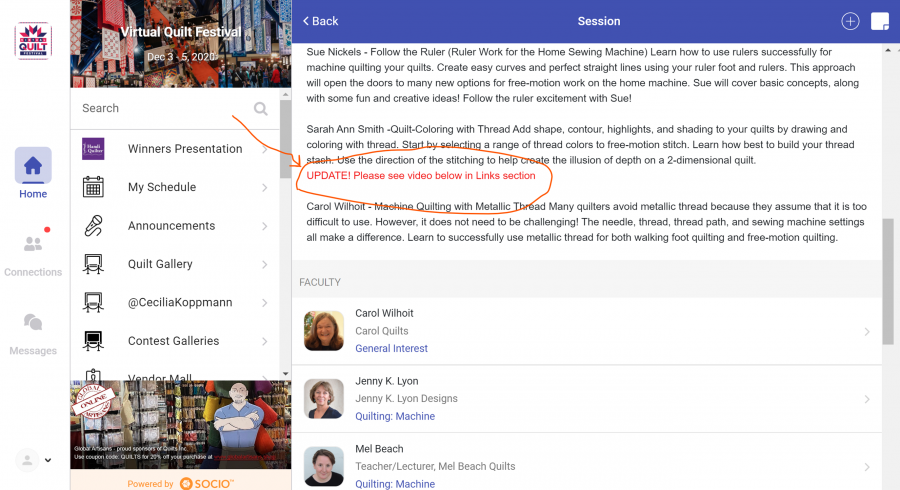 Then this will open up on the next page. My friend Jenny K. Lyon prepared a PDF with links to her stuff, I prepared one for my stuff and the questions I received, and I was able to upload my presentation as an "Unlisted" video on my YouTube channel. The only way to access it is through your "My Schedule" portal. I promise, the video quality is VASTLY better!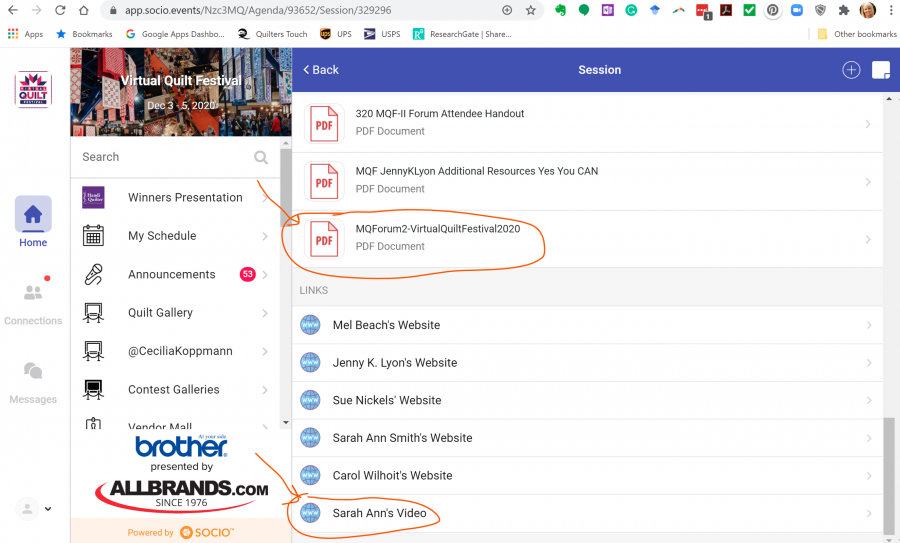 Special thanks to Suzanne Hyland, head of the Education Department, who checked email on Sunday when she should have been taking a nap to recover from the frenetic pace she kept up for weeks to direct and pull off this debut event. MASSIVE THANKS to everyone at Quilts Inc. and, for me particularly, in the Education Department. I took three classes, attended three lectures, and would do it again–both present and attend–in a nano-second! Please let Quilts, Inc., the people who bring you International Quilt Festival Houston (and more) that you want MORE!