that I began my quilty life as a traditional (well, sort of) quilter.  My very first quilt…the one I began first…was a Mariner's Compass (!!!!).  However, it was too hot in Central Africa, even sitting by the air conditioner, to sit under the quilt for more than 30 minutes so I gave up trying to quilt it by hand until we got back to the Washington, DC, area.   Pretty soon I started playing with colors, quilting designs and themes, though.  Maybe ten years later, I fell in love with Judy Robertson's hand-dyed fabrics; I spent a small fortune buying two multi-light yards and two multi-colored dark yards and made this quilt, From Sea to Shining Sea: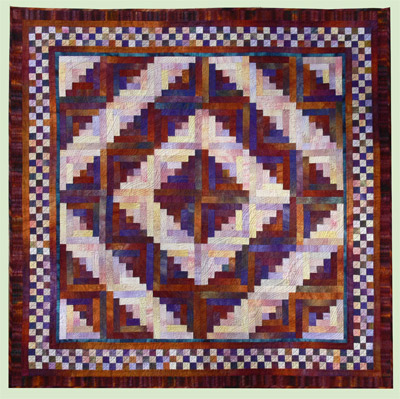 The colors reminded me of the words from America, the Beautiful, so they song is machine quilted into the quilt, with an American eagle (from the US quarter dollar coin) and a sorta-traditional vine.  I tried…but just couldn't get a truly traditional feathered vine to look  right on this quilt!  Detail: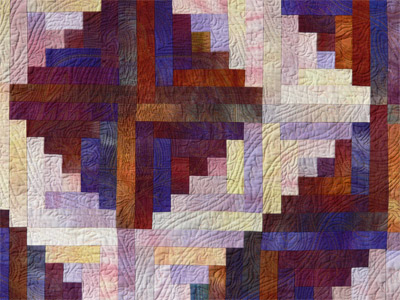 That purchase of hand-dyeds started me on learning how to hand-dye myself.  Then I started selling my hand-dyeds.  I wanted to show folks that they could combine hand-dyeds and lookalikes with print fabrics and make fun, contemporary quilts based on traditional blocks.  This quilt is, I think, North Winds, and came from the Quilts from the Quiltmaker's Gift book (link here) or More Quilts from the Quiltmaker's Gift (link here…forget which one).   They are both lovely books, with great illustrations to show how the quilts will look in different colorways.
Anyway, this quilt has an official title, but to me it is the Anti-January quilt.  I lived in the Pacific Northwest of the US at the time, where it is gray and dreary from late November until at least February.  I found myself yearning for bright cheery fabrics every January, and made this one at that time of year.  I set the colors to look like the blazing sun surrounded by the green islands and tropical blue waters…..: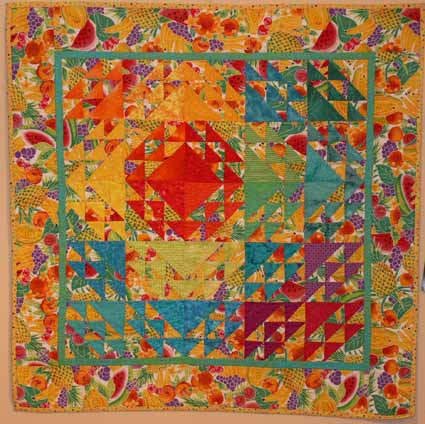 and a detail…quilted with tropical seas, palm trees with coconuts, waving beach grass, tropical fish, seagulls……..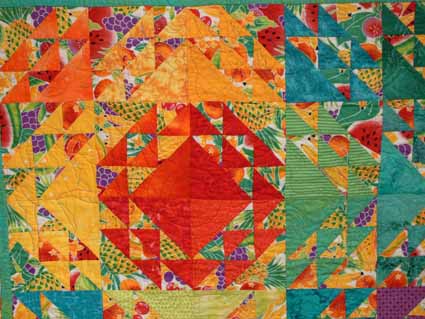 Then as a quickie quilt to help sell MY hand-dyed fabric (which I no longer do really), I grabbed some purple (four fat quarters I think) and a very girlie yellow-purple print on my shelf and made this quilt using the Road to Oklahoma block: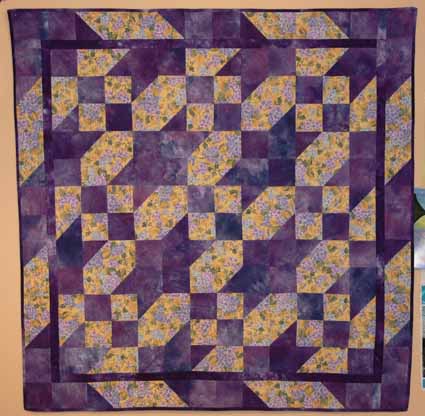 Since it is hard to find the block, I did up this photo.  There are nine blocks of 12 inches each in the center of the quilt, which is about 42 x 42 inches (about a metre square).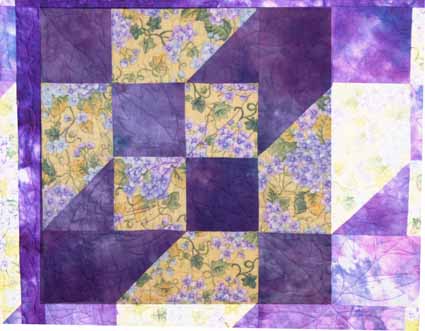 Hope you enjoyed this trip into medium-ancient quilt history!