There is a new book out from Lark Books in its "500" series, 500 Art Quilts.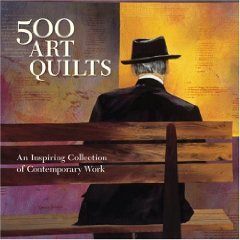 I was thrilled when I received word that two of my quilts would be among the 500 (made by 369 artists).  A whopping 432 pages long, this book is, pure and simple, eye candy!  Edited by Ray Hemachandra with quilts juried by Karey Bresenhan, founder of the International Quilt Association and quilty godmother to hundreds of thousands of quilters for her incredible energy and devotion to quilting and the quilting industry–she's one of the forces of nature behind International Quilt Festival in Houston (can you tell I think she's the bee's knees?).
Now that I have received my artists' copy, I am even more thrilled—and humbled and astounted—to be included on these pages.  All I can say is that you MUST get your hands on a copy of this amazing compilation which summarizes the state of art quilting around the world today.  It is simply STUNNING!
My quilt A Sense of Place:  The Wall, has a page all to itself (on left):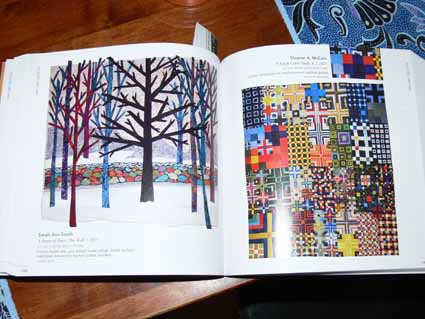 And Koi (yippeee!) is included here, top of left page: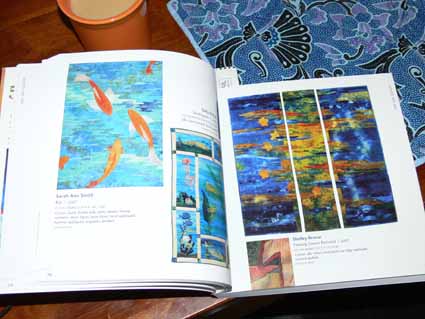 Throughout the book I was tickled to see names I know well, and equally excited to see quilts and names I've never seen before.  What a wealth of talent and creativity we have in this medium!  Karey did a fantastic job selecting a representative range of styles and techniques (jurying was blind, meaning she did not know who made which quilts), and Hemachandra and staff did a great job placing the quilts in groupings that complement the quilts.  There is almost no text, just name of the maker, size, materials.  The artwork speaks for itself…and it is singing in joyfullness!