WOWIE ZOWIE!  See these?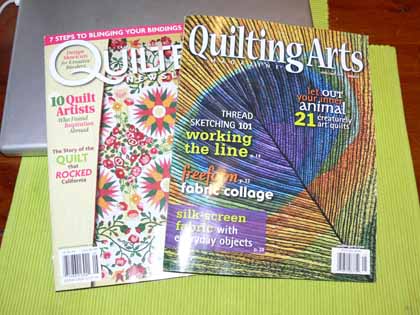 Those are probably my two favorite magazines in quilting, ever:  Quilter's Newsletter and Quilting Arts. And they BOTH gave my book great reviews!
When I first found quilting in 1988, I found Quilters Newsletter Magazine shortly thereafter.  I promptly subscribed, and ordered every back issue I could get, and have read ever issue since cover to cover.  That is 1984 to 2010 and still going.
Back in 2001, I went into the grocery store in Friday Harbor (San Juan Island, Wash., where I used to live) and discovered the second issue of Quilting Arts magazine.  I went home, called the phone number, ended up speaking with the editor Pokey Bolton (and discovered we both went to San Domenico School, albeit about 14 years apart, when we were kids) and subscribed.  I have read every issue of that one cover to cover.
Whooda thunk it…. BOTH my favorite magazines have not only reviewed my book, ThreadWork Unraveled, but given it GREAT reviews.  THANK YOU THANK YOU THANK YOU!
In Quilters' Newsletter (April 2010 issue), there is a four-page article on Staff Picks…and guess what number ONE is?  MY BOOK!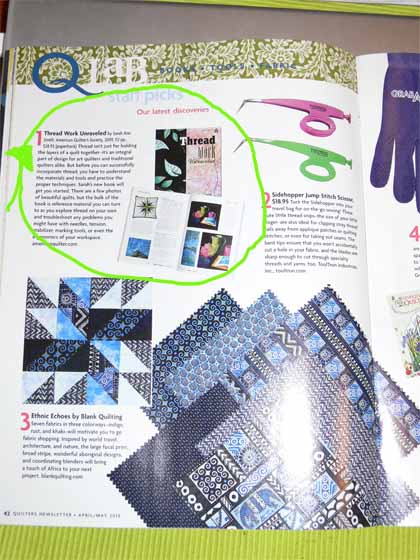 Here's a closer picture: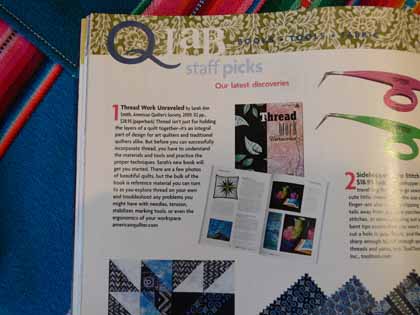 To say that I am dancing a major Snoopy Dance understates things in such a major way!
And here's p. 82, the Book Review section in Quilting Arts magazine, April/May 2010 issue:
And again, a closer view: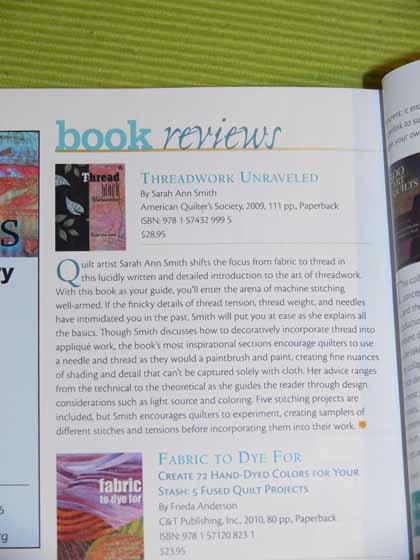 It is so wonderful when you worked hard to do your best, and then have others think you've done well.  Thanks so much… and Pippa, the managing editor of Quilting Arts, said the nicest thing… that I am at my best when encouraging others:  "the book's most inspirational sections encourage quilters to use a needle and thread as they would a paintbrush and paint, creating fine nuances of shading and detail that can't be captured solely with cloth.  Her advice ranges from the technical to the theoretical as she guides the reader through design considerations such as light source and coloring.  Five stitching projects are included, but Smith encourages quilters to experiment,"  Wearing my teacher hat, it doesn't get much better than that!
WOOOOHOOOOOO….that shaking in the upper Northeast is not an earthquake, that's me Snoopy Dancing and being happy all over again!