Patsy Thompson is a quilter, author and DVD maven (with seemingly unlimited energy sources!) who loves quilted feathers…the more of them, the more intricate and hyperquilted, the better!  She recently shared her book Feather Adventures! with me: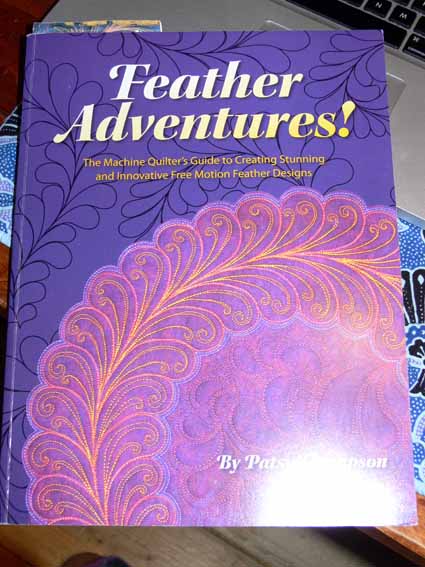 The book is aptly subtitled:  The Machine Quilter's Guide to Creating Stunning and Innovative Free Motion Feather Designs, and tantalizingly adds "Volume One"  (that's hidden in the glare of the camera flash…sorry 'bout that).     The information in this book is good for machine quilters using both home and longarm (on a track) quilters…it's all about design and building or creating your colorful feathers.
The book is organized into the following chapters:
The Basic Freeform Feather
Feathers with Stitched Spines
Start Thinking Outside the Box!
Hyperquilting!
Hyperquilting Special Effects
Epilogue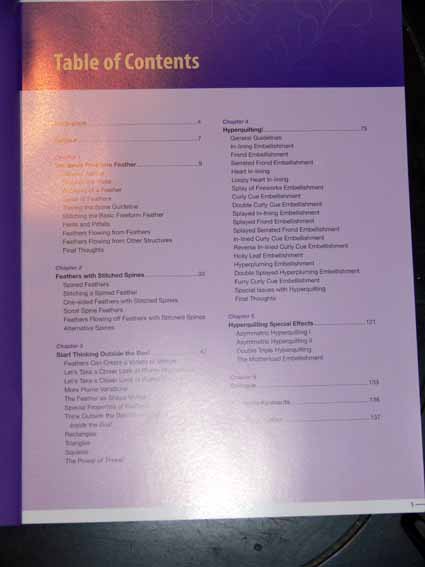 Patsy proceeds from an intro-level feather to increasingly complex variations on the theme, guiding you one step at a time.  The designs at the back at first might appear to be overwhelmingly complex, but as you follow Patsy's clearly laid out process, you can see that these seemingly-complicated designs are a fairly simple, straightforward process.   As I was flipping through the book when it arrived, I had my first "smack-self-upside-head" moment:  use a flexible ruler to create the spine, then flip it over to mirror image the design OR simple move the curved ruler to repeat the motif.  DUH!   Why didn't I think of that?  Thank you, Patsy!  (Read more about how on pages 14-15.)
As you read and play around with designs through the chapters, you can see how Patsy has used different variations to come up with feathers that while structurally the same look quite different.   It is up to you to decide how much is just right for your quilt!
The Stitched Spines are some of my favorite variations…. I can see using these ideas as a jumping off point for using feathers creatively in my quilting.  Even though I tend to make pictorial art quilts, I've already begun incorporating traditional quilting motifs.  In the quilt of my son playing his guitar (final post with finished quilt here) , I used several large feathered vines to quilt the background, and think with the inspiration of Patsy's variations, I'll be using them even more.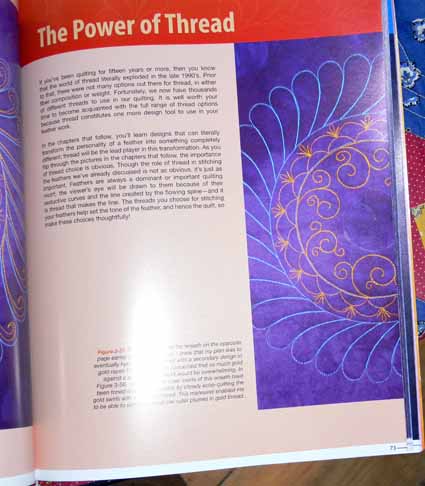 I really liked the curlicues in the photo above, too…. this particular wreath has traditional feathers on the outside, a decoratively stitched spine, and the curlicues on the inside…way cool!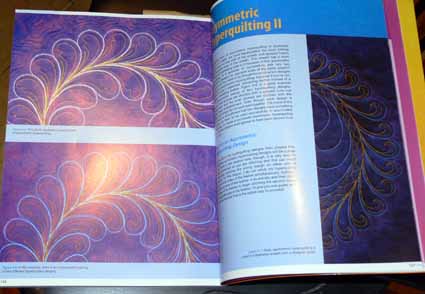 Then Patsy goes over the top with a term I think she coined, Hyperquilting!  Although this might be a bit too much on many quilts (and would get lost on print fabric!), it is sure a fun idea, and may spark new ideas in how to use thread in your quilting beyond just feathers (yes, Patsy….. we all love feathers, but there are other things too!).  The only thing I wish for is more photos (of course?  what quilter doesn't want more pictures?), especially of the entire quilt pictures.  The detail shots are perfect for achieving the aim of this book:  to teach us how.  But I'd love to see some inset photos that show the entire quilt to the edges so we can get the overall picture.   I'll look forward to future volumes!
The book is available in a number of places, including from Patsy, here.  While you're visiting her site, check out her blog…she has LOTS of great information there, too!