I was SO busy going around the classroom on my first day of teaching, my Intro to Machine Quilting class, that I almost forgot to take pictures.  Fortunately these four sisters wanted a picture with me, so I grabbed my camera and asked the helpful student who took their photo to snap one for me, too.  I LOVE how they all took to the quilting–lots of great designs and work in their class samples.   And can you tell it was hot and humid in Columbus in mid-June…my hair was the frizziest, but I wasn't the only one in the place whose hair went wild!
In that class, one student shared her BRILLIANT machine needle storage…yes, that's a ginormous pill keeper!  I don't think I've ever seen one that large, but it is just perfect for holding those 5-packs of needles, so I'm now on the lookout:
Notice that Saturday is for used needles!  When done, wrap them up, tape the package shut, and the critters won't get hurt when scavenging at the dump (and neither will the garbage guys).
Speaking of Saturday, that was my Fine Finishes class–with 24 students, which I discovered is simply too many for such a hands-on class.  Next time I'll set a ceiling of 20 or even 18 so each student gets more of my time.  I really liked this student's sample using a striped cording on the inside, then a stitched-down strip (the print), then a very skinny bias binding on the outside.  I really like the thin-thick-thin look!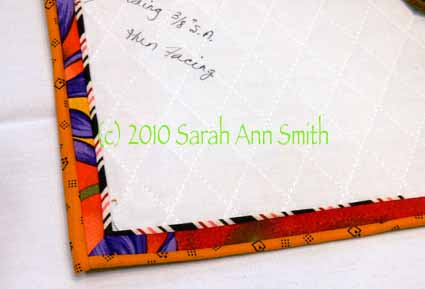 Here's the back, where she used a VERY wide binding which will cover all the previous lines of stitching…cool beans (to quote my teenager!):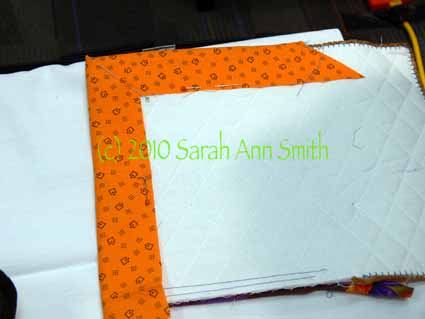 Nicely mitered on the back, too!  The other side of her sample shows the couched yarn edge-finish!
I DID take more photos during my Decorative Stitch Applique class, so that's up next!