So, how do I know (besides the willow and oak twigs flushing yellow, and the maples sporting a tinge of red on the tips)?  The Library of course…. you see, it has this South-facing stone wall that gets warmed by the sun:
The old part of the library is the building upstairs.  In the mid 90s, they expanded significantly the only place they could:  down, under the grassy slope.  Here's the new entrance: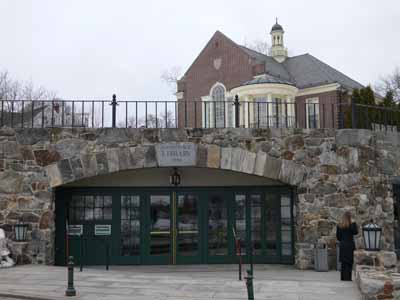 And the Amphitheatre park next to the library which, as you can see, is still quite snowy:
Here's the view across the street, over the rest of the slope down to Camden harbor:
Well, the readers of Camden know quite well that the crocus at the base of the wall come up about three weeks before any other flowers peek their little green shoots above the ground.  Here is what I saw:
And, for a tease:
And last of all, DRUM ROLL PLEASE:
Actual BUDS!!! Soon, true open flowers…woooohoooo! Time to put away the snow stuff!