Wowie zowie!  Having a little bit of income and a  wonderful sponsor is, well, WONDERFUL!   Janome has come out with an upgrade to my beloved Janome 6600, and they were kind enough to send me a Horizon 7700!  Plus I had two new sewing tables built…what a way to start the new school year!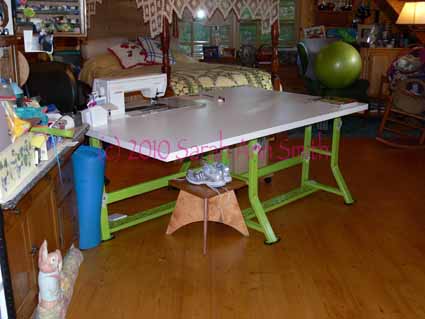 To backtrack a bit, when we moved to Maine in 2004 and I lost my home-dec-sewing name-recognition and income base, I decided if I was going to try to make a "go" of it and earn some income from quilting, that was the time.  Shortly before that, as an utter unknown with maybe ONE publication credit to my name, but three things in Houston in 2003 (the Journal Quilts, a quilt in the juried show and another in a special exhibit), I approached Janome because I really wanted the 6500 but couldn't afford it.  I asked if they had a teacher/artist loan program, and if so if they would consider me.
To my utter astonishment and delight, Janome America said YES!  It has been a great relationship ever since, and they have generously upgraded my machine first to the 6600 then the 7700!  So MAJOR THANKS to Janome America for their continued support…. I'd say all these great things about the machines if I had paid full-price—they are a lot of value for the quilting dollar!  So here it is: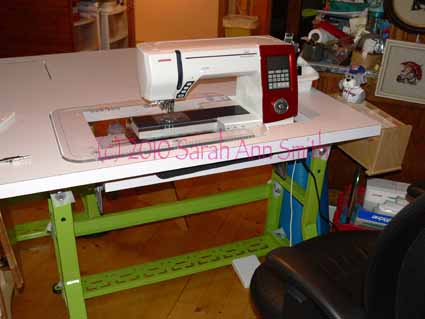 Yes, that's a NEW table!  I had a Sylvia 1500 cabinet that I loved, but the opening was too small for the extended harp of the 7700 and couldn't be enlarged without re-making the entire cabinet.  My friend Kate (THANK YOU!) wanted to buy my cabinet, so I decided to get new tables.  At first I thought I'd buy something from Tony at Sew Perfect Tables, but it turned out I'd lose a lot of length to the left of the needle compared to what I was used to.  So I asked Tony if I could purchase just the K-base (so-named due to the shape of the legs) used on his tables and industrial sewing machines.  He said yes, so I bought two (I'm hoping to add an HQ16 sit-down mid-arm to my arsenal next year) and had them painted lime green at New England Motorworks (I think there was a Ford Pick-up  years ago that came in this color!).  Thanks to Tony and NEM!
Then I had John Bailey of JB Builders (dad to a friend of my older son's, builder and carpenter…and the guy who build those great shelves for my fabric, here — in the third photo down, on the left, in aqua!) make the tops to my specification.  Each tabletop is 24×60 inches, with a 12 x 27 inch opening for the machines.  The shelves for the machines are adjustable and can be raised to flush with the surface of the table (to collect more piles of stuff?).  The opening is so large because the HQ16 sit-down is a smidge over 25 inches long, so this leaves room for plugs, etc. I wanted the tables to be white, so white formica it is!  The two tables latch underneath when pushed back to back, giving me a ginormous 48 x 60 tabletop.  Eventually, there will be a machine in two of the corners, acting as a "stop" for a quilt sliding off the far corner.  Perfect!
Here's a wider angle view of the sewing side of the table (more on the drawer unit in a future post):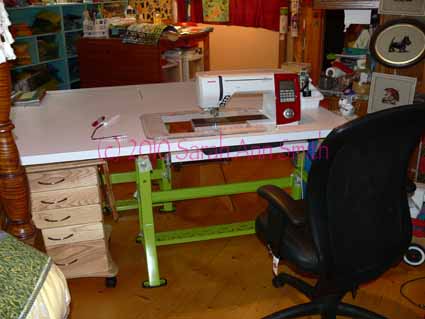 You can just barely see the second sewing machine shelf on the far left corner as it is raised even with the surface.  The total cost for all this custom work ended up being just about $200 more than if I had bought two smaller tables from Tony–I am THRILLED!  So thanks to Tony, John B., NE Motorworks and Janome.  I am SO looking forward to sewing and quilting with my new set-up!