I'm thrilled to be able to share a wonderful new book about art quilting written by Deborah Boschert about our Frayed Edges Project called 5 Artists, 5 Views: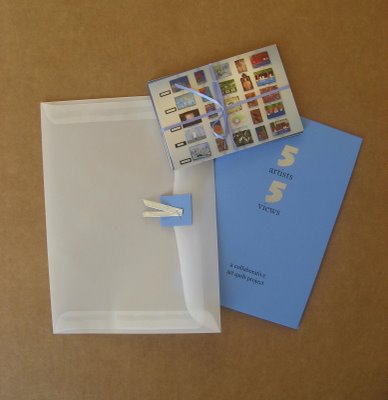 and yes, I'm in it / a part of the book. Some of you may remember that in August, The Frayed Edges (my mini-group) had an exhibit at the Camden Public Library (to see more, click here and here). For that show, I had an idea to create a group project: each of us would contribute one photo, then we would each make a small quiltlet based on those five photos. The project was SO successful that Deborah Boschert wanted to create a small book discussing the project and how others might do something similar.
Deborah has finished the book and blogged about it here, and best of all, the book is ready for sale in her Etsy shop for a modest $20 plus shipping; these books will make wonderful Christmas gifts (I've already ordered several!). I hope it will also be an inspiration for all art quilters, and would be art quilters who are looking for a way to start!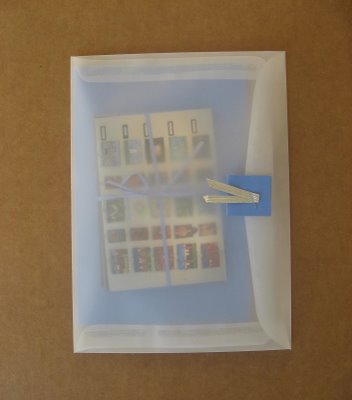 Deborah designed the book to be interactive. You open the lovely embellished vellum envelope (above) to find a book with interviews, hints, tips, ideas and inspiration, and a stack of photographs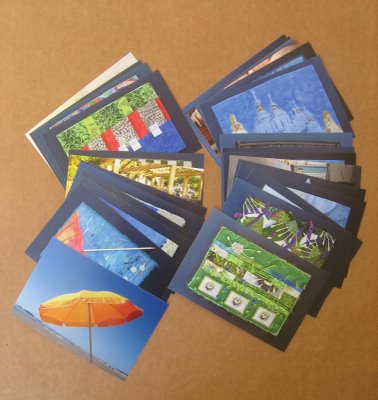 including the five original inspiration photos (Kathy's umbrella photo is on the bottom left) plus a photo of each of the 25 pieces in the 5 x 5 grid. When you read the book, you can sort through the photos to look at all five of the umbrella pieces, or stack all the ones by a given artist, or lay them out in the 5 x 5 grid we used to display them.
The booklet, half-page sized, is (I think) 30 pages. It includes:
About the Project
About the Photographs
Artists

Hannah Beattie
Deborah Boschert
Kate Cutko
Kathy Daniels
Sarah Ann Smith

Suggestions for Similar Collaborative Projects
I'm so thrilled Deborah has prepared this book, and that I am a part of it, and that we are all a part of The Frayed Edges! Wooohooo! I hope some of you will order and enjoy the book…and as always, ASK QUESTIONS!