Hong Kong seams are a thing of beauty–a little extra work but a secret delight!  So even though I didn't use them in this plaid top, I'm including them with all the seam lessons in this series of technique posts.  I did use them on both my Simplicity S8883  top, full blogpost here, and the Brumby Skirt.   I also used this finish on a jacket I made for my daughter-in-law some years ago that I swear I wish she could wear inside out LOL!
Please note:  I am affiliated with Janome as a Janome Artisan and am compensated.  However, my reviews are honest and I would say what I say whether affiliated or not.  I've also chosen to be affiliated with Janome since 2003 (!!!) because their machines are so good and they are so responsive to the interests and needs of their customers.
And here is one of my all time favorite in my life insides of a garment, the jacket for Ashley:
But aren't these seams pretty?????   So here is how you do it.  This process is VERY similar to putting a binding on a quilt for those of you who know how to do that, except that the back side–the one between the seam allowance and the body of the garment, is a raw edge and is not turned under.  This minimizes bulk. Because it is cut on the bias it doesn't pose a fraying problem!
We will assume a 5/8″ seam allowance.
    2. To cover 1/4″ on the side of the seam allowance that you see, you will cut a strip on the bias that is about 1″ wide.
    3.  Choose a very lightweight fabric that is not bulky.  Cotton lawn is an excellent choice — it is significantly lighter in weight than quilting cottons, handles well, and is soft against the skin.  You can choose to match colors or, as I did, pick something zingy and pretty! You could also use a super soft jersey knit, and decades ago they used to sell nylon tricot (ick!  felt like plastic) in strips for just this purpose. For garments that won't be laundered you could also use a fine silk. ***Be sure to pre-shrink / pre-wash any fabric just as you did with your main garment fabric.  You don't want it to shrink after you've completed the garment and have it distort things.
4. Sew the bias to the seam allowance with a 1/4″ seam allowance.  Be careful not to stretch the bias strip.  Trim the ends even with the end of the seam.  If part of the seam will be covered by a hem, and therefore enclosed, you only need to extend the finish to the point where the bottom 1/4 – 1/2 inch will be covered.
5. Press the bias away from the seam.
6. Gently fold the bias around the seam allowance so it snugs up against the raw edge.  Pin or glue-stick in place.
7. Stitch in the ditch with a thread to match the fashion fabric to secure the finish.  If you have cut your strips at 1″, about a scant 1/4″ will extend from the ditch-stitching towards the seam.  You can leave it or trim it down to 1/8″.
8. Press, and stand back and enjoy the beauty.
The first lesson / project for Garment Maker's Question Time is a shift dress (with or without a waistline seam), something that I would Never, EVER wear.  And I already knew how to do an invisible zipper.  So I bought a pattern for a fitted dress with a waist seam, center back zip and very short sleeves.  I did the muslin / toile (the fitting garment where you figure out your needed alterations) as a dress, then totally hacked the dress into a square (not rounded) neck, longer sleeves, moved the waistline up to empire height, eliminated the center back seam since I could get into the top without a zip because of my modifications, and converted gathers into pleats.  I LOVE this linen (from Fabrics-Store.com linens, I used the IL-19 Softened in Beet) and found the perfect Kaffe Fassett shot cotton plaid (heavier than lawn but lighter than quilting cotton) to be the Hong Kong Finishes.  I like it so much I may use the leftover linen and find some more of the plaid and make a tank with the plaid visible!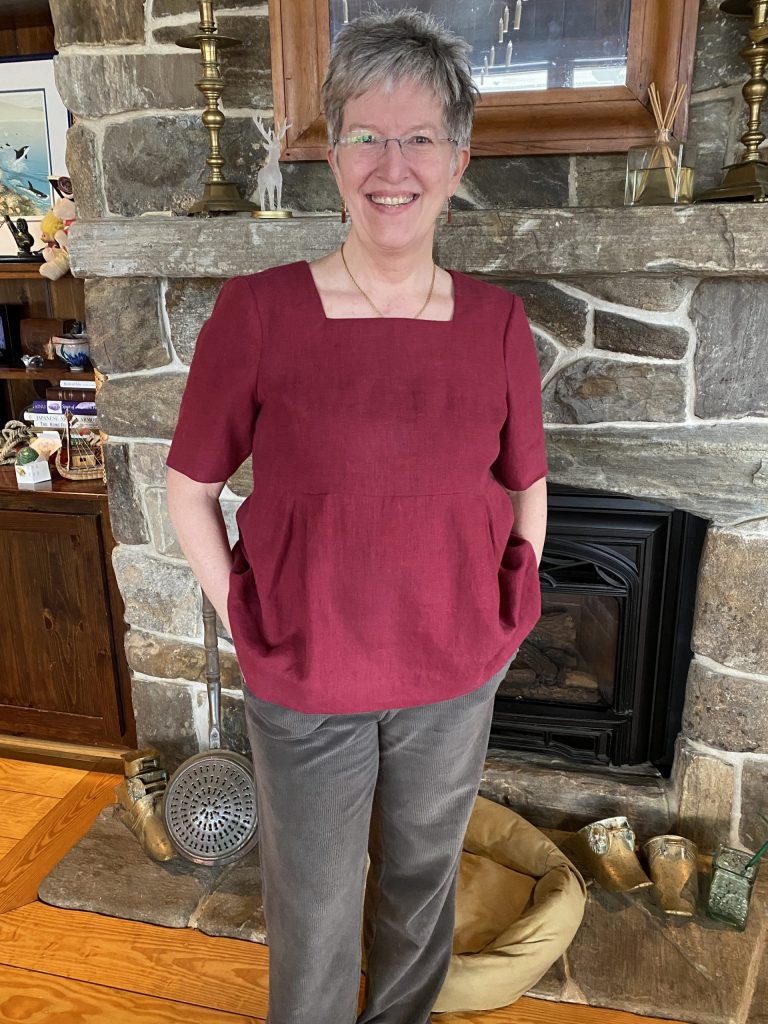 Here's a collage of the construction process.  Apparently I posted about this on social media (circa February 2021) but never did blog about it! oooops.  I am sure I also put it in my newsletter–if you'd like to receive the monthly newsletter, sign up at the bottom of every page or in the right sidebar on my blog!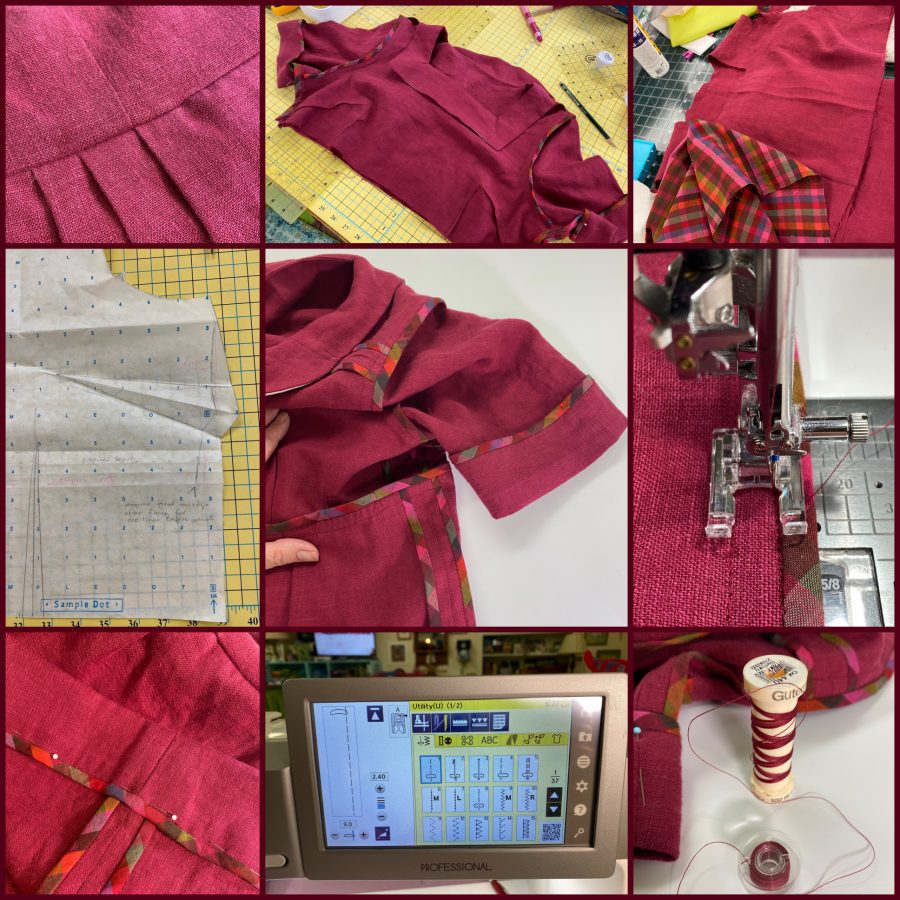 Here's another collage that shows the Brumby skirt (I SO want to make one in denim like the pattern, but at a length suitable to my age and legs!), the inside and the pattern cover.  AND, just this week I bought the denim–100 percent cotton denim no less.  Now, to finish Eli's quilt so I can get some garment making done!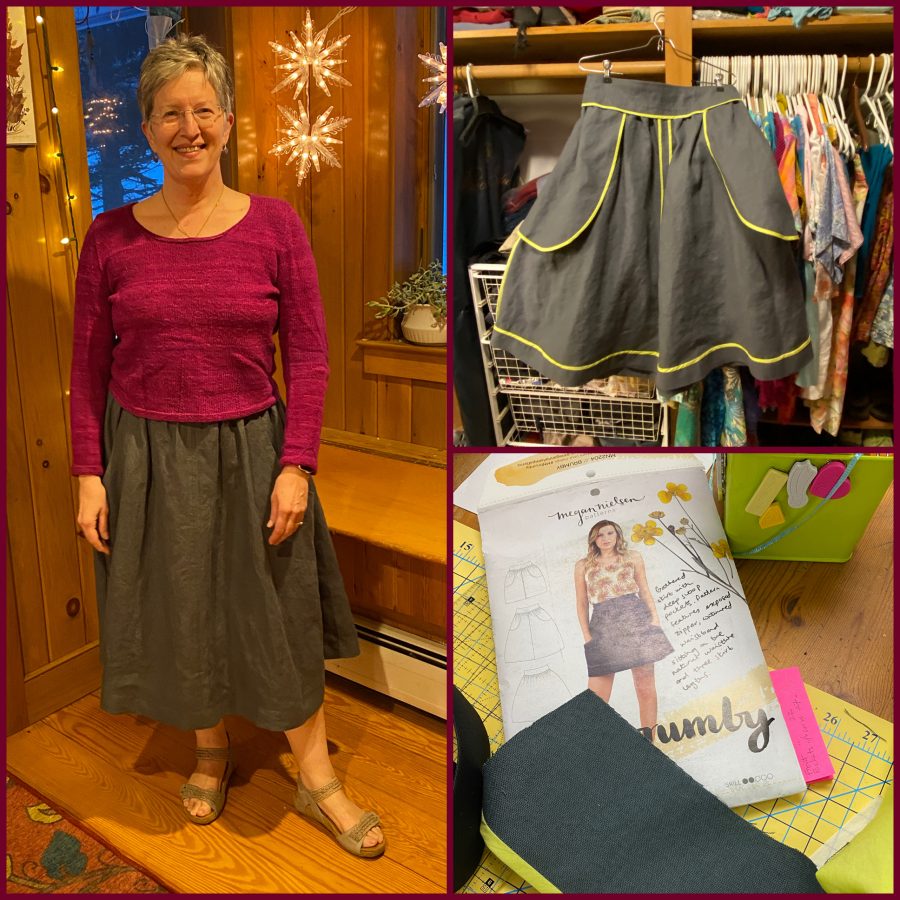 Last but not least, here's the right side of the Simplicity S8883 top.  You can't see that it has princess seams–this is one of the patterns that actually has cup sizes built into the pattern—wonderful!  It is made from a Rifle Paper Co. print (a quilting cotton) and I just love wearing it!
So that's a wrap up and samples of Hong Kong finish.  I think I will do my denim Brumby with this finish…stay tuned!
Here are the links to all the posts in this series of lessons, techniques that can be applied to virtually any garment and many home dec projects.   Let me know what you'd like to learn and see here on the blog.  Cheers and thanks, Sarah
Lesson 1:   Choosing a Pattern and Starting Tips
Lesson 2:   Making a Muslin, Fitting and Sleeves
Lesson 3:   Matching Plaids, Cutting out Your Garment Pieces
Lesson 4:  Overcast Seams, just like Serged Seams
Lesson 6:  Lapped and Flat-felled Seams
Lesson 7:  Hong Kong Finish for Seams
Lesson 8:  Lined Patch Pocket Tutorial