What a BEAST! I think this machine may be able to do everything but cook and do the dishes (Janome: hint hint LOL!). While visiting with Janome America staff (Regena, that'd be you) at International Quilt Market in Houston, I was thrilled to learn that Janome wanted me to take this beauty for a test drive, blog and share and sew on it for the next year! THANK YOU JANOME, and yes indeed-y I am shouting! I've been beyond lucky to be a Janome Artisan since 2003–don't ask me how I've lasted this long, I'm not sure, but I'm just really proud to be affiliated with them (I'm not an employee but all opinions are honest and unvarnished).

Today I'll share a quick video of the unboxing. Then I have Christmas gifts to make, so I will share various things and features that I have found. So far I know I'm going to miss the flip-up chart of the stitches, but there are so many other beyond **amazing** features that I can cope–and photocopy the pages in the manual for ready reference! I'll get to learn about the new AcuSpark phone app that one can use for tutorials and tips using the on-screen QR codes on how to use the machine, and I am in love before even turning it on with the new built in antenna thread stand, the fact that the antenna collapses so I can actually USE the COVER on the machine easily, not to mention the massive harp space. One bit of advice: you may need help hoisting this machine onto your table!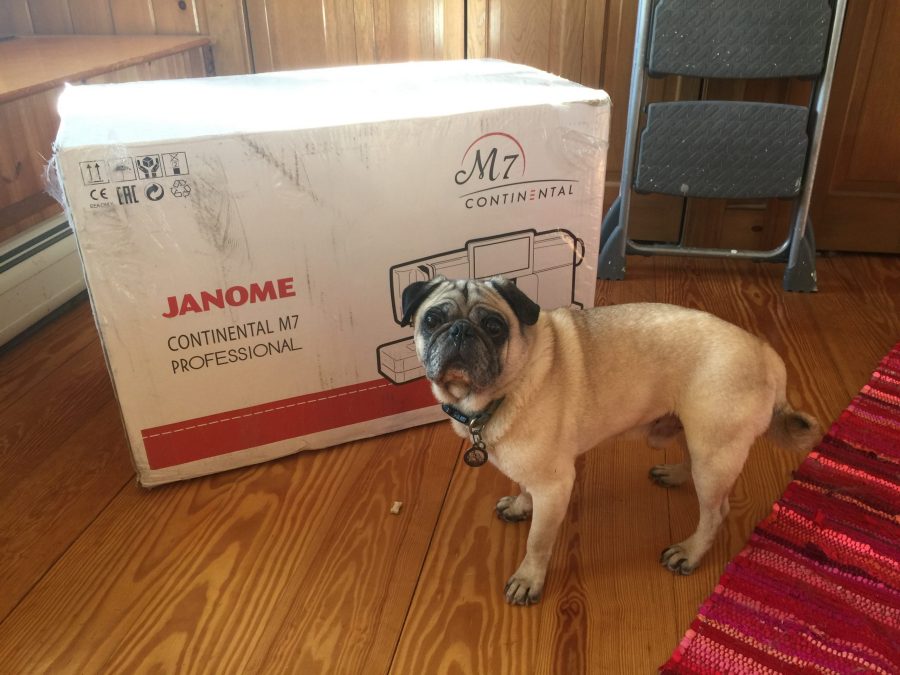 As for the name: the Janome 7700, from some years ago, was the most beautiful ruby red on the front. I'm not much of a red fan but boy do I miss that face plate! So, as a fan of the Harry Potter books, I named that beastie Rubeus Hagrid (the gamekeeper). When I had the 15000 top of the line on loan, of course it had to be Albus Dumbledore, the greatest wizard of all time. Later, the silver-faced 9400 (and its heir the 9450) became Gandalf the Grey, because we love the Lord of the Rings, too.
BUT, I decided it was time for a POWERFUL WOMAN, so I have named her Minerva McGonagall, headmistress of Gryfindor and one of the bravest, stronger, most powerful and wise witches of all time. Here's to Minerva!