The Frayed Edges Show at the Camden Public Library (Maine) is up and open for public viewing! And, thanks to sending out press releases, we have coverage in print and online from The Village Soup (Knox County edition) and The Camden Herald, which has a picture, too! The show is in the Jean Picker Room, on the lower level. If you enter from Atlantic street, pass the check-out desk and bear left past the "new books" and card catalog computers to the room. Here's the view as you walk into the Picker Room, which holds a new show of various art media every month; the director for these programs popped in as we were hanging, and said again that his favorites are the quilt shows…yeah!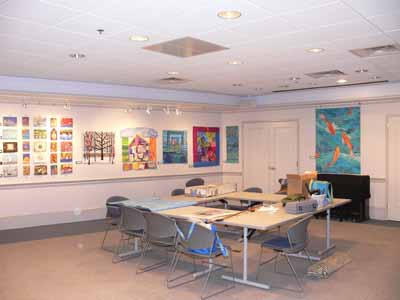 On Thursday morning, which was sunny, warm and sticky, Kate Cutko brought up her pieces and Hannah's from the Bowdoinham area. Deborah has shipped hers from Dallas, and Kathy–who lives in China Village–had dropped hers off at my house earlier in the week since she had to work that day. Thank heavens Kate was there, as I was all butterfingers from so many nights and days at the hospital…I think she hung two pieces for every one I managed to get up! AND, we got all but one piece displayed! Then we trotted over to Rockport Blueprint, because she realized we ought to have a guest book, and bought one!
The day began with a wondrous gathering…the first time we were able to assemble our "grid" pieces! This was an idea I had to have each of us provide a photo, then all five of us interpret the photo in something small…the pieces are all 7 inches tall. The verticals are 5″ wide by 7″ tall, the horizontals are 10″ wide by 7″ tall (size was dicated by the space available between the chair rail and maximum upper viewing level!). They are arranged so that each artist has a row for their work, and each column is five variations of one photo. Then Kathy made a great poster (and labels for all our pieces) with the five original photos from which we drew our inspiration. Here's Kate setting them out: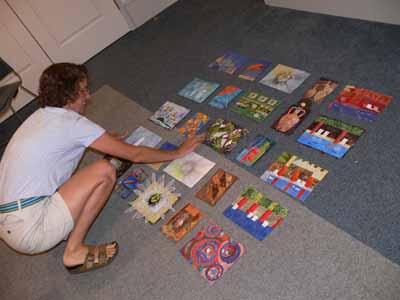 As you walk into the Picker room, you can see the grid on the center of the left wall: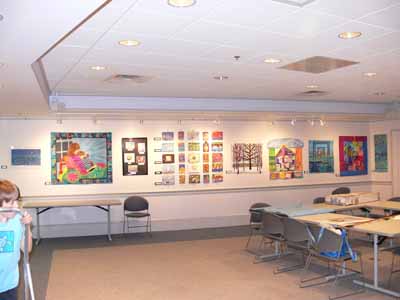 This shot is from the grid, around the corner to the far wall (with all our junk on the table…the room looks better when we're not in the middle of setting up…grin!), with my Koi quilt: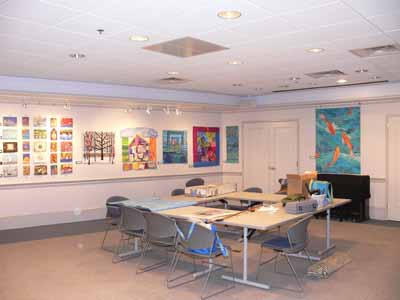 Then, turn the corner to the right wall, which has a collage of various works by four of us, Deborah's "Anthony Avenue" piece anchoring that wall, two cool pieces (Kate's nest on top, Deborah's Encrusted Cairn on the bottom), Kathy's pink flowers/trees/wonderfulness, then Hannah's two pieces, and my Flying Toast about Gramma's kitchen.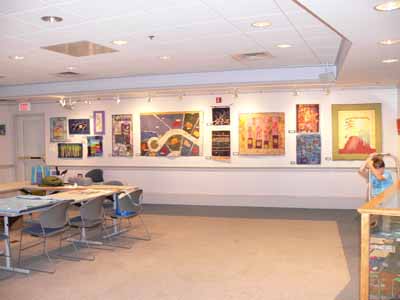 Here's the corner next to the doors, with Flying Toast again and a small piece which I forgot to tell Kathy about (actually forgot I had it!) called Essence of Summer Rose, a mixed media…quilt on painted canvas.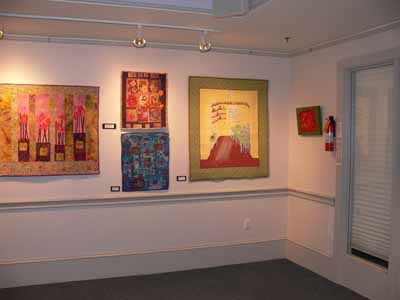 Just to the left of the doors is a large display case with our group round-robin books, some of Deborah's small pieces (we're going to work on the display of those!), will add some of Kate's Adoption Day cards (her website is here), and a few more items. Our binder with information about the show, a picture of all of us,the Winter 2006 Quilting Arts article about us, and artists' statements is on to, along with the guest book and our cards. Above the case is Kathy's birches and my Autumn on the Village Green.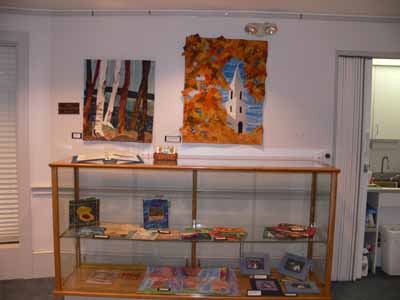 MANY of these pieces are for sale…if you are interested in any of them, just drop me a line and I'll get back to you! Because Joshua is still in the hospital, it may take a couple of days, but I promise I'll return e-mails as soon as I can.  More about Joshua soon.
We hope you'll be able to come visit, and if you do please leave us a note in the guestbook on the display case.  AND if you'd like to be on our mailing list, or on my newsletter, please leave an e-mail address!