Sunday, August 31st, 2014
Hi all…a quick note to let you know Eli and I are home from England, over 2000 photos later!  I promise I'll share some but not ALL of the photos.  In the meantime, I wanted to share with you that I'm once again teaching in Houston at the International Quilt Festival.  To find out about online enrollment, which is now open, click here or in the link in the sidebar to the left. Here's what I'll be teaching:
Monday, October 27, All Day Class #128:  Let's Machine Quilt–an intro to machine quilting, all day class, machines provided
Tuesday, October 28, Lecture #254:  How Did She Do That?  A lecture and digital presentation supplemented with in-the-cloth quilts sharing how I go from idea to image to quilt.  At 11:00, ending just in time to attend the Noon Luncheon.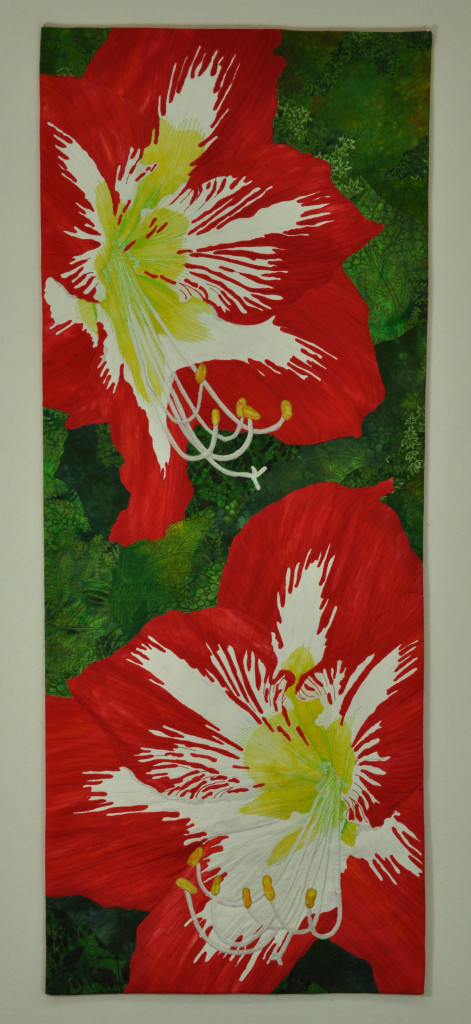 Wednesday, October 29, All Day Class #339:  Birch Pond Seasons, an introduction to fusible applique and art quilting.  This is a fusing and design/composition class with no sewing.  You can see the pattern (which is included in the kit fee along with MistyFuse) here.  You can see a class in progress on this blogpost, and at the bottom of this post which includes a lovely winter version. This is the third year in a row that IQF has booked this class for Wednesday–yeah!
Thursday, October 30, Morning Event #460:  Machine Quilting Forum (alas, already full), with four other machine quilters where we each give a presentation to the full group.  Then you have about 20 minutes for a quick demo or lecture with each of us–think of it as speed-dating for quilters.
Thursday and/or Friday:  one hour SMALL demo/kit/hand-on class in the Fiber-on-a-Whim booth!   Exact one-hour class (at one end of the booth) to be determined, but likely printing with thermofax screens.  Class fee will include fabric, paint, paint brush to use and use of my thermofax screen(s) to make some printed fabric to take home.  More details to come!